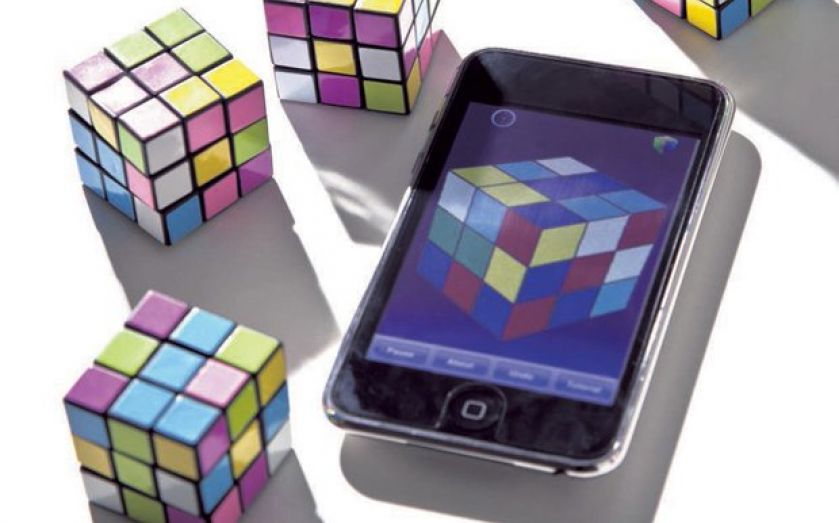 The Rubik's Cube turned 40 this week and Google celebrated by creating an online version of the classic puzzle. Melissa York chooses the best brain-teasers, old and new, for your smartphone.
Flow
Join a series of coloured dots to their corresponding coloured dots without crossing over any of the other lines to create a "flow". It's harder than it sounds and requires a great deal of logic and spacial awareness, especially as the grids get bigger and the dots multiply. Play through hundreds of levels or try to beat the clock in a time trial. Colourblind? Don't worry, there are levels for colour impaired people as well.
iOS/Android; free
The Room
This game, developed by British-based Fireproof Games, describes itself as a "physical puzzler, wrapped in a mystery game in a tactile 3D world." It presents the player with a series of boxes locked by a number of physical mechanisms. Work out how to open the boxes by looking around, turning keys and activating switches. All this while trying to solve a scientific mystery. It has been number one in the App Store in 65 countries, and picked up various awards.
iOS/Android; 69p
Circadia
It's an ingenious premise that's much simpler than it sounds. This addictive rhythm puzzler asks you to work out a musical sequence from a number of pulsating circles of sound. They are carefully positioned at different points away from each other and your task is the tap them in an order that gets them to converge on a white dot at the same time. The result is a mesmerising marriage of geometry, colour and sound.
iOS/Android; 69p
Edge
Push a cube around a geometric universe littered with obstacles threatening to push you over the edge into a dark abyss. It lulls you into a false sense of security before unleashing a series of increasingly tricky mazes. It's a satisfying race-to-the-exit game designed with mobile technology in mind. Simple and clean-looking, it should occupy you for days with 48 levels to complete and 17 bonus levels to unlock in between.
iOS/Android; £1.99
Cut the Rope
Based on the rules of physics, this puzzler requires you to direct falling sweets into the mouth of a cuddly-looking monster called Om Nom by strategically cutting ropes. Om Nom must be getting pretty plump by now because the game has been downloaded 400m times globally. With 375 levels and more on the way, it looks like an unstoppable force. It's also spawned a number of sequels such as Cut the Rope: Experiments and Cut the Rope: Time Travel.
iOS/Android; £1.99
Hundreds
This is a maddening challenge of a puzzler game. It starts off easily enough with one circle. When you press it, it expands and numbers appear in the middle. Once it reaches 100, you've won. In successive rounds, more circles appear and if your circle touches others while expanding, you've lost. This means you have to multi-task. Your brain must move as quickly as your fingers to win the game.
iOS/Android; £2.99