Remembrance day 2014: Remembering the gift of the fallen – Editor's Letter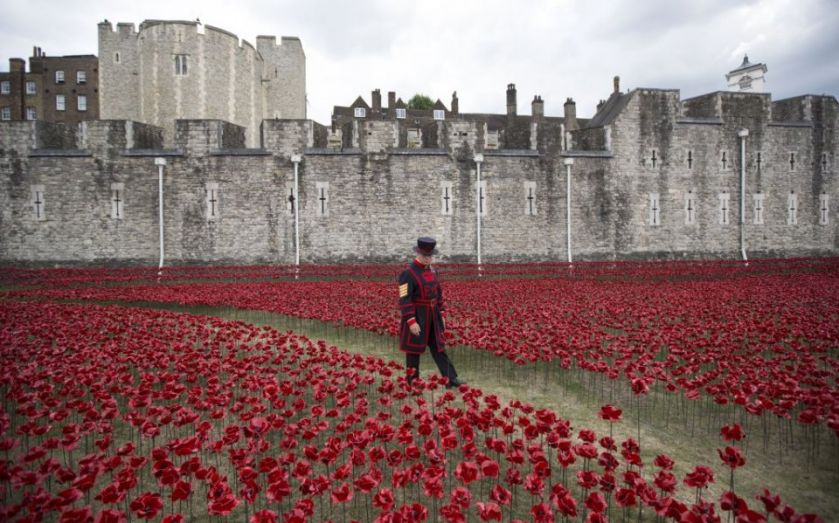 Around the Tower, the poppies flow, recalling crosses, row on row… In this anniversary year, as the nation recalls the outbreak of the First World War, the City has become a focus of remembrance thanks to the remarkable installation Blood Swept Lands and Seas of Red at the Tower of London, made up of 888,246 ceramic poppies, one for every British death in the Great War.
As I write this, I have on my desk the medical and mending kit my great grandfather carried to the trenches. There is no poppy for him: he was one of the lucky ones who came back, with a lifetime to try to forget the fields of mud and death. Soon again he was carrying a furled umbrella in a dapper suit to his work at the Prudential. But with his contemporaries he lived to see his country and the world thrown back into another monstrous war, more heinous in its crimes even that the first. He lived to see the yoke of Communist slavery pressed on to the backs of Eastern Europe, but not lifted.
Remembrance weekend is a time for grateful mourning for those who gave their lives in the country's service. It should also resharpen the shock of our gratitude at the suffering and waste that we the living have not been called to endure. The crimson tide now filling the Tower's moat is overwhelming. So, too, if you turn the other way, is its contrast to the live buzz of the City.
To join the adventures of commerce and high finance, for all the military metaphors and cocksure aggression, is to live a charmed life. Our enriching experiments in freedom, based on peaceful exchange, are hard-won – and easily lost. Remembering it is one more way to honour those who down the generations have fought on our behalf.