Porsche 911 GT3 Touring 2021 review: the subtle supercar
Launched in 2017, the 911 GT3 Touring looked subtle for a supercar. Without the giveaway fixed rear wing, only the cognoscenti could tell it from a Carrera. Channeling the simplified spirit of the limited edition 911R, this was a Porsche for purists, not Instagram egotists. It instantly became a cult car.
A sequel was all but inevitable. Again, Porsche has dialled down the visual drama, chiefly by ditching the 992 GT3's giant swan-neck spoiler. The new Touring also uses a development of the same 4.0-litre naturally aspirated engine, still redlined at a searing 9,000rpm.
However, while the concept and some of the ingredients are shared, this '911 GT3 with Touring Package' – as it's known officially – is a different beast to the original. As we'll find out, that's both a good and bad thing.
Not a soft option
In 911 terms, the Touring name dates back to the epochal Carrera 2.7 RS of 1973, offered in both Sport (also known as Lightweight) and Touring guises. The Sport was track-focused, with lighter body panels, thinner glass and a bare-bones interior. The Touring was aimed at road driving, with chrome trim and extra sound deadening, plus decadent luxuries such as a clock, glove box lid and passenger sun visor.
The gap between a 992 GT3 and the Touring is much thinner. This time, 'Touring' doesn't mean a softer, more civilised option. The differences here are limited and cosmetic.
Aside from a Carrera-spec rear spoiler that only pops up at speed, that means a fully painted front bumper, instead of the lower half being black plastic. The exterior brightwork is also aluminium, rather than black, while the interior is trimmed in leather, not grippy Race-Tex (Porsche's version of Alcantara). And, um, that's it.
Going for gold
Posed in the sunshine outside Porsche HQ, my GT3 Touring isn't exactly blending in. Its 'Satin Neodyme' forged centre-lock wheels (20in at the front, 21in at the rear) are mouthwatering, filling out the 992's swollen hips to perfection. Their spidery spokes show off the standard carbon-ceramic brakes and yellow calipers, too.
Even without the optional (£842) rims, the latest GT3 looks much angrier than its predecessor – or indeed a 911 Carrera. Pugnacious nostrils puncture its bonnet, above a sculpted bumper and jutting chin spoiler. At the engine end, two centre-exit tailpipes poke provocatively from a racing-style diffuser.
It won't attract so much attention – both positive and negative – as its winged warrior sibling, never mind a Ferrari or Lamborghini. Nonetheless, the Touring has lost a little of its understated, Q-car cool.
A secret weapon
Such qualms quickly fade when you fire up the flat-six. Now breathing through individual throttle bodies and a 10kg-lighter exhaust, it delivers 510hp at 8,400rpm: good for 0-62mph in 3.9 seconds with the manual 'box or 3.4 seconds with PDK.
OK, so 3.9 seconds is no quicker than several upstart hot hatchbacks – and 510hp is a token-gesture increase of 10hp over the 991 version. Yet the GT3 has never been about warp-speed acceleration; that's the 911 Turbo's role. This is a car for carrying speed around corners – and it has a unique weapon for the job.
Apart from the RSR racer, every 911 has used McPherson strut front suspension. The GT3 switches to ball-jointed double wishbones, which allow for increased front camber and better isolate damping forces from the steering. Make no mistake, after 58 years of Neunelfer production, this new setup is a Big Deal. The result, in theory at least, is greater control and more grip.
Touring: not boring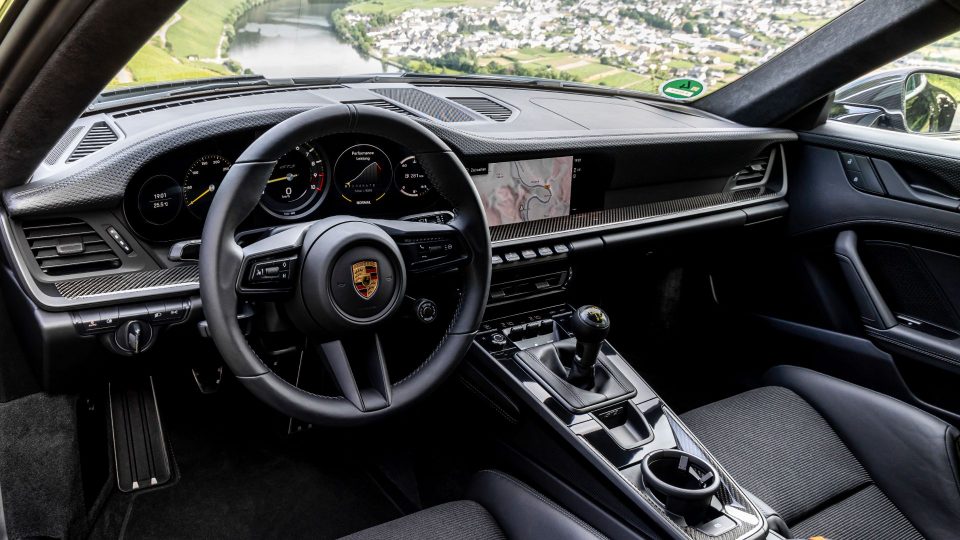 Frankly, on hot and dry tarmac, you need to be a hooligan to unstick the Touring's super-soft Michelin Cup 2 tyres, but the difference in front-end response is readily apparent. It turns in aggressively and bites hard into bends. Combined with a sportier rear-wheel steering setup, it feels intoxicatingly intense.
Almost too intense at times. On smooth surfaces, the motorsport-inspired chassis really struts its stuff. Tenacious and micrometer-precise, I've no doubt it would be heroic on-track – even without the added downforce of the full-fat rear wing.
On bumpy B-roads, though, it's rather too stiff, sniffing out cambers and occasionally being deflected by mid-corner bumps. Such a compromise seems acceptable in a 'standard' GT3, less so in the Touring. It makes for an exciting drive, but limits the car's appeal for, well, touring.
Pack of wolves
One component that does suit road use is the manual gearbox. Were I buying a GT3 for track days, I wouldn't hesitate to choose PDK (and the wing, natch). Otherwise, apart from in stop-start traffic, the six-speed manual adds a welcome extra layer of interaction. Its stubby throw feels well-oiled and mechanical, blipping the throttle automatically if you don't want to heel-and-toe.
Still, whether you pull a paddle or shift a stick, the Porsche's engine is the star of the show. The fact you can buy a brand new, naturally aspirated flat-six in 2021 feels like cause for celebration in itself – let alone one that revs like a superbike and sounds like a pack of howling wolves.
As its front-and-centre rev counter sweeps beyond 4,000rpm, the GT3 has an elasticity and a magic that no turbocharged 911 can match. The only Porsche that delivers a similar adrenalin-hit is the Cayman GT4. And you'd spend £40,000 more on a Lamborghini Huracan Evo RWD to enjoy such free-breathing firepower elsewhere.
Join the queue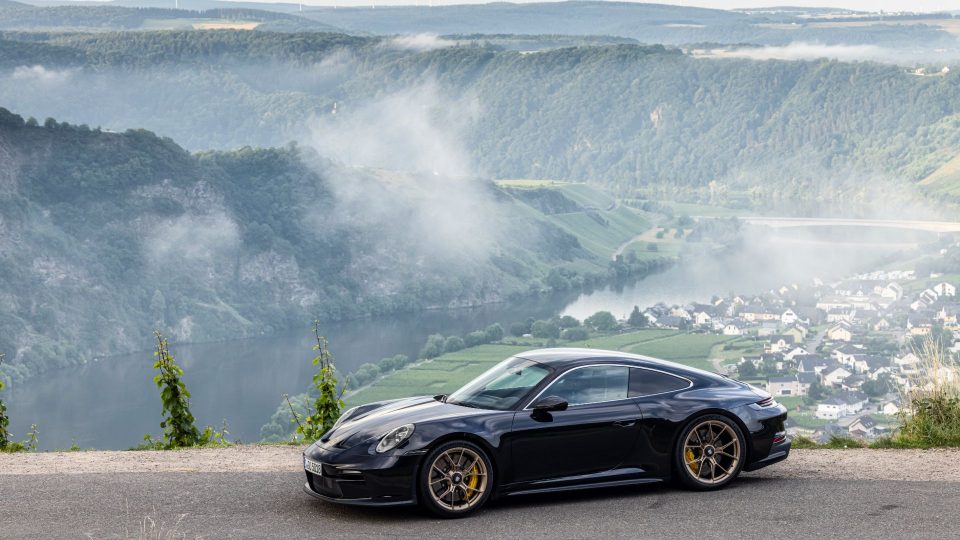 Lest we forget, the GT3 Touring also has the brilliant build quality and relative practicality that make the 911 the sports car benchmark. Sadly, you can't have one with rear seats – a missed opportunity, I think – but it remains a supercar you could conceivably drive every day.
Would you want to, though? There's no doubt this GT3 is an exotic and immersive experience, one that feels closer to an RS than ever before. Yet in tipping the balance towards track performance, Porsche has also diminished the Touring's USP.
In truth, all this is somewhat academic. Unless you already have a place on the waiting list, you won't be offered the privilege of spending £127,820 on a GT3 Touring anytime soon. The lucky few will covet one of the last old-school Porsche GT cars. And, subtlety be damned, that seems worth shouting about.
Tim Pitt writes for Motoring Research
PRICE: £127,820
POWER: 510hp
0-62MPH: 3.9 seconds
TOP SPEED: 199mph
WEIGHT: 1,418kg
CO2 emissions: 292g/km