Where are the UK's most powerful companies based? The FTSE 100 is more diverse than you think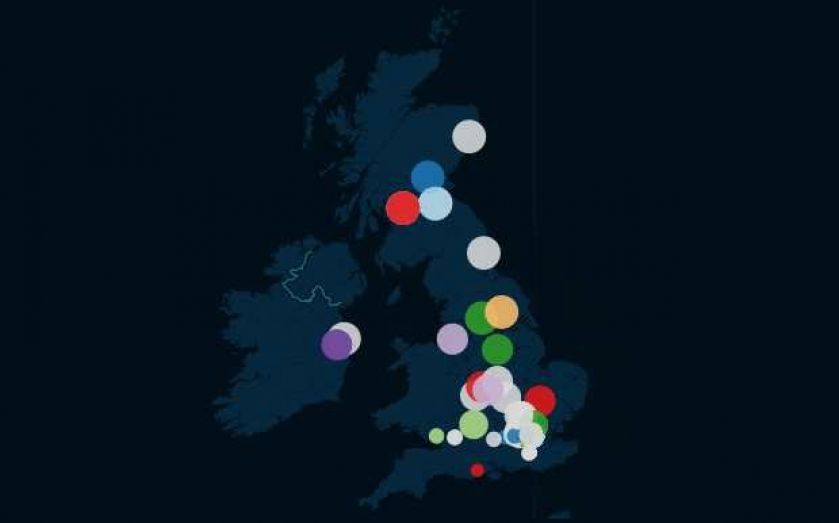 Conspiracy theorists may merrily refer to the "metropolitan elite", but it turns out that when it comes to the FTSE 100, the north-south divide is practically a myth: half of the companies on the index are based outside London, we've found, while others have made their homes all over the world
Zoom out to see the companies headquartered outside the UK. If you're on a mobile, swipe to the left of the map to scroll past it.
Although the largest company on the FTSE 100 by market cap, HSBC, is based in London, others are spread around the country – such as Vodafone, the sixth largest on the list.
Edinburgh is the home of Royal Bank of Scotland, the largest company on the FTSE 100. It has a market cap of £25.3bn. Wales also plays host to one of the UK's largest companies – Admiral Group, which is based in Cardiff and has a market cap of £3.5bn.
All in all, 50 of the companies listed on the FTSE 100 are based in London.
14 companies were based outside the United Kingdom – the largest of which is Royal Dutch Shell.
Three companies are based in Ireland (all in Dublin), three in Switzerland, two in the Channel Islands and two in the Netherlands. South Africa, Mexico, the United States and Australia are also each home to a company on the FTSE 100.
The breakdown of the FTSE 100's sectors is also quite varied, with the largest sectors being finance and banking, energy, mining, retail and insurance.
Update: this story was changed to re-locate Brentford back where it should be, in London.