No Brexit hit: London remains world's most important fintech hub outside the US
A newly-published report has shown that London remains the second most active city in the world for fintech, behind San Francisco, but that the fintech space in the rest of the UK is expanding rapidly.
London's fintech space is primarily powered by its thriving 'challenger bank' sector, with Brexit and the pandemic having little impact on the capital's startup scene, according to the 2021 Global Fintech Rankings, compiled by Findexable, and shared with City A.M. today.
The Index ranks the fintech ecosystems of more than 264 cities across 83 countries, using data from Findexable's own records and collated and verified by the industry's Global Partnership Network, including Crunchbase, StartupBlink, SEMrush and 60+ fintech associations around the world. The index was first published in 2019.  
---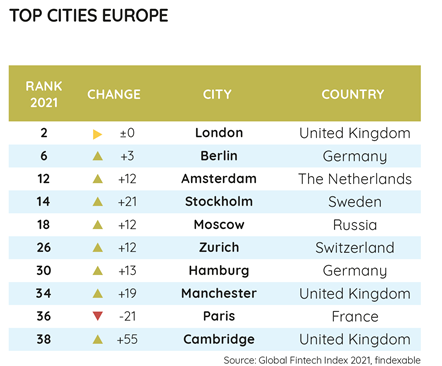 ---
Across the UK
Despite London remaining Europe's most important fintech space, a range of UK cities outside of London are developing into thriving fintech hubs, with the growth of what the report identifies as 'tertiary hubs' being promising.
Growth in large English cities like Manchester and Birmingham is to be expected, according to the researchers, as is the presence of fintechs in cities near London like Cambridge and Brighton. Birmingham entered the rankings at 123, Cardiff came close after at 127 and Newcastle upon Tyne at 155th.
"The UK continues to be a major player in fintech, but unlike the larger finance sector it is moving away from being largely London-based," said Findexable's founder and CEO Simon Hardie.
Hardie told City A.M. today the industry is seeing how investment in creating technology hubs in secondary cities is translating into the creation of thriving communities and viable companies.
"We have even seen fintech companies emerge in towns like Macclesfield, Ashford, Caerphilly and Inverness."
"It is part of a greater push toward bridging the gap between companies and their customers that we have identified happening across the world since the annual report started in 2019, but which has accelerated in the last 12 months as a result of the pandemic driving more people to use digital finance," Hardie noted.
"Where there are more customers there will be more businesses, and in an innovation-driven sector like fintech that translates to greater chances for new ideas that can shake up the entire industry," he concluded.