More than a year after the British Virgin Islands were devastated by Hurricane Irma, this paradise is finally leaving recovery mode. Simon Miller sails its beautiful coastlines
On 6 September 2017, hurricane winds of up to 215mph battered the British Virgin Islands. The strongest winds ever to have made landfall all but destroyed the islands, and resilient locals were faced with rebuilding their lives and communities.
During the hurricane, Sunsail's BVI base at Tortola was totally destroyed. Dozens of boats were ripped apart in the winds, some of them picked up and flung across the island like toys. Not that it mattered much, as with no electricity, no infrastructure and with homes and restaurants destroyed, no tourists would be visiting the islands anytime soon.
Six months later I received a call from Sunsail. The BVI were back up and running. Rather incredulous of this claim, I set off on a late autumn family sailing trip, hoping for the trip of a lifetime but not knowing quite what to expect. Getting there is almost a full day of travelling. We flew BA to Antigua and then caught an internal flight to Beef Island to connect with our boat at Sunsail's newly restored marina.
The marina buildings are brand spanking new. After such a long trip, it was a relief to be able to freshen up in their spa-style shower block. Boat check-in was not without its delays and frustrations (isn't it always?), but at least we were able to relax in the marina's new pool whilst our fabulously named catamaran, "Kitten Caboodle", was prepared. Travelling as a group of nine, we opted for a 444 catamaran, an impressive beast that was able to accommodate all of us in remarkable comfort. Who knew a BBQ was considered standard yachting equipment these days?
When we finally set sail the next day, the wind was a perfect 11 km/h but unfortunately coming from the wrong direction. No matter, it gave us a great opportunity to practice handling our boat and we thoroughly enjoyed the sail up the Sir Francis Drake Channel to Virgin Gorda, one of the main BVI islands.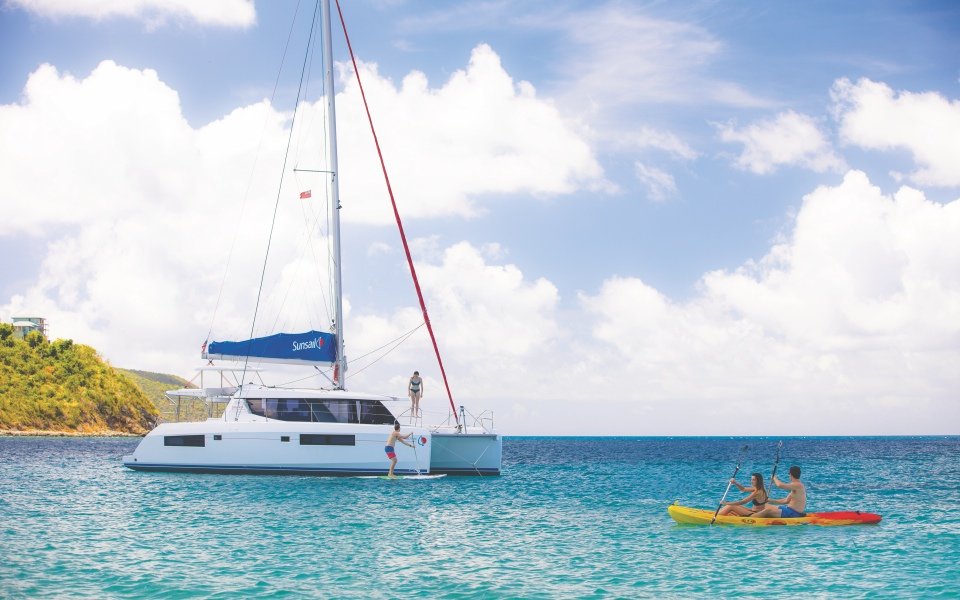 For the first day we had picked a particularly tricky marina to enter and the chart showed peril in all quarters on the way to Leverick Bay. A nasty looking rock called Mosquito Rock guarded the entrance to a narrow channel, and breaking waves just thirty meters away indicated a shallow reef.
Almost exactly 432 years ago to the day, Sir Francis Drake would have been exiting Leverick Bay on his way to attack the Spanish at San Juan on the nearby island of Puerto Rico. He had set off after dark. I can only assume he knew exactly where Mosquito Rock was.
Finally our lookout spotted the red buoy indicating the entrance to the channel. One last tack finally took us on a bearing straight for the marina. As we approached we dropped the sails and cranked up the motor. Twenty minutes later it was dark but we were moored up toasting an epic day on the high seas, with spiny lobster and a few bottles of the local Carib beer.
With four adults and five children on board, our days quickly fell into a regimented routine. We'd rise early for a short two or three hour sail followed by a spot of lunch anchored up in a sheltered bay where we could snorkel, marvel at the marine life and generally mess around on the beaches. We would then sail on for a further two hours to our overnight mooring. The Dog's, Norman Island, The Indians, all offered fabulous snorkelling with beautiful coral and outrageously coloured fish to marvel at. On a more prosaic note, I would have liked to visited Throw Away Wife Bay, but the ball and chain forbade it.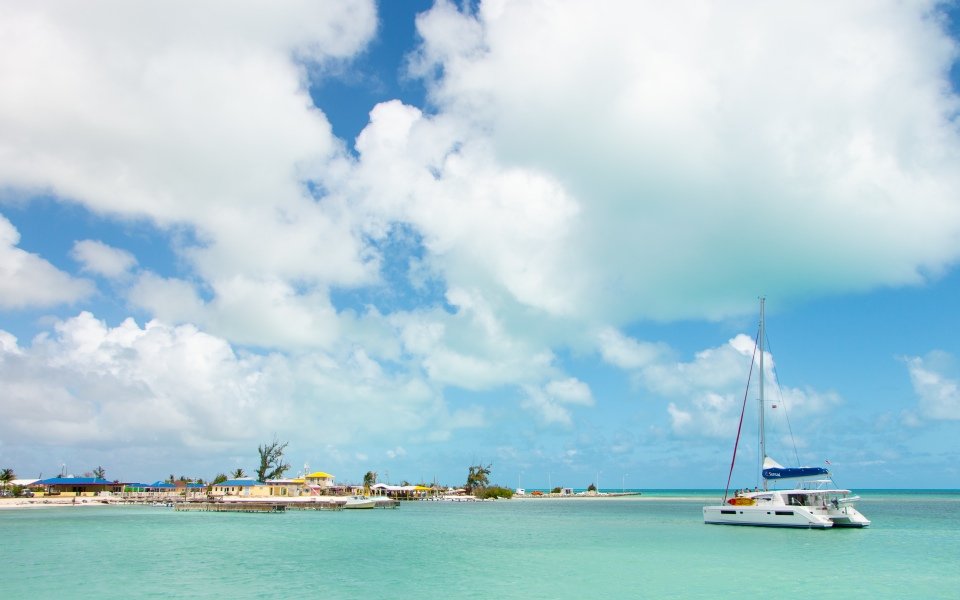 The BVI offer easy sailing. The islands are close together, so you are never more than a couple of hours sail from your next pina colada. But whilst the actual sailing is easy, the navigation can be somewhat trickier. Much of the sailing infrastructure (buoys, markers and pontoons) was destroyed by hurricane Irma and has yet to be replaced as other priorities are addressed. The Sunsail team did highlight this at the initial briefing, and we were made aware of instances when the charts would mislead.
Even the saltiest of seadogs make mistakes and mine was to sail past Branson's Necker Island. It got the wife yearning for some serious 'get-away-from-it-all' luxury and before I could shout 'land ahoy', she had me checked in for a night at the Anegada Beach Club. Anegada itself is your classic tropical island. Eleven miles long with the tallest thing on the island being trees, this was a navigational challenge for our lookout. Miss it and the next landfall would be County Cork. But find it we did, and we were soon sipping cocktails on the deck of Anegada Beach Club, Suite 308, a thatched-roofed hut on stilts just 20 meters from the sea. With a four-poster bed cocooned in sheer drapes separating you from the ocean, the effect is a wonderful breeze and uninterrupted views of the sea to greet you in the morning. Idyllic.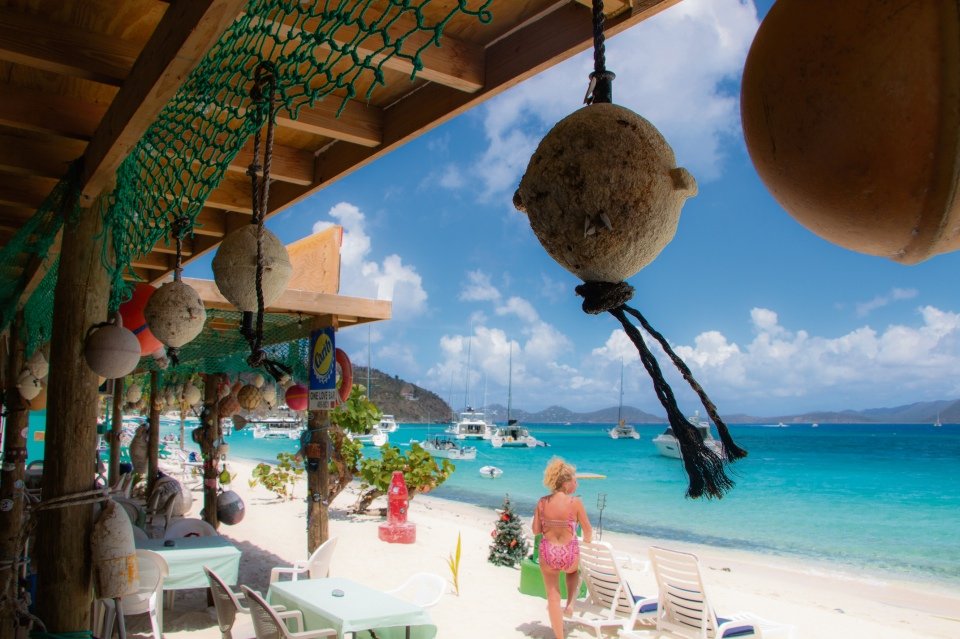 This was our first "bare boat" holiday – in other words we weren't part of a flotilla of other boats led by a Sunsail-staffed boat. Responsibility for charting a route, monitoring the weather forecast and negotiating tricky passages lay with us and us alone. That said, the backup from Sunsail was excellent. A minor repair to one of the five (yes five) showers on board was carried out quickly and efficiently. After all, Sunsail have considerable interest not only in your having a good time, but also getting their half million pound boat back in good order.
Sailing holidays are a fantastic combination of action and relaxation and work brilliantly for families. The BVI itself has to be one of the best family sailing destinations in the world, with super warm seas and easy sailing. Echoes of Hurricane Irma are still evident, but I can safely say the BVI are well and truly up and running.