London Report: FTSE slumps to a three-month low on US fears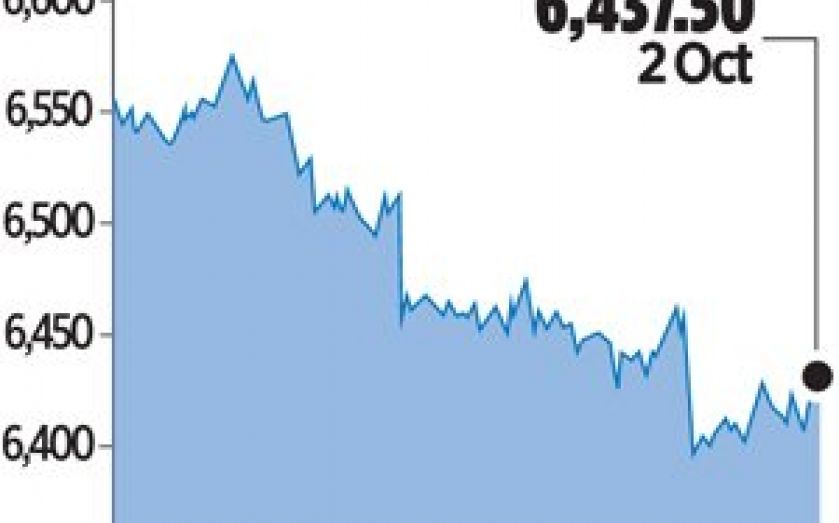 THE UK'S top share index slipped to a three-month low yesterday, with retailers bruised by a weak trading update from Tesco while broader sentiment was weighed down by concerns over a US government shutdown.
The FTSE 100 index fell as low as 6,386.18 points, its lowest since July, as investors fretted about the continued partial shutdown of the US government and whether the politicians will reach agreement on raising the debt ceiling this month to avoid a sovereign default.
The index – the constituents of which make nearly a quarter of their sales in the United States – recovered a little in late trade to close down 22.51 points, or 0.4 per cent, at 6,437.50, moving back above the key technical support offered by the 200-day moving average.
"Any protracted government shutdown will have growing implications on the economic recovery and could see a pullback towards 6,350, a previous area of consolidation," Sucden Financial analyst Kash Kamal said.
Companies with a strong US focus, such as publisher Pearson, engineer Weir and drugmaker Shire were among those hit.
The domestic backdrop was also a little gloomy after Tesco, Britain's biggest grocer, reported flat quarterly sales in its home market despite heavy investment in its stores, product ranges, staff and online offering.
The stock fell as much as 4.6 per cent to a three-month intra-day low, but then recovered some poise in the afternoon to trade down only 0.9 per cent as investors honed in on the relatively upbeat outlook.
"The early worry about Tesco was around the headline numbers and the miss on those, but the forward-looking comments were actually quite good," said Zeg Choudhry, head of equities trading at Northland Capital Partners. "As analysts have re-run their numbers, I don't think there is going to be any major downgrade, so … the brokers will probably see the retreat as an opportunity to buy."
The FTSE 100 has lagged its European peers over the past three months, gaining only around six per cent compared to a rally of nearly 17 per cent on the EuroStoxx 50. Analysts blame the lag on the relatively defensive nature of the British benchmark – which limits its sensitivity to economic upswings – and to the international focus of its blue chips, which means it is more likely to fall on weak Chinese data than rally on strong UK numbers.