Labour leadership race: What can the degree of regional support for the Labour party tell us about the leadership election?
The Labour leadership election becomes more controversial by the day. Despite Jeremy Corbyn dismissing claims of infiltration as "nonsense", the party has accepted it could ban up to 100,000 people from the final vote.
Read more: As Labour purges leadership election voters, will its next leader struggle for legitimacy?
Is that true? Has the party been a victim of mass infiltration by dastardly Tories, bent on giving an "unelectable" leader power? City A.M. has investigated the claims – and found Harman's worst fears are unlikely to be true.
Here's why. Under the new system, the Labour party has decided to go with one-person-one-vote, where anyone can sign up to the party to vote as long as they share Labour's "aims and values".
After the latest bout of sign-ups in the run-up to voting, here are the final figures (given they are not blocked from doing so over the next few weeks):
Let's take a minute to reflect on those numbers: 105,973 new members since the General Election, far more than the Labour party has had in recent years, and a huge increase from the trend of members before 2015.
Read more: Labour leadership race – Four candidates, four policies
What that means
If the party was heavily infiltrated by those who want to skew the result for their own malicious purposes, you'd expect more sign-ups from traditionally less Labour areas such as Surrey or Kent, rather than in Merseyside or South Yorkshire. You'd then expect to see a change in regional make-up of membership between 2010 and now, with concentration growing in the south.
But a comparison of YouGov figures from a poll undertaken just before registration for the leadership vote closed, and regional Labour Party membership research undertaken in 2010 suggests membership was consistent across the regions between 2010 and 2015 – even after this summer's surge in sign-ups.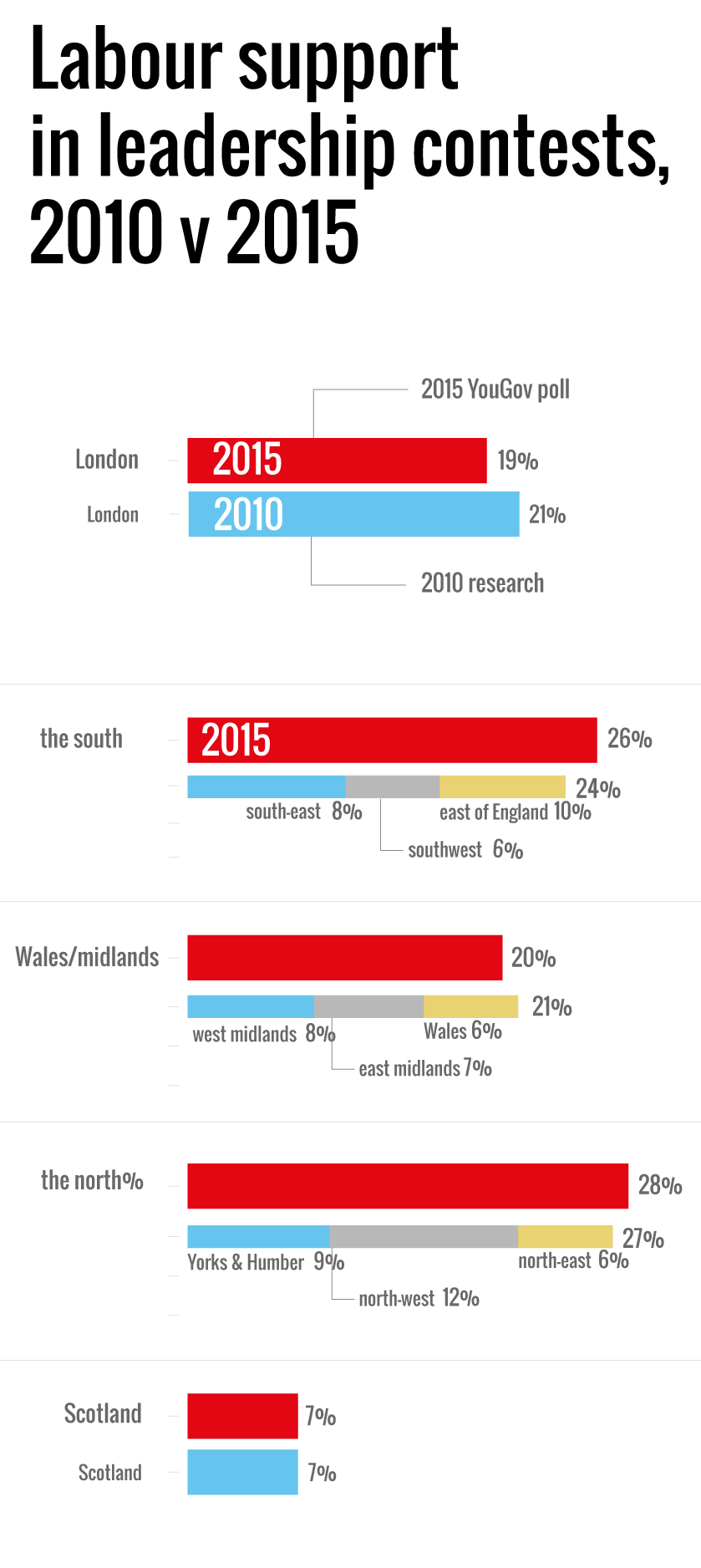 What's more, Labour's membership figures were fairly consistent between 2010 and just after the 2015 General Election. The below graph, from a House of Commons briefing paper a few weeks ago, shows this.
Putting two together, Labour membership by region has been consistent between 2010 and now – which suggests Labour isn't being infiltrated on a mass scale.
But there was something else: comparing support for Labour during the General Election with the membership figures, it turns out London and the south have far more Labour members than you would expect based on the party's proportion of support at the General Election..
What might explain this? Well, for years now the Labour Party has been "concerned that there is a tendency, particularly in some traditionally strong Labour areas, for party organisation to be inadequate".
So given the sign-ups have not been concentrated in areas that traditionally show strong support for other parties, with growth across all regions, it appears new members are not overwhelmingly Conservatives, or Greens, or those who support any other party. Then, perhaps, it is just as likely that new members are those who were previously politically inactive.