Tesco to swell presence in China but profits are sliding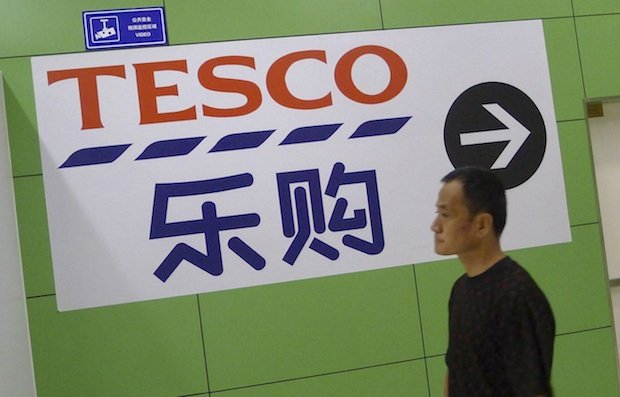 Tesco has announced it's to join forces with China Resources Enterprise (CRE) to create the leading multi-format retailer in China. (Release)
The companies have entered into definitive agreements to combine their Chinese retail operations.
The joint venture will see Tesco's 134 Chinese stores – as well as its Chinese shopping mall business – combine with the China Resources' 2,986 stores, making it the leading retailer in seven of the eight richest and most populated Chinese provinces.
The business will have sales approaching £10bn, in which Tesco will have a 20 per cent stake.
Philip Clarke, chief executive officer of Tesco:
Through this deal we have a strong platform in one of the world's most exciting markets and it will move us more quickly to profitability in China. This is very good news for customers and shareholders and a further demonstration of our commitment to build sustainable, profitable businesses, establish multichannel leadership in all of our markets and pursue disciplined international growth.
Tesco's cash contribution to the joint venture will be about £185m, with further payments at completion and on the first anniversary of completion (about £80m apiece).
Completion is expected in the first half of next year, subject to regulatory and CRE shareholder approval.
Hong Jie, chief executive officer of CRE:
Along with the internationalization of the Chinese economy, CRE has developed successful partnerships with many well-known international companies in China… The Joint Venture brings together the individual strengths and advantages of Tesco and CRE, a compelling combination of local customer insights and international retail best practice, creating success and value for both groups, as well as propelling the internationalization of China's retail industry. The partnership will be strongly placed to lead the development of retailing in China.
Gross assets for Tesco's combined Chinese operations across 11 provinces, at the end of February of this year, were £2,615m, with the net book value of £1,357m.
On the profit front, however, things aren't looking great for Tesco. Pre-tax profits fell by 24 per cent to £1.39bn in the 26 weeks to 24 August.
UK like-for-like sales in the fell by 0.5 per cent in the first half of the year, but this included a 0.9 per cent fall in the first quarter and flat sales in the second.
Philip Clarke, chief executive of Tesco, said that the company is making "further progress on our strategic priorities", despite the challenges it continues to face.
Whilst the company's UK market has grown, with food sales rising and sales in Tesco's refurbished Extra stores increasing five per cent, across its international markets, growth was affected by weak European economies and restrictions on Sunday opening hours in South Korea. Like-for-like sales in South Korea fell 3.7 per cent and 4.7 per cent in Thailand. European like-for-like sales dropped by five per cent.