If Sue Gray becomes Starmer's chief of staff, she'll have some answers to give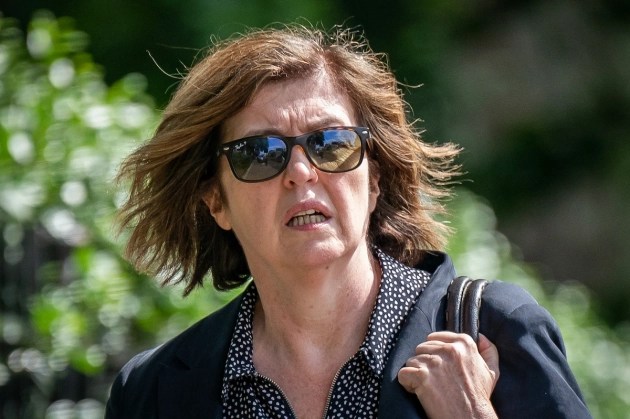 Sue Gray has every right to take the job as Keir Starmer's chief of staff. But because of her involvement in the "Partygate" saga, she must clarify what happened in the background, writes Eliot Wilson
Sometimes life comes at you fast. It's not much more than five years since Sue Gray was a name relished by Whitehall insiders but without any resonance with the public. When she handled the investigation into the sexual conduct of Damian Green, then Theresa May's de facto deputy PM, newspapers had to explain who she was. The late Paul Flynn MP summed her up in a meeting as "deputy God". Yet last week she was a news story herself – which, as a civil servant, usually means you are very senior or have done something very wrong.
In a story which unravelled with dizzying speed, it was reported that Sir Keir Starmer was considering Gray – by now second permanent secretary at the Cabinet Office – as a candidate to be his new chief of staff. The reason this was headline worthy is that Gray undertook the inquiry into lockdown breaches at Downing Street under the tenure of Boris Johnson, fuelling the "Partygate" scandal which some think unjustly brought him low.
As a civil servant, she carried out an investigation which had the most sharply political consequences. So her apparent acceptance of a much more partisan role caused everyone to look back and think again about the grim last months of Johnson's Downing Street years. Those in the Conservative Party who still abase themselves before Johnson have had no difficulty in seeing the Starmer appointment as the culmination of Gray's long-suspected betrayal. They see her almost as a sleeper agent of the Islington set who now reveals herself.
If it goes ahead, it will be an unusual appointment. The Downing Street chief of staff role is not a very old one, first held from 1997 by Jonathan Powell, whom Tony Blair had recruited when the former was first secretary at the British Embassy in Washington. Nor is it by necessity a political post: Sir Tom Scholar, sacked last year as permanent secretary to the Treasury as part of Liz Truss's performative purge of the institutions of government, held the job for a few months in 2007/2008. He was eventually succeeded by the late and legendary Sir Jeremy Heywood, later cabinet secretary. The ideological status of Dan Rosenfield, a former civil servant but recruited from the private sector, was never clear during his tenure in 2021/2022, though he was brought in to bring methodology rather than sharply partisan views.
Sue Gray will be the most senior civil servant to cross the political Tiber in this particular way, however. She has been in the civil service since leaving school, and has operated at some of the most sensitive edges of government, not just in terms of ministerial conduct but also, it is widely believed, on at least the fringes of intelligence and security in her husband's native Northern Ireland. Her background includes at least a decade keeping tabs on ministerial behaviour and conduct.
In principle, Gray has every right to take the job. To pretend civil servants have no politics, and that it is a stark betrayal when their views turn out to be contrary to our own, is lazy and false. The civil service relies on professionalism and an ability to distance the personal from the public. I did that every day for eleven years as a clerk in the House of Commons; it becomes a habit.
Nevertheless, because of Gray's very recent involvement in a process which contributed to the fall of a prime minister, there are some questions she needs to answer. When did she decide to apply for a partisan political role? Is chief of staff to Keir Starmer the only role of this kind she has considered? Did she apply to the leader of the opposition's office for a vacancy, or did they come to her? None of these is a fatal blow to her next step, but each needs to be smoothed out.
If by the end of next year Sue Gray is running the Downing Street operation for the newly elected prime minister Keir Starmer, he will have an experienced ally. That is a benefit to the cause of good governance. But how Gray manages her transition may well have profound effects on the attitude of the current governing party towards the impartial civil service and the norms on which Whitehall operates. The knives are already out and being polished by some including Nadine Dorries, and even Johnson himself.
Gray has one last duty towards the community of officials: make sure her departure is smooth and held to the highest ethical standards. It would be a fitting sign-off to an extraordinary Whitehall career.