House prices to stay static
John Watson, chief executive of Bellway, the housebuilder, yesterday dampened expectations of a significant increase in house prices between now and next summer.

Commenting as the company delivered otherwise impressive annual results, he said: "My feeling is that it is right to assume nil house price inflation in our next financial year, which is to July next year."
Bellway's profits were up 6.2 per cent to £218m.
The company made £218.2m from its business of selling homes across the country at the lower end of the price spectrum.
Reservations for Bellway homes have increased 4 per cent in August and September on the same months last year, although it also had 3 per cent more homes to sell.
Watson's comment came on the same day as the Royal Institution of Chartered Surveyors said it was expecting a rise in house prices, albeit a gradual one, for the first time in 18 months as the picture became less clear.
Bellway said it thought its house prices in the south would increase, but that was mainly due to a difference in specification.
Yesterday was the 14th year in succession that the company reported increased sales, with turnover hitting record levels. It sold £1.17bn of homes as opposed to just over £1bn in 2004, a 7 per cent leap. Pre-tax profits were up 6.2 per cent to £218m.
Its landbank has increased by 1,800 to 22,500 and it is increasingly involved in city- and town-centre regeneration schemes. It said the intention was to increase dividends for the full year by 25 per cent.
Chairman Howard Dawes called the market "testing" but added the results reaffirmed Bellway's long term strategy of volume growth. "The board remains confident about the future prospects for the group," he said.
Shares by midday fell slightly, down 0.7 per cent to 868.50p.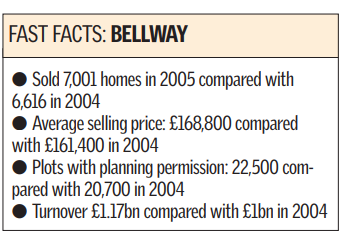 Safe as Houses?
At long last, there was good news for homeowners yesterday. The Royal Institution of Chartered Surveyors (RICS) is predicting a rise in house prices for the first time in 18 months — music to the ears of buyers who have been living in fear of negative equity.
If RICS is to be believed, a decrease in the number of chartered surveyors reporting price falls in August and an increase in buyer interest both point to a stabilising housing market. "Increasing demand and a possibility of further interest rate cuts have led surveyors to expect house prices to rise marginally by the end of the year. This turnaround in confidence adds to the evidence pointing to a stabilising of the market," RICS says. In May 46 per cent of chartered surveyors believed that house prices were falling, while in September the figure was 21 per cent.
Although prices slipped back marginally last month, the pace of decline was the slowest since summer 2004.
The surveyors' body believes we could now be seeing the effects of the Bank of England's modest, but psychologically important August rate cut. RICS's spokesman Ian Perry said: "While sellers asking for unreasonable prices are still struggling to find potential buyers, they are beginning to feel more confident as fears of a sharp fall in house prices have largely dissipated."
For the last three months, the picture across Britain is mixed. Surveyors in Scotland were the most optimistic with 37 per cent reporting price rises. The west Midlands was the worst performer, with 46 per cent of surveyors saying prices fell.
London was the second best performer where just 15 per cent of surveyors said prices fell. RICS says that London house prices, which have been declining since mid-2004 have now stabilised. London was the first to fall and the hope is that it will now lead a recovery.
Statistics released earlier this week by Rightmove indicated a virtually flat housing market for Britain in September, following three months of declining asking prices. The property website revealed Greater London prices rose by 0.7 per cent last month, compared with 0.5 per cent the month before, according to Nationwide.
But even within London, there were discrepancies. The best boroughs were Tower Hamlets, Camden and Newham (see box), two of which were helped by the "Olympic effect". Tower Hamlets and Newham saw prices jump by 4.6 per cent and 3.1 per cent respectively, thanks to extra investment following London's successful bid for the 2012 Olympic games. The worst performers were Kingston, where house prices fell by 4 per cent last month, and Richmond where prices fell by 2.5 per cent.
But there are lies, damn lies and house price statistics. Nobody who lives in London could fail to note that the housing market has been in the doldrums since the Bank of England started to push up interest rates last year. Mervyn King expressly warned homebuyers about the dangers of overpaying at the time.
The four main house price predictors: the Halifax, Nationwide and Rightmove surveys and the Office of Deputy Prime Minister's differ markedly. Only over a year do they paint a similar picture (see graph).
Of the four, the Halifax has shown quite sharp increases in August and September, lending more weight to the RICS predictions.
But ask a housebuilder, and it is far from a rosy picture. John Watson, the chief executive of Bellway Homes told CityA.M. yesterday: "My feeling is that it is right to assume nil house price inflation in our next financial year, which is to July next year."
So are prices stablising? Perhaps, but don't bet your house on it.