Heathrow's Hollywood welcometothe.uk sign to champion arrival of new domain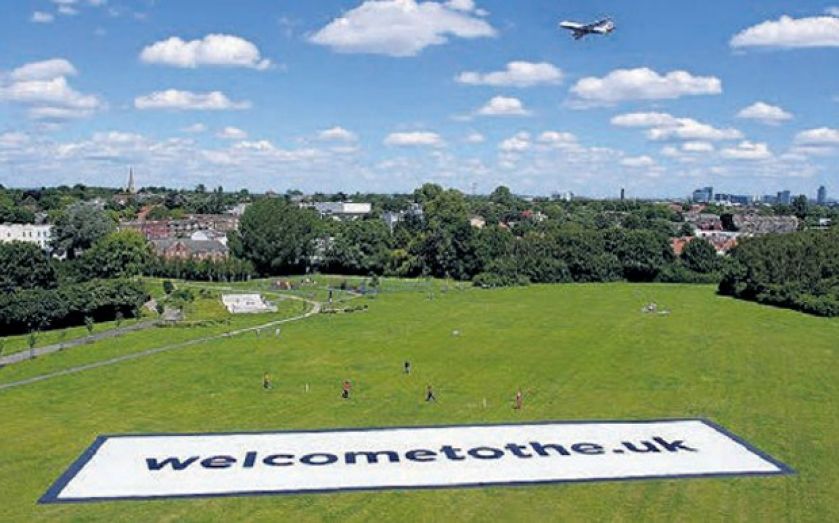 Flyers arriving at Heathrow who've been wondering if someone's made a rather giant typo will today find out why a massive "welcometothe.uk" sign greets them on Heathrow's lawn, as .uk becomes a domain.
Scouring the internet for the banner, which has been in place for the last two days, would have lead travellers to an error message until the site went live along with other .uk sites.
The .uk lobbying crew won't be the only ones with a new site this morning. Britain's favourite tweeter
Stephen Fry
has become one of the first people to make the switch. "We're delighted that Stephen Fry has chosen .uk, given that he's known for being an early digital adopter," said Eleanor Bradley, chief operating officer of Nominet.
"We wanted to welcome him and everyone else to the brand new .uk domain in a big way – so why not do it with the world's biggest welcome sign?" Why not indeed. Let's hope our visitors speak internet.
■ WHAT the devil is Lord (Mervyn) King spending his time on now he's not stalking the halls of the Bank of England? Well, aside from lecturing at NYU, he's been penning his thoughts on England and the World Cup (along with every other banker with a spare minute and Three Lions stuck in their head). King's revelations on Bloomberg View are multiple. He first went to see his team, Aston Villa, play on 8 October, 1960. His idol, economist John Maynard Keynes, had also been to see Villa play, although many years before. What are the chances?! Oh and he calls the England team stupid. In a terribly polite way. "Unfortunately, intelligence – a crucial component of Germany's success – is not the English players' strongest card." Ouch.
■ SO, ELON Musk has been on our fair shores these past few days; launching the electronic vroom-mobile Tesla S, talking about life on Mars and dissing our entrepreneurial oracle, Sir Richard Branson – kind of. Speaking to Management Today, Musk said: "He did name his firm Virgin Galactic. That's pretty big. It's a bit like your name is giant and you're actually quite small." Ooohh. Handbags at dawn. "I like Richard and I think he's doing some cool things. But technology is not really his whack you know." Oooff! Well, we wondered if Sir Richard agreed technology wasn't his "whack" but Team Virgin simply brushed it off, implying the two are friends and chat a lot. Intergalactic death-match cancelled.