Greece elections 2015: How David Cameron, Ed Miliband, Paul Krugman and other world leaders and economists reacted to Syriza victory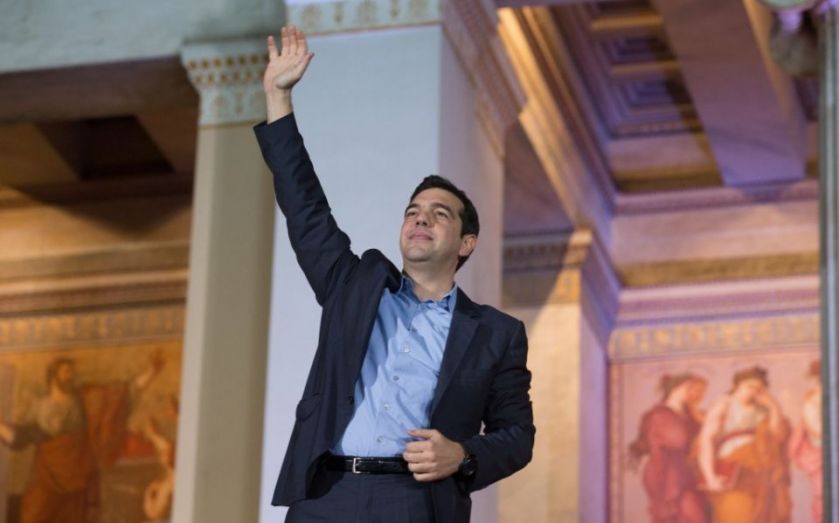 The impact and significance of Syriza's victory in the Greek election is already making its mark on Europe and the rest of the world.
Syriza, a leftist anti-austerity party, wants to renegotiate Greece's debt to its three creditors (the European Commission, the European Central Bank and the International Monetary Fund), which currently stands at around 170 per cent of GDP.
The result is not yet a day old and the Greek government has not been formed, but already politicians are politicking and the economists are pontificating. The reaction to Syriza's victory has been a mixed bag of friendly congratulation and stern warnings. Here's how key figures have responded.
UK
Prime Minister David Cameron was hardly generous with warm congratulations for Syriza leader Alexis Tsipras, instead opting to post a downbeat message on Twitter.
The Greek election will increase economic uncertainty across Europe. That's why the UK must stick to our plan, delivering security at home.

— David Cameron (@David_Cameron) January 25, 2015
Ed Miliband responded by saying that the government should be looking to work with Greece's elected government, and not use the result as an excuse "to play politics".
The opposition leader said in a statement:
Just like our elections are a matter for the people of this country, so who the Greek people elect is a decision for them.

It is the responsibility of the British government to work with the elected government of Greece for the good of Britain and Europe and not to play politics.

And it is up to each country to choose its own path on how to deal with the economic and social challenges they face.

We have set out our path for Britain: to make sure our country is fairer and more prosperous and balance the books.
Speaking to the BBC, chancellor of the exchequer George Osborne argued the victory of the anti-austerity party was not in fact a victory for anti-austerity sentiment at all. He said:
People get tired of economic failure, the tired of rising unemployment…what you see is not a defeat of austerity, it is a defeat of economic plans that don't work and in Britain we have got an economic plan that is working.
Unsurprisingly, members of the UK left have sounded their support for Syriza. The former leader of the Green Party, Caroline Lucas, and Peter Hain both took to Twitter to send upbeat messages.
"Hope has won" – inspired by huge vote for #Syriza – now EU must listen to people & economists & respond with debt forgivenesss & support

— Caroline Lucas (@CarolineLucas) January 25, 2015
Fantastic Syriza win: austerity does not work for Greece, for Tory/Lib Dem UK, nor for EU; we all need investment in growth not savage cuts

— Peter Hain (@PeterHain) January 25, 2015
Europe
In Europe, leaders were somewhat slow to offer their congratulations to Tsipras and co.
French president Francois Hollande professed his "desire to pursue the close cooperation between our two countries in service of growth and the stability of the eurozone, in a spirit of progress, solidarity and responsibility that is at the heart of the European values we share".
Leader of the far-right National Front party Marie Le Pen celebrated Syriza's victory as a "giant democratic slap in the face by the Greek people to the European Union".
Germany has both warned Greece that it will not receive debt relief and expressed its willingness to work with the country.
German Chancellor Angela Merkel has not commented herself, but in a press conference on Monday government spokesperson Steffen Seibert said:
The position of the European partners and Germany has not changed. Since the beginning of the crisis, the goal has been to stabilise the whole of the eurozone, including Greece, and that remains the goal of our work.
Meanwhile Guenther Oettinger, Germany's EU commissioner, said this morning: "If we cut debt (for Greece), that would give the wrong signal to Portugal or Ireland, Cyprus or Spain."
Spain's conservative Prime Minister, Mariano Rajoy, said he hoped Syriza could go on to form a "stable" government:
I wish to congratulate you for Syriza's victory…I hope the election result leads to the forming of a stable government committed to the programme of European integration that Greece and Spain share.
Russian president Vladimir Putin said he had "confidence that Russia and Greece will continue to develop their traditionally constructive cooperation in all areas and will together effectively in resolving current European and world problems".
Christine Lagarde, managing director of the International Monetary Fund (IMF), ruled out giving Greece any special treatment for its debt.
She told Le Monde:
There are internal eurozone rules to be respected. We cannot make special categories for such or such a country.

It's not a question of austerity measures, these are in-depth reforms that remain to be done.
European Central Bank board member Benoit Coeure echoed the sentiment: "He (Syriza leader Alexis Tsipras) has to pay, those are the European rules of the game. There is no room for unilateral action in Europe, that doesn't exclude a discussion, for example, on the rescheduling of this debt."
However, Jean-Claude Juncker, president of the European Commission, has written a letter congratulating Alexis Tsipras:
Economics
Joseph Stiglitz
, one of 18 notable economists who wrote an open letter to the Financial Times arguing that Europe would benefit from listening and working with Syriza to give Europe a fresh start, made the same point again on
CNBC news
. Stiglitz argued:
The policies that Europe has foisted on Greece just have not worked. And it's true in Spain and the other crisis countries.

I think back to World War II. What enabled Germany to become what it is today? Basically, the west said, 'we'll forgive your debts'.

Greece made mistakes, we can agree on that. But I think Europe made even bigger mistakes. When this crisis began the debt-GDP ratio was 110 per cent, now it's about 170 per cent. So the medicine they gave was poisonous.
The thing is, we now have essentially the same people who so totally misjudged the impacts of austerity lecturing the Greeks on the need to be realistic.
If Syriza were to win its negotiations with the rest of the eurozone these other anti-austerity parties would look more credible to voters. The victory of protectionist, nationalising Marine le Pen in France's presidential election would be an interesting test of markets' sangfroid (ahem).

And if Syriza were to lose in talks with Brussels and Berlin, and the final rupture of Greece from the euro were to take place, investors might well pull their savings from any eurozone country where nationalists are in the ascendant.
Meanwhile Dani Rodrik, economist at Princeton, made the point that Greece's problems don't start and end with debt:
Greece faces both a stock (debt) and a flow (competitiveness) problem. Even with debt reduction, second problem will impede recovery.

— Dani Rodrik (@rodrikdani) January 25, 2015