Chancellor on track to hit borrowing forecast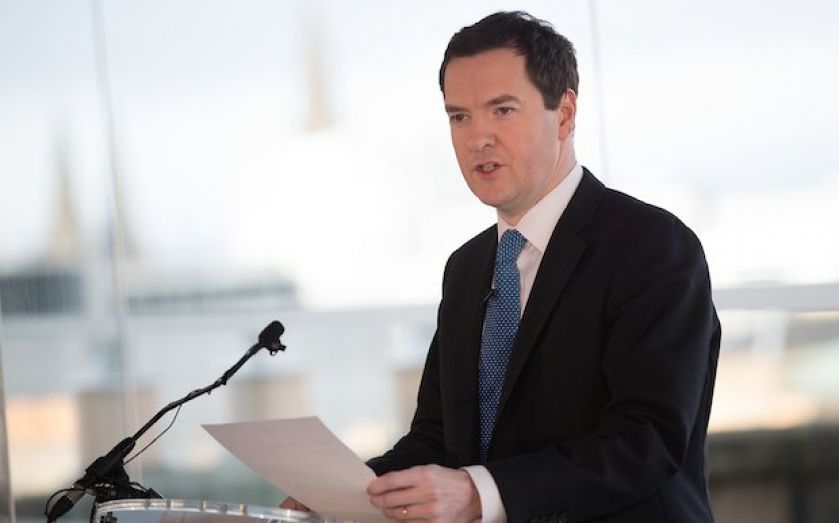 The UK's latest public finance figures have been released by the Office for National Statistics, and they show the government's financial position got better last month.
Public sector net borrowing has come in at £7.5bn in February, less than was forecast.
Economists' expectations ranged from £7.9bn to £8.5bn, following January's modest receipts of £6.8bn – which has been revised from £6.4bn.
But despite the cheerier figures, with slow downward progress being made, public finances still have a long road ahead before being restored to "full health", says Capital Economics.
Today's numbers
Over the last 11 months, public sector borrowing hit £99.3bn, down £4.4bn on same period last year. In February, public sector net borrowing – excluding temporary effects of financial interventions – was £9.3bn.
This puts the chancellor, George Osborne, on course to meet his new full-year borrowing forecast of £108bn – 6.6 per cent of GDP. Public sector net debt totalled £1.2 trillion last month, equivalent to 74.7 per cent of GDP.
Departmental spending saw a rise of more than seven per cent in the 11 months to February, predominantly because of new data on spending from the Department of Health, and a big rise in "other receipts".
The Office for Budget Responsibility (OBR) reckons the UK's strengthening recovery – it upped its growth forecast to 2.7 per cent for this year – will reduce the amount of public borrowing needed.
Saving the Treasury £24bn over the next five years, Osborne announced in the Budget that borrowing was cut to £108bn from £112.2bn, and the government's expected to borrow £95.5bn in 2014/15, down £1bn from a December prediction.
Long road ahead
If the economy sees growth of three per cent, which is what Capital Economics is predicting, the £95.5bn could prove slightly pessimistic. But that said, although the chancellor is on track to balance the structural budget a year early – in 2017-18 – the pace the deficit's falling at isn't picking up by as much as originally thought, and the surplus that financial year and the one after will actually be smaller.
In the emergency Budget of 2010, the OBR forecasted that borrowing this financial year would be £60bn, and £37bn next year.
Moreover, the structural deficit for the current year is 2.2 per cent – worse than the 1.7 per cent estimated a year ago, and meaning there's less freedom for growth to mend the public finances.