FTSE 100 and US stocks soar on coronavirus treatment hopes
The FTSE 100 jumped and US stocks hit fresh highs after the US authorised a new coronavirus treatment, lifting the mood among global investors.
London's blue-chip index rose 1.7 per cent to close at 6,104 points. The FTSE 250 index of mid-cap firms rose 0.6 per cent.
Read more: Asian stocks climb after Wall Street rally
On Wall Street, the S&P 500 was 0.7 per cent higher in morning trading. The index had hit a new intraday high of 3,427 points before slipping back slightly.
The tech-heavy Nasdaq also hit an all-time high before paring its gains. It was last up 0.5 per cent and the Dow Jones was one per cent higher.
Germany's Dax rose 2.4 per cent. And The continent-wide Stoxx 600 climbed 1.6 per cent.
Driving global markets was the US Food & Drug Administration's (FDA) decision to add the use of blood plasma from recovered patients to the country's coronavirus treatment list.
Signs that the US government is focussing on a Covid vaccine also boosted investor sentiment. 
Trump is considering seeking another FDA "emergency-use authorisation" for the coronavirus vaccine being developed by Astrazeneca and the University of Oxford, the Financial Times reported. 
"Markets have kicked off the week in style," said Joshua Mahony, senior market analyst at trading platform IG.
He said the FDA's move had raised hopes "that we could see a vaccine fast-tracked before long".
FTSE 100 lifted by Astrazeneca and BT
The report that Trump was looking to buy fast-track the Astrazeneca and Oxford vaccine helped the UK drugmaker. It closed 2.1 per cent higher on the FTSE 100, boosting the index.
"Trump is apparently keen to get the regulatory approval sped up," said David Madden, market analyst at trading platform CMC Markets.
"The move could come in October, one month ahead of the US presidential election," he said. "Even though there are no guarantees that things will go according to plan in terms of the drug's success, traders are snapping up stocks nonetheless."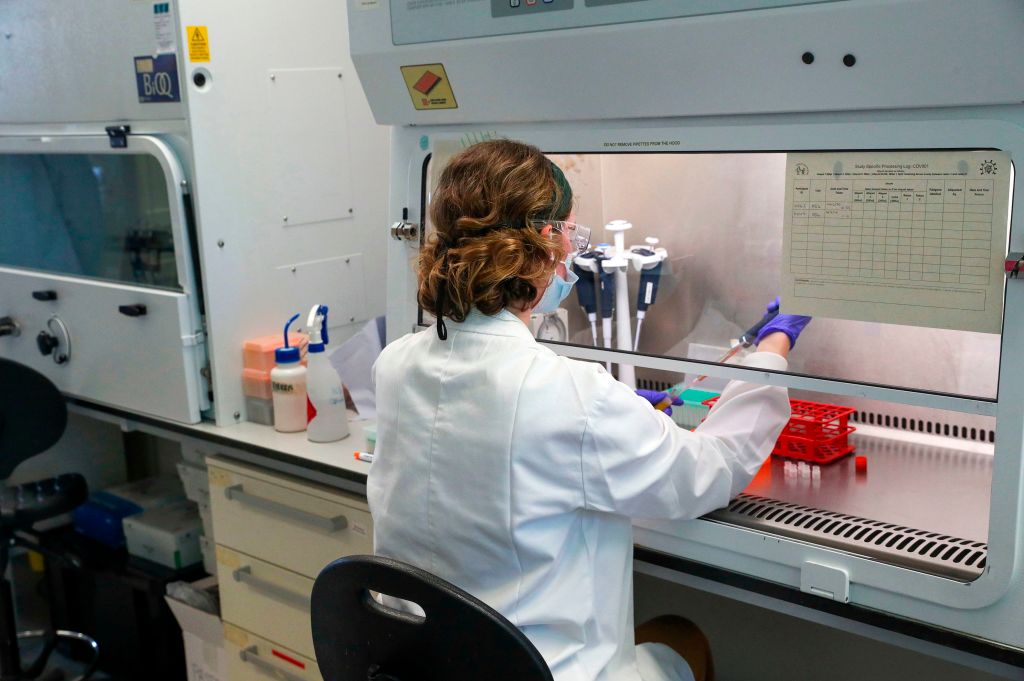 The biggest FTSE 100 riser was BT, however. The telecoms giant jumped 7.1 per cent after reports said it had ramped up its defences against a potential takeover.
Read more: BT shares jump as it ramps up defences against potential takeover
Helal Miah, investment research analyst at The Share Centre, said that "no bidders have been identified".
But he added that "any potential bidder may be attracted by the fact that individual businesses such as Openreach are valued far higher than the sum of the parts of £10bn".
US stocks hit all-time high
Wall Street stocks followed Europe higher, driving them to new all-time highs.
The benchmark S&P 500 has completed a remarkable turnaround since its March crash. It is now around five per cent up this year, despite the economic catastrophe of coronavirus.
The Nasdaq, which is packed with the biggest tech names, has been hitting new highs for months. It is roughly 24 per cent higher for the year.
Apple hit a new all-time intraday high, days after becoming the first company worth $2 trillion (£1.5 trillion).
Rory McPherson, head of investment strategy at Psigma Investment Management, said "mega-cap technology stocks" were driving US markets.
They "have benefitted from the acceleration of digitalisation induced by coronavirus and from central bank stimulus programmes," he said.
Rupert Thompson, chief investment officer at Kingswood, said US tech dominance contrasted sharply with FTSE 100 weakness.
Read more: Italy begins coronavirus vaccine trials as WHO chief urges global cooperation
"Technology outperformance and UK underperformance has been the story [of] the whole year," he said.
"The technology sector has outperformed global equities by over 30 per cent since the start of the year while the UK has underperformed by over 20 per cent."
Traders look towards central banks
Upbeat investors chose to shrug off rising coronavirus cases around the world.
France reported 4,897 new cases yesterday, the biggest one-day jump since April. But the FTSE 100 was unfazed even as new UK cases stayed above 1,000 for the fourth day in a row.
The dollar slipped 0.1 per cent against a basket of other currencies. The safe-haven asset has lost ground when investors turn to stocks in recent months.
Analysts said investors will eagerly await the Jackson Hole central banking symposium. It is online this year and starts on Thursday.
Read more: Coronavirus crisis: How far will the UK economy fall in 2020?
Eleanor Creagh, Australian market strategist at Saxo Bank, said the event "could prove pivotal".
Creagh said US Fed chair Jay Powell "may signal where the [Fed] committee are placed in terms of changes to monetary policy and their new inflation commitments".