Fire crews tackle entire 45-foot lorry on fire after earlier diesel spill on A13 by Upminster, causing M25 chaos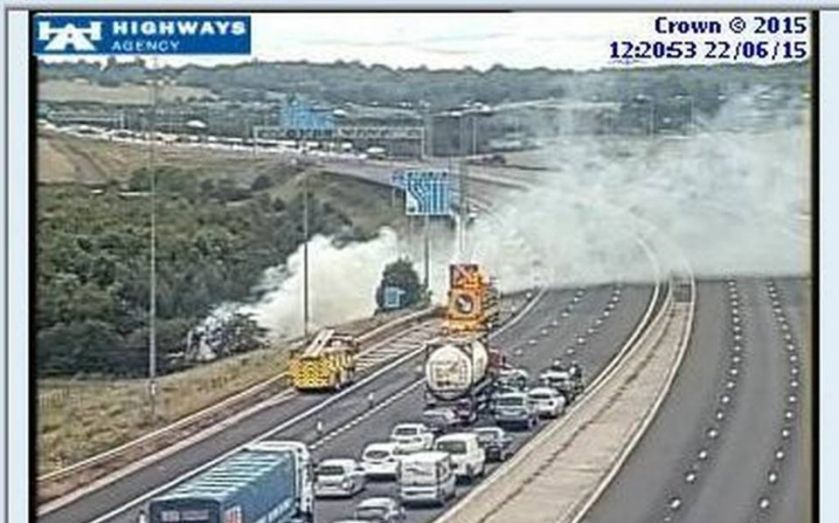 A lorry filled with cheese was engulfed in fire, causing travel chaos on the M25 today, 12 hours after the driver crashed into a bridge barrier.
The fire spread through the whole of the 45-foot lorry, London Fire Brigade said. The smoke was so bad the roads were closed at junctions 29 and 30 heading in both directions for over an hour.
The fire was first reported at 11:45am.
Three engines and 15 firefighters from Hornchurch and Dagenham attended the scene, and the fire had been brought under control by 1:25pm. The cause is now under investigation.
Some 12 hours earlier the vehicle had crashed through a bridge barrier on the M25, spilling around 1,000 litres of diesel onto the A13 Saint Mary's Lane, near Upminster.
Four fire engines attended this earlier incident, but had to return after it burst into flames.
https://twitter.com/LondonFire/status/612943254128979968
https://twitter.com/OfficialBigDave/status/612946959754784768
https://twitter.com/tombarrett200/status/612944091098157056
https://twitter.com/tombarrett200/status/612947403533119488
https://twitter.com/HighwaysSEAST/status/612940805393764352