#FarringdonTrains floods to disrupt Thameslink services all day "at least"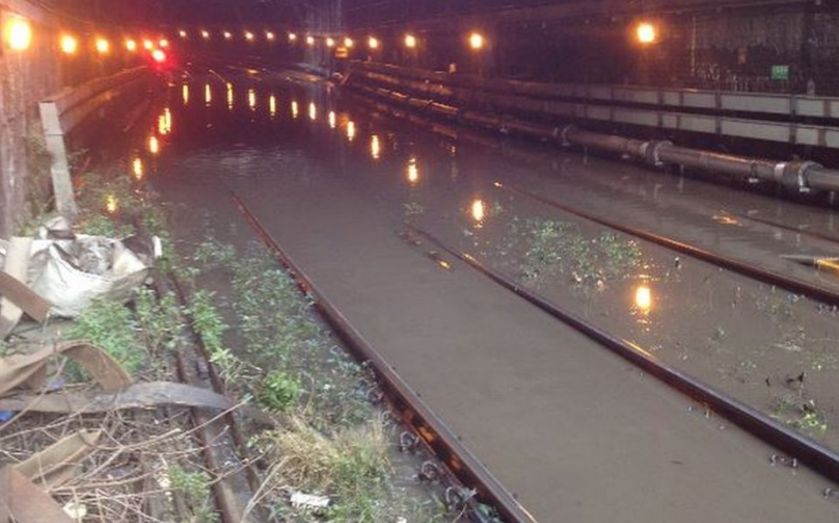 The flood between Farringdon and St Pancras is still causing travel chaos three days after the water main first burst.
Thames Water has been attempting to fix the flood, which is playing havoc with Thameslink services across London, since Friday.
But the line is still out of action and Network Rail said this morning that services would not resume until tomorrow at the earliest.
A statement put out by Thameslink said:
Despite Network Rail's continued efforts to pump the water out there was yesterday (Sunday) around 50,000 litres of water in the tunnel with a risk of damage to the safety equipment and infrastructure which needs to be checked.
In light of this, Network Rail have informed us that we will be unable to run any trains between Farringdon and London St Pancras International until at least the end of service on Monday 26 January. We have a reduced service elsewhere on Thameslink. Both Network Rail and Thames Water are currently working hard to fix the problem.
In total there is an estimated 250,000 litres of water to move across the line, Thameslink said this morning.
Here is a video showing a train attempting to travel through the flooded area.
https://twitter.com/TLRailUK/status/558694231859273728
https://twitter.com/TLRailUK/status/559623326453481472
https://twitter.com/coralsummers/status/559626929595494400
https://twitter.com/racheldixon/status/559626072875360256
https://twitter.com/aviationtrev/status/559627640873959424
https://twitter.com/CougieHetfield/status/559500702549307392
https://twitter.com/kraynex/status/559627983280177153
Thames Water has apologised for the commuter chaos.
A spokesperson said: "We have been working around the clock this weekend, with help from Thameslink, Network Rail and Transport for London, to fix the leak as fast as possible while keeping our customers in supply at the same time.
A spokesman for Govia Thameslink Railway, which operates Thameslink services, added: "The disruption caused by the burst Thames Water water main near Farringdon has been hugely frustrating for passengers and railway staff alike but in the interests of safety we have to follow the advice of Network Rail and not run through the area.
"We are doing all we can to help passengers on our reduced service with alternative transport arranged with other operators and rail replacement buses where possible.
However, on a working weekday, a problem like this is bound to cause significant disruption and we can only apologise.
"Anyone who has been delayed by 30 minutes or more can claim compensation via our website thameslinkrailway.comdelayrepay."