London City Airport: Police and Extinction Rebellion vie for control of travel hub
Extinction Rebellion protesters attempted to block the entrance to London City Airport today, as well as blockading the DLR station near the travel hub.
London City Airport said that flights remain unaffected, with 60 planes having arrived and departed from the airport by 9.15am.
Read more: Extinction Rebellion protesters seek to shut down City airport for three days
The Met has not confirmed any arrests at the airport so far.
But Extinction Rebellion said arrests are "happening now at the terminal at City Airport".
"Rebels are using their bodies and risking their freedom to peacefully close the London City Airport," the group added on its Facebook livestream.
One protester managed to board a flight and prevented it from taking off by standing upwhile fellow passengers berated him and urged him to "sit down".
Meanwhile police intercepted protesters cycling towards the private jet terminal with the intention of blocking the entrance.
Protesters spread across the DLR station and the terminal itself, but London City Airport said services were running as normal.
"We can confirm that a number of protesters have arrived at London City Airport," an airport spokesperson said.
"We continue to work closely with the Metropolitan Police to ensure the safe operation of the airport, which remains fully open and operational. As of 0915 there have been over 60 flights which have either arrived or departed.
"If you are flying from London City today, please check the status of your flight with your airline before travelling to the airport."
In pictures: Extinction Rebellion infiltrate London City Airport
Activists blockade the Docklands Light Rail (DLR) station at London City Airport (Getty Images)

Extinction Rebellion protesters managed to infiltrate London City Airport (Jamie Lowe)

Met officers arrested protesters (Jamie Lowe)

Met officers had a strong presence at London City Airport (Jamie Lowe)

Met police officers have not confirmed the number of London City Airport arrests (Jamie Lowe)

Extinction Rebellion cyclists arrested at the private jet terminal of London City Airport (Jamie Lowe)
London City Airport has said it will block anyone from entering the terminal without a boarding pass today as it seeks to thwart the threat of a three-day Extinction Rebellion strike.
The City's international travel hub also warned passengers to check the status of their flights with their airlines as climate change protesters vowed to shut down the travel hub until Saturday night.
Bosses were earlier working with the Metropolitan Police to identify protesters who have booked one-way tickets in order to gain access to the airport.
"Thanks for your patience if you're travelling today as we implement boarding pass checks at the entrance, due to the threat of protester activity," the airport tweeted at 8.15am.
"Over 40 flights have arrived or departed so far. We continue to work with @metpoliceuk to minimise disruption."
Extinction Rebellion has said it wants to launch a "Hong Kong-style" occupation of the airport and disrupt flights between today and the end of Saturday.
They said they will target the DLR station as well as the arrivals and departures lounge.

"All passengers travelling for the remainder of this week will be required to show their boarding pass to access the terminal," an airport spokesperson said.

"We'd like to thank passengers in advance for their patience, and recommend that they check the status of their flights with their airline, before travelling to the airport."
They told City A.M. that passengers should travel to the airport as normal.
"This will be our biggest mass participation action during the rebellion and this nonviolent disruption will send shockwaves around the world and set a new global precedent for direct action," Extinction Rebellion said earlier this week.

"We're expecting hundreds, if not 1,000s, to participate."

Climate change protesters are trying to occupy the departure and arrival lounge and block security at London City Airport.

If protesters cannot, they will "fall back" to target London City Airport's DLR station and the road outside the airport.

"Wherever we land, we will construct our '13th site' – bringing food, water, tents and sleeping bags to make sure we can continue holding the airport and keeping it closed for a full 3 days," they said.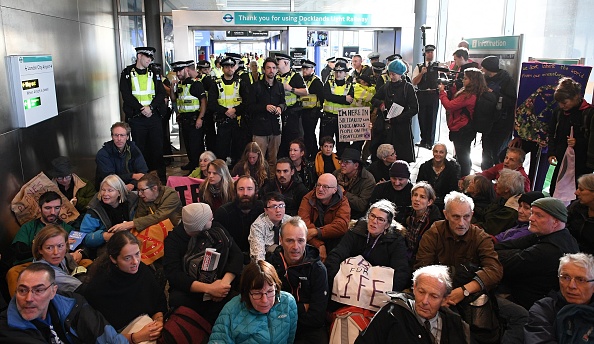 Meanwhile Met commissioner Cressida Dick warned activists police would confiscate items from them to hamper protest efforts outside Trafalgar Square.
"If you want to protest, you can go to Trafalgar Square. If you act unlawfully we will arrest you and we will seize things that you are using to obstruct the highways in London," she warned.
Extinction Rebellion has targeted London City Airport over its planned £2bn expansion, saying this contradicts the government's commitment to go net carbon neutral by 2050.
"Airport expansion such as this and the proposed third runway at Heathrow will make it impossible to meet this commitment," XR said.
"London City Airport is planning to roughly double its numbers of flights," protester Rupert Read said.
"It is used disproportionately by private jets and by financiers, business people and other members of the polluter elite flying in and out of the City of London, when often they could do what they need just as well by using digital telecommunications."
Read more: Extinction Rebellion's drones get grounded but flights are fine at Heathrow protest

So far the Met has arrested 800 people in connection with Extinction Rebellion's London protests.

Police have banned protesters from leaving Trafalgar Square, but thousands have targeted landmarks across London, blocking roads around Westminster and key bridges.