England 2, Germany 0: England rip up the script on night of release for fans and Gareth Southgate
For England, matches against Germany have historically been about pain, injustice, recurring nightmares and inferiority.
At Wembley, in front of the biggest sports crowd the UK has witnessed since before the pandemic, they rewrote the script.
This time around it was about joy, deserved victory, resilience and glorious possibility. But more than anything it was about release.
It brought release for England supporters, until now unsure whether to believe in their team's prospects at this tournament.
Now they have a win and a performance to hold on to. Now they can dream of returning here for the semi-finals and perhaps even the final next week.
It brought enormous release for Gareth Southgate, a man whose playing career was defined by one mistake for England against Germany 25 years ago.
This was not a perfect display by his England team but once again Southgate was vindicated by just about every decision he made.
In a very literal sense, too, this last-16 game represented a release of the restrictions that have diluted sporting spectacles for more than a year.
The approximately 40,000 at Wembley was double that allowed for the group stage. They savoured it, urging England on and lingering to sing Three Lions long after full-time.
This is the next best thing to England staging a whole tournament. They might win it, they might not. But these are the nights we will remember.
Why tension built for England clash with Germany
This fixture hardly needed an additional injection of tension, but it got one anyway in the form of a cagey opening 75 minutes from both teams.
England had the better of the first half, the opening 10 minutes aside, but too often retreated when Germany were there for the taking.
Having tiptoed through the group stage, England were risking being left for dust the first time they had to hit top speed. 
Lose to Germany and Euro 2020 would have been over before it had even begun in earnest.
It cannot have been lost on the England camp that this tournament increasingly represents a golden chance for them.
They are indisputably in the easier side of the draw, France are out and they can't face Italy, Belgium or Spain until the final.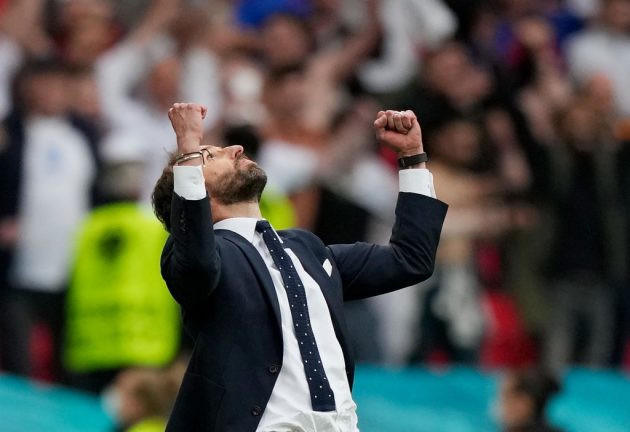 Then of course there was the rivalry issue. Southgate has been at pains to stress that his players barely remember England's past defeats to Germany, much less feel scarred by them.
Yet of course it still matters to everyone else. Supporters remember the wounds inflicted in 2010, 1996 and 1990. They are what international football, ultimately, boils down to.
So when Harry Kane fed Jack Grealish and he passed to Luke Shaw and he crossed low for Raheem Sterling and he scored Wembley erupted.
And when, 10 minutes later, Grealish and Shaw combined again to set up Kane and he stooped to head the second, Germany were buried.
After a wretched tournament so far, here at last was release for Kane too.
Sterling dragging team through single-handedly
If this was further vindication for Southgate, it was also further proof that too many people continue to doubt Sterling.
He swore he would score if England got to play a tournament game at Wembley.Sterling has scored three of their four at Euro 2020. He is dragging them to the final single-handedly.
Harry Maguire was also superb, indomitable in the challenge and braver on the ball than most. Jordan Pickford made excellent saves from Timo Werner and Kai Havertz.
The moment it became clear it would be England's night came shortly after Sterling's goal, when Thomas Muller, sent clear with just Pickford to beat, dragged his shot well wide.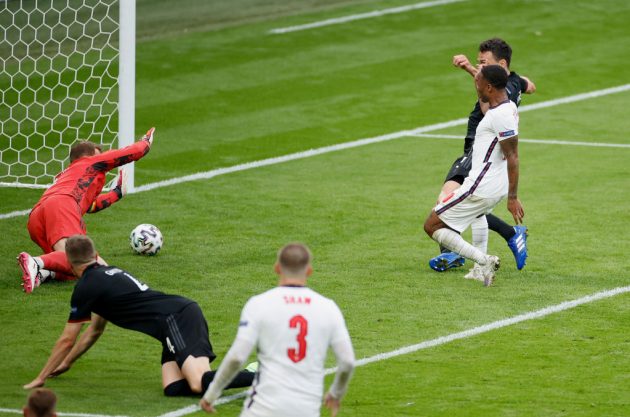 Southgate will still have his doubters, and it's fair to say that England have thrilled only fleetingly on their way to the quarter-finals.
But it's worth remembering that this was the men's national team's first ever win in a knockout game at a European Championship finals that didn't come via penalties.
It was also their first in a knockout game against Germany or West Germany post-1966. Yet some expect England to win trophies while playing like Pep Guardiola's Barcelona.
This may persuade a few that, perhaps, he and a coaching unit that led the team to their best World Cup for 30 years might know a thing or two.
More tests await but this was a big hurdle and the players showed how much it meant by staying out on the field to celebrate. They basked in it. We should too.