Cost of living fears don't stop Brits spending record £12bn in supermarkets in run-up to Christmas
Brits brushed off cost of living and recession fears to spend more than £12bn in UK supermarkets in the run-up to Christmas.
New figures from Kantar show take-home sales hit £12.8bn in the month leading up to 25 December.
Aldi and Lidl were the big winners, however, perhaps suggesting more Brits are 'trading down' amid inflation concerns.
Despite marking the first ever £12bn Christmas, grocery price inflation actually dropped by 0.2 per cent to 14.4 per cent, the second time it's fallen in a row.
Of Brits' Christmas favourites, mince pie value sales rocketed by almost 20 per cent – perhaps reflecting some Brits looking to rein in spending where they could with the cost of living increasing – while the festive pudding sales were up by 16 per cent.
The £12bn Christmas mark was driven by an increase in take-home sales by 7.6 per cent in the three months before Christmas.
Kantar said its year-on-year growth was at 9.4 per cent, the fastest rate since February 2021, during the pandemic.
This comes as the economy continues to be gripped by 40-year-high inflation of 11.1 per cent, with grocery price inflation standing at an eye-watering 14.4 per cent, down from 14.6 in Novermber last year.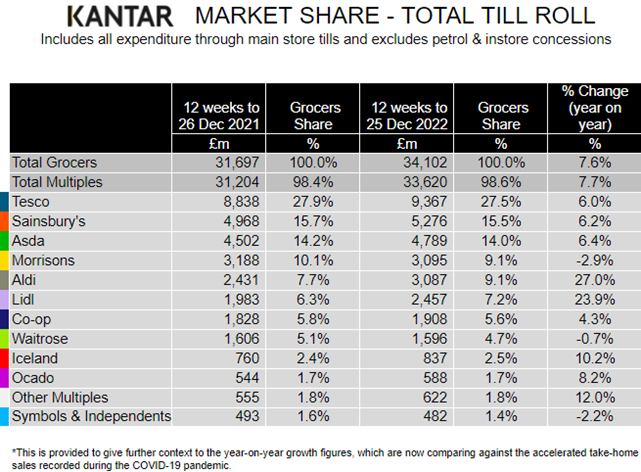 Fraser McKevitt, head of retail and consumer insight at Kantar, said "grocery sales were a whopping £1.1 billion higher in December versus last year, breaching the £12 billion mark for the first time."
"Value sales are up significantly but grocery price inflation is the real driving factor behind this rather than increased purchasing. If we look at the amount people bought this period, sales measured by volume are actually down by one per cent year-on-year, showing the challenges shoppers are facing," he said, reflecting the cost of living increases.
McKevitt said the impact of the World Cup in Qatar meant a "boost for the take-home beer market".
"England's Quarter Final match against France on 10 December saw sales hit their biggest daily takings of the year, surpassed only by the Friday and Saturday before Christmas as people stocked up on festive drinks."
Cost of living fears pushing supermarkets to be competitive
He added that the UK supermarket sector is now "more competitive than ever and the grocers are keen to retain customers by offering their own festive alternatives."
These lines always do well at this time of year and this festive period was no exception with sales growing by 10.2 per cent to hit more than £700 million for the first time."
Tesco's Finest range remains the single largest premium own label line by some distance, while Aldi and Lidl were the biggest contributors to the premium own label sector's overall growth in 2022."
He added however, that freezing and icy conditions in the run-up to Christmas "dented some people's enjoyment". It also showed sales of cough lozenges were up by 54 per cent.