Conservative Party Conference 2014: George Osborne outlines plans to freeze working-age benefits, abolish pension death tax and cut benefit cap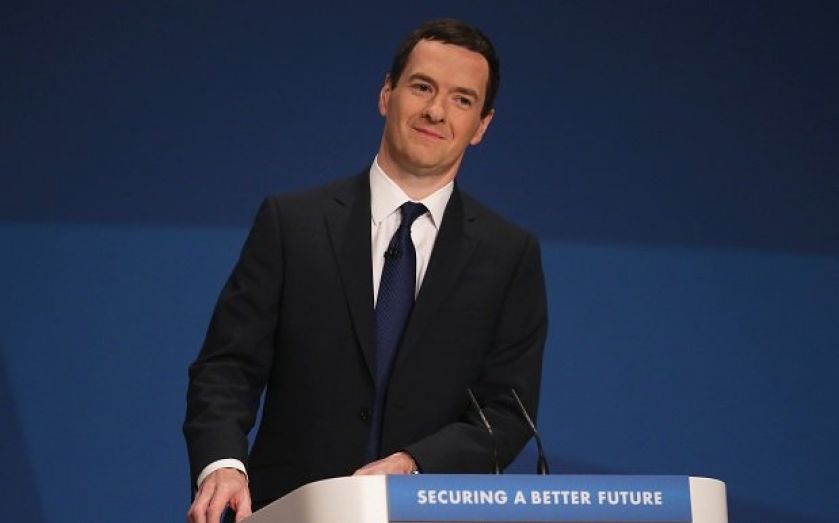 Chancellor George Osborne has delivered a host of policy pledges to the Tory faithful at the party's conference in Birmingham today.
The chancellor began his speech highlighting the UK's success in reducing unemployment and the deficit. However, Osborne told the conference hall that there was still much to be done, and the recovery faced many risks, not least from
the economic situation in the Eurozone.
Labour
Osborne launched a scathing attack on Ed Miliband. Referring to the
Labour leader's conference speech last week
, Osborne said: "Ed Miliband made a pitch for office that was so forgettable that he forgot it himself".
Forgetting the deficit was not just a "hapless mistake" but also a "disqualification for the high office he seeks", Osborne claimed.
Deficit
Osborne said an extra £25bn of permanent public spending cuts were needed. Further taxation was not an option, he claimed, noting "the economics of high taxation are the economics of the past".
A Conservative government would look to save £12bn from a further two years of Whitehall spending cuts, at the same rate as the current parliament.
Working age benefits
Working age benefits will be frozen for two years. Osborne said this will save the Treasury £3bn. Jonathan Isaby, chief executive of the TaxPayers' Alliance, said:
Freezing benefits is a necessary step towards restoring discipline to our public finances, and ensuring that taxpayers get a fair deal from the welfare system.
Pensions "death tax"
The chancellor continued his pensions revolution by abolishing the 55 per cent pension tax paid at death. The move will benefit 320,000 people a year and will cost the Treasury £150m a year. Previously, if you died at 75 any remaining pension pot faced the tax if it was untouched.
The 55 per cent rate applied to pensions of those aged over 75 and will be replaced by a marginal tax rate, while the rate for pensions of those under 75, which currently stands at the marginal tax rate, will be abolished completely.
The chancellor said: "People who have worked and saved all their lives will be able to pass on their hard-earned pensions to their families tax-free".
Youth unemployment
Osborne told the conference hall that the Conservative party should aim to abolish youth unemployment. The money saved from the welfare cap will fund three million apprenticeships.
Young people who have been unemployed for more than six months will have their jobseekers allowance (JSA) cut off. Instead 18-21 year olds will receive a "youth allowance", which will have to be earned through community projects.
John Cridland, CBI director-general, said:
We know that being out of work can scar young people for the rest of their lives, so we must do far more to help them into work.

Young people must have different options open to them and business stands ready to do more through training and apprenticeships.
Tax avoidance
Although he did not name any firms, Osborne noted that some tech companies had gone out of their way to avoid taxes. While saying they were welcome in Britain, he said government would put a stop to tax avoidance in future.
Commenting on the speech, director general of the Institute of Directors, said:
The Chancellor made clear his commitment to a low tax economy, which will ensure that the UK becomes even more competitive and business friendly. However, he was equally clear that growth in the future must reach every corner of the country.

In a survey of IoD members immediately after the Scottish referendum, support for economic devolution to our regions and cities was overwhelming, and to achieve the stated objective of closing the North-South gap, the government must recognise this new appetite for change.