Confidence in Bitcoin growing by the day
SIX DAYS TO GO!
Get your tickets here…
The week in review
with Jason Deane
Bitcoin, and broader crypto markets, have continued to move up this week, although it's fair to say that the last day or two has seen a softening of momentum.
In the UK, the Bank of England raised interest rates by another 25 basis points exactly as I didn't predict they would. My view was that since the economic situation is both precarious and really quite complex at the moment, this upwards move might just be a step too far.
Of course, I'm clearly in a minority view and, like everyone else, will have to accept the BoE's decision. For the record, however, I'd like it to be known I have concerns. Perhaps the same concerns as the two who voted against the rate rise this week in the committee of nine.
Meanwhile, back in the world of absolute certainty based on physics and mathematics, Bitcoin's ultra-reliable story continues to play out. Difficulty rose again last night by 7.5581% – itself a substantial rise given the amount of hash power on the network – to another new all-time high of 46.84T with a new record average hash rate of 335.23 EH/s.
If you're not 100% sure what these numbers actually mean, think of it as confidence in the future by miners and you can see this confidence growing visually in chart form here. Compare and contrast that against any fiat-based chart system you choose – bonds, public debt interest, spending power, you name it – the difference is striking.
Confidence in the future is also obviously part of what drove LunarCrush to announce they are sending a wallet key containing at least 62 Bitcoin attached to a lunar rover to the moon later this year. Well, that and the fact that it's a cracking marketing stunt, of course.
The idea is that in years to come, someone will make it to the moon and claim the keys to what should, in theory, be a small fortune. It's likely to be many years before it is actually claimed, but watching this story unfold as the value of Bitcoin grows will be quite fascinating.
Of course, the downside is that it's only a matter of time before the inevitable "Bitcoin to the Moon!" headline is published over and over again.
Back on planet earth, Interpol confirmed this morning that the man they picked up in Montenegro was indeed the infamous Do Kwon, the man behind TerraUSD and Luna, apparently travelling on false documentation but definitely "not on the run" according to his own statements. One thing is for certain, there are quite a few people who are going to want to have a word with him.
As for me, my week has been action packed, visiting and training at various racing circuits across the UK including Brands Hatch and Snetterton as Bitcoin Racing prepares for its second, much bigger, season of bringing Bitcoin to the racing masses in just two weeks' time. As a rookie driver up against 39 other drivers on the grid, I'll admit to being nervous.
Everyone is welcome to attend the events and you can find the calendar here, but if you can only make one, I'd suggest it's the season finale at Silverstone on October 7 and 8. Not only is this a cracking place to watch the final races of the season, but there will be a major Bitcoin event in the paddock with speakers, music and some serious fun!
For now, however, have a great weekend!
Want to know more about how to maximise your Bitcoin holdings and learn simple ways to invest? Come to my next free webinar on March 28 at 6pm to find out, ask any questions, and grab some free Bitcoin*. Click here to register. (*18+, UK resident, new Luno users only)
Yesterday's Crypto AM Daily in association with Luno
In the markets
The Bitcoin economy
*Data can be found at https://terminal.bytetree.com/
Total crypto market cap
The total capitalisation of the entire cryptocurrency market this morning was $1.179 trillion.
What Bitcoin did yesterday
We closed yesterday, March 23, at a price of $28,333. The daily high yesterday was $28,729, and the daily low was $27,183.
Bitcoin market capitalisation
Bitcoin's market capitalisation this morning was $542.659 billion. To put it into context, the market cap of gold is $13.125 trillion and Tesla is $608.2 billion.
Bitcoin volume
The total spot trading volume reported by all exchanges over the last 24 hours was $23.043 billion. High volumes can indicate that a significant price movement has stronger support.
Volatility
The price volatility of Bitcoin over the last 30 days is 63.05%.
Fear and Greed Index
Market sentiment today is 61, in Greed.
Bitcoin's market dominance
Bitcoin's market dominance today is 47.32. Its lowest ever recorded dominance was 37.09 on January 1 2018.
Relative Strength Index (RSI)
The daily RSI is currently 65.46. Values of 70 or above indicate that an asset is becoming overbought and may be primed for a trend reversal or experience a correction in price – an RSI reading of 30 or below indicates an oversold or undervalued condition.
Soundbite of the day
Every guy with a node is CEO, every miner, every buyer, every hodler, every dev. And there is a huge line of "unrealized" CEOs with different due dates.

Valentin, anon Twitter user
What they said yesterday
✍️
🤔
👀
Would you like to help spread the adoption and education of Bitcoin in the UK and even stack some Sats while you're doing it? Well, now you can!
The Bitcoin Pioneers community, backed by Barry Silbert's Digital Currency Group, was created to introduce Bitcoin to a mainstream audience in a meaningful way and now has members right across the UK.
We share tips, stories and ideas on how to encourage others to try Bitcoin for the first time. And, thanks to support from Luno, each Pioneer gets £500 of Bitcoin a month to share with beginners, helping them get started.
So, if you're passionate about Bitcoin, why not join today? Click here to find out more!
All feedback on Crypto AM Daily in association with Luno is welcome via email to James.Bowater@cityam.com 🙏🏻
Crypto AM: Editor's picks
ChatGPT urges crypto conference panel not to become over-reliant on AI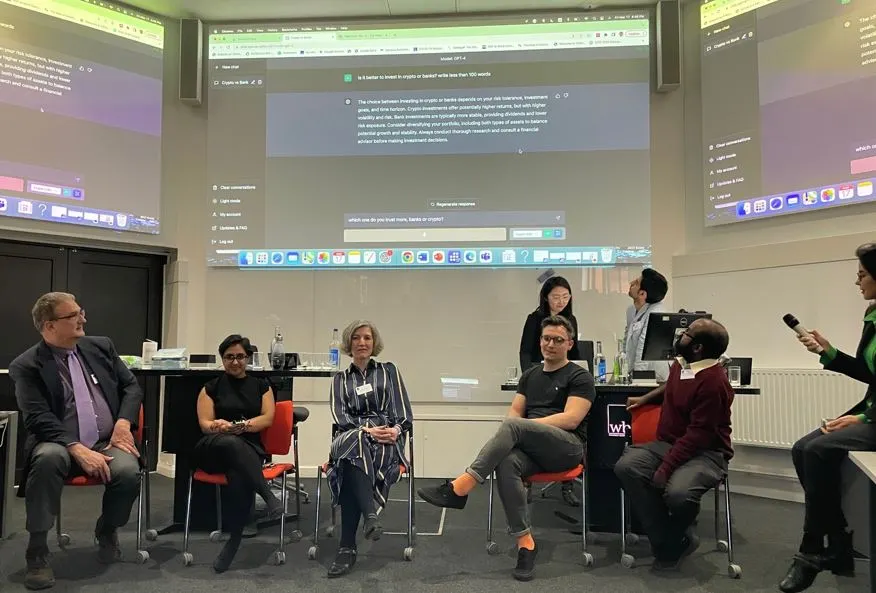 Mt. Gox customers will have to wait until November to recover lost Bitcoin funds
Sam Bankman-Fried: A tissue of lies soaked with fake tears?
Three-in-four wealth managers are gearing up for more cryptocurrency exposure
Crypto.com granted FCA licence to operate in UK
Q&A with Duncan Coutts, Principal Technical Architect at IO Global
Jamie Bartlett – on the trail of the missing 'Cryptoqueen'
MPs are falling silent over potential of cryptocurrency
Erica's 'Crypto Wars' handed honours in Business Book Awards
'Let people invest': Matt Hancock makes case for liberal crypto rules
Crypto AM: Features
Crypto AM: Founders Series
Crypto AM: Industry Voices
Crypto AM: Contributors
Crypto AM: In Conversation with James Bowater
Crypto AM: Tomorrow's Money with Gavin S Brown
Crypto AM: Mixing in the Metaverse with Dr Chris Kacher
Crypto AM: Visions of the Future, Past & Present with Alex Lightman
Crypto AM: Tiptoe through the Crypto with Monty Munford
Crypto AM: Taking a Byte out of Digital Assets with Jonny Fry
Crypto on the catwalk
Crypto AM: Events
Cautionary Notes
It's definitely tempting to get swept up in the excitement, but please heed these words of caution: Do your own research, only invest what you can afford, and make good decisions. The indicators contained in this article will hopefully help in this. Remember though, the content of this article is for information purposes only and is not investment advice or any form of recommendation or invitation. City AM, Crypto AM and Luno always advise you to obtain your own independent financial advice before investing or trading in cryptocurrency.