City studs fail to romp home at Cheltenham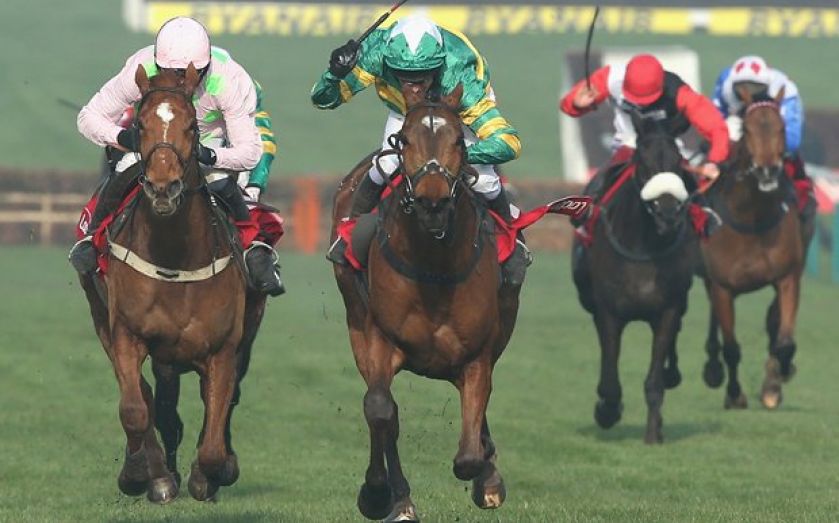 IT WAS a misty start to the day at Cheltenham yesterday, but with champagne corks popping from around 10.30am it was by no means glum.
Although punters were treated to six races and one charity race in total, all eyes were on The Ladbrokes World Hurdle Race, which shaped up to be something of a battle of the banks.
Ex-Barclays investment legend Rich Ricci had been braying about his prize mare Annie Power (and with good reason it seemed, she's been the most backed horse at Ladbrokes for the whole year). But fellow City bigwig Andy Stewart – founder of Collins Stewart and Cenkos Securities – wasn't going to let him trot away too easily, entering his own former champ Big Buck's (that apostrophe is fooling no one).
A group of Icap chaps, sitting at their "favourite table" in the Final Fence restaurant, told The Capitalist they were siding with Stewart. They also admitted, however, the small table by the window wasn't their lucky table.
And it seems they were right, for while sun started peeking through the clouds just as the jockeys mounted their steeds, it certainly wasn't shining on Stewart – Big Buck's finished 5th, and the 11-year-old was retired straight afterwards.
Annie, meanwhile, managed a more impressive 2nd. The disappointed groans from the corporate box were audible.
■ Any epicurists at Cheltenham were certainly well looked after – as well as the usual corporate spreads they also had a chance to sample a taste of Le Gavroche, at chefs Albert and Michel Roux Jr's pop-up Fairlawne. By all accounts the restaurant was doing a roaring trade, and it was certainly bright and buzzing when The Capitalist ventured in. But one would hope its diners were also fans of classic Irish tune, The Wild Rover, as the restaurant was just next door to the epic and infamous Guinness Village, jam packed full of revellers, fuelled with the black stuff. The tinkling, ambient chat of the restaurant couldn't quite drown out the sounds of "no never, no more."
■ NOTABLY absent from this year's Cheltenham Festival was William Hill chairman Gareth Davis, the former Imperial Tobacco chief executive who switched fags for betting slips back in 2010. Business commitments – and the impending birth of his first grandchild – kept Davis away from the stands this week, but perhaps it's for the best. At last year's races, which those who attended will no doubt remember was the coldest Cheltenham on record, Davis was down before he even made it to the racecourse. "It cost me £150 before I even got in because it was freezing and I had to buy my wife a fur hat!" he told The Capitalist's spies.