CBI annual conference 2014: Reaction to Nick Clegg and David Cameron's speeches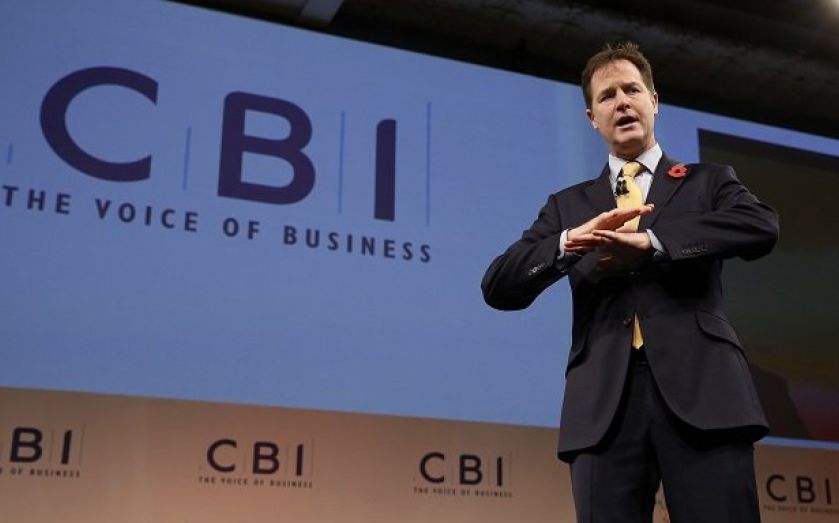 David Cameron and Nick Clegg sought to woo captains of industry today as they delivered their addresses to the Confederation of British Industry's (CBI) annual conference.
The Prime Minister was the first of the party leaders to address the hall, telling the audience he can sum up his manifesto in one sentence:
We've got an economic plan, it's working and we need to stick with it.
Cameron trumpeted the Coalition's economic record, saying it has cut red tape and reduced the deficit, added 400,000 new businesses and a record number of people in work.
As expected, the PM made a big play of the government's infrastructure commitments including HS2 and HS3. He claimed the government was engaged in the biggest road-building and upgrading programme since the 1970s.
He added flesh to the bones of plans put forward in the 2013 budget for a £15bn investment in roads and 100 improvement projects. He largely stayed away from the subject of Europe, with which he told the CBI he wants to reform the UK's relationship, then give people a referendum.
He had a quick swipe at Ed Miliband, saying:
Simply standing here and saying I will stick in Europe come what may is not a plan.
John Cridland, CBI director-general, gave his verdict on the speech:
The PM gave an upbeat speech with deficit reduction firmly in pole position. There was recognition that it is necessary to grow at the same time as cutting back, and it was good to hear the emphasis on both infrastructure investment and skills. Business will welcome the PM's endorsement of the CBI's Europe strategy of 'In with Reform'.
Next up was embattled Lib Dem Nick Clegg. He launched a strong defense of Britain's EU membership saying it was a "myth" to believe can't support both reforming the and staying in the EU.
He added that deficit reduction in the next parliament would need to be balanced between tax rises and spending cuts. Clegg's pro-EU comments would've been music to the ears of CBI president and BT chairman Sir Mike Rake, who commented:
EU migrants pay taxes, collect less benefits than British citizens, and many do not settle in the UK permanently … Without the availability of this [migrant] labour, instead of 82 per cent coverage, much of Britain would still be waiting for superfast broadband and those yet to get it would be suffering further delay.
Finally, Ed Miliband took to the podium, courting businesses with his pro-European stance (this morning Miliband wrote exclusively for City A.M. on his views on Europe, saying a "Brexit" risks "destroying jobs, businesses and future prosperity").
However, Simon Walker, director general of the Institute of Directors, said there were "large problem areas" in Labour's plans for the economy.
Miliband is right that improving skills and infrastructure are absolutely vital to making companies more productive, but equally important is a competitive tax system and less business regulation. Labour's plans to raise corporation tax, and introduce a 'mansion tax' – which even former Chancellor Alistair Darling thinks is a bad idea – show a large gap remains in their economic credibility.
The CBI recently came in for sharp criticism from the campaign group Business for Britain after research showed the CBI's largest contributor could be the EU itself. Between 2009 and 2013 the CBI received €936,272 (£800,841) from the EU, an average of £160,162 per year.