Brexit: Two years on, are we actually any closer to leaving?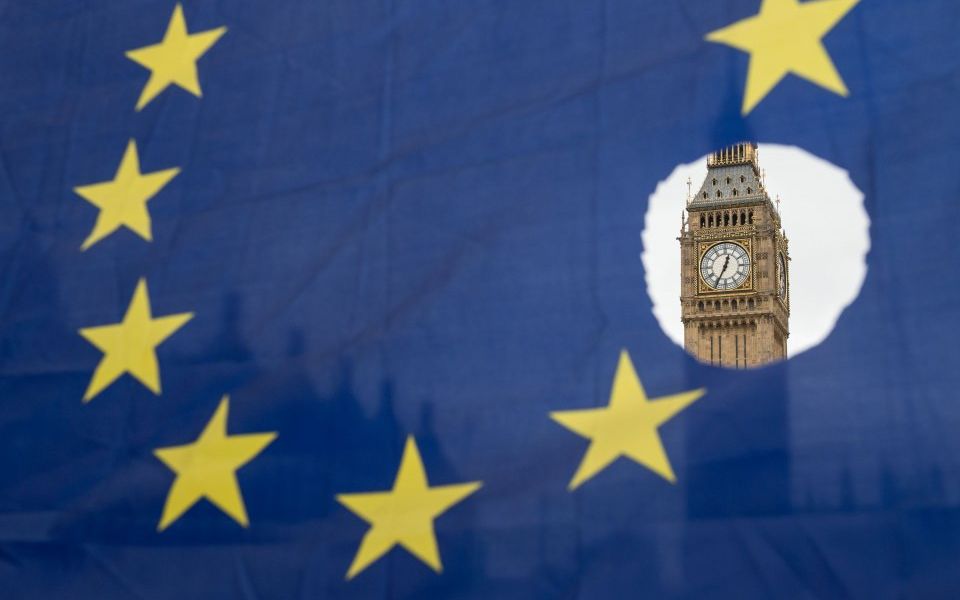 Two years after the EU referendum, and for many little seems to have changed. By and large, voters still hold the same view they did on 23 June 2016 – although a YouGov study published over the weekend shows a slight tipping in favour of Remain, with thousands of people marching in Londondemanding for a people's vote on the final deal.
Even for those who backed Brexit, the last two years have been challenging. The former campaign director of Vote Leave, Dominic Cummings, breaks with his semi-reclusion occasionally to pen vitriolic essays about the government's mishandling of the process, labelling Whitehall's efforts as "irretrievably botched" or focusing on "delusional arguments".
Matthew Elliott, chief executive of the winning campaign, takes a more considered view. He believes the majority of progress will be made "in the final few weeks, if not days or hours", dismissing any suggestion that not enough work has been done in the last two years.
"It's very easy to be an armchair general but you don't have all the details," he says.
While Elliott has a few quibbles with some of the decisions that have been made over the last two years – in particular May's decision to freeze out business voices prior to the election and her reluctance to give status guarantees to EU citizens – he sees no sign of wobbles over leaving the Single Market or customs union because of the knock-on effects it would have on the UK's ability to sign trade deals with other countries.
Much hangs on the government's delayed Brexit white paper, as this will give both business and Brussels clarity about what the UK is actually seeking. But government also needs to spell out more clearly what a no deal scenario looks like. "It needs to be clear to the public and to Brussels that we are willing to walk away," Elliott says. "It's only through having that no deal scenario set out and prepared for that you can get the best possible deal for the UK."
For Elliott, everything comes down to the crunch weeks ahead of the European Council in October this year. "By that point government will have got all relevant legislation through, published a white paper, have a clear idea of what their stance is, have already discussed the money – then it's just about what happens in the negotiation room."
Others, however, are less confident. Brexit specialist at the Institute of Economic Affairs, Shanker Singham, who has been influential in shaping policy, says a change of strategy is needed.
"We have to retake the initiative," he says. "We have allowed the EU to drive the agenda so far. The only way for the UK to do that is put text on the negotiating table. The time for speeches and white papers is over."
The former Legatum Institute trade wonk argues that putting "regulatory chapters" in front of Brussels would get the cogs going for multiple reasons – not only because there would be something concrete the EU could work with, but also because it might help "divide" the member states which he believes would work to the UK's advantage. It would also help on talks with other countries as it would give them "a set of signals" to start factoring in.
But the "UK's dithering" – which he agrees comes down in part to the Prime Minister's pathological caution – means that right now Singham puts just a 50-50 chance on a successful conclusion within the time frame.
"Frankly, the problem is this need to know exactly where you want to end up before you step into the negotiating room… A lot of decisions have to be made, not all of them will be perfect. It's OK to make mistakes – you just have to make sure you have momentum."
He cites the to-and-fro over the customs debate as a "classic example" – but one which is "baffling" to him and his colleagues.
"We are all just baffled – we don't understand why the government is incapable of moving forward on anything," Singham says.
David Henig, director at think tank the European Centre for International Political Economy (ECIPE) and former civil servant, is similarly brutal in his assessment of how far we have come in the last two years.
"We don't have any certainty for businesses about their trade relations. There is no sensible post-March plan for trade agreements. It doesn't add up to much."
One of his main criticisms is the government's "obsessive secrecy", which trickles down fromTheresa May, meaning businesses can't begin to start planning for one of two "diametrically opposed" plans – either a limited deal with the EU "and sailing the seven seas, or a big deal with the EU and not sailing the seven seas". With a more open Prime Minister there would be more chance of people coming together around a particular plan – even if it meant making their peace with something they didn't totally agree with. "That's what is missing here," he says.
He fears come December the government will be "in crisis mode, frantically trying to pull together a deal – not quite as bad as Greece, but along those lines".
Ultimately the decision will come down to Ireland, Henig claims. "On their own, the Treasury and Beis [Business department] will have lost their argument but they are quite aware of the fact they can't solve the issue with the Irish border and are playing it up. If it wasn't for Ireland you wouldn't have had this [delay]," he adds.
Sam Lowe, research fellow at the Centre for European Reform, agrees – claiming there is "no coherent vision" of what the UK sees as its future relationship with the EU, exacerbated by the factional divisions in Cabinet.
Global Britain is "not a very good economic strategy", because it relies on a nostalgic memory of the legacies afforded to a former empire, Lowe says. "But the world has moved on. We are going to be a medium-sized player, stuck between the EU and the US… we will never be the ones who set the terms of debate. For some, that will come as a surprise."
He believes some of May's red lines are "turning pink" which he thinks could tip towards a partial Single Market membership for goods, and believes the government would like parliament to "force its hand" into staying in the customs union "because then Theresa May wouldn't have to make a decision and be seen to betray someone".
He rejects the idea that there has been a breakthrough on the Brexiters' preferred 'max fac' solution to the customs union impasse, and sees little chance of a solution to the Irish border backstop given the DUP's rejection of Michel Barnier's argument that Northern Ireland be hived off, and the fact the UK's position would lead to "a closer relationship if the two sides walked away from negotiations than either wants".
This could result in May using the whole debate to request an option to extend the transition period. Lowe claims officials on both sides admit the period currently agreed, which runs until December 2020, isn't long enough, and that "some kind of implementation period 2.0" will be required. But that won't be the end of it.
"At some point, we will have to acknowledge that Brexit never ends," he says, likely provoking groans around the country. "The EU is going to remain our closest and biggest partner, so we are going to be discussing this forever. The longer it goes on, the more natural it becomes but this is a component part of UK politics – from now until forever."