Bangalore: India's most livable city and the fast-track to its vibrant tech-filled future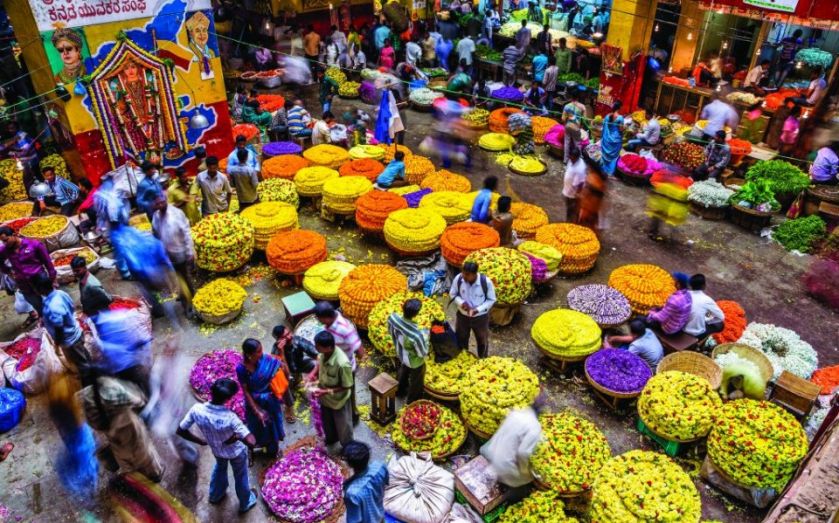 If Old Delhi is the crumbling emblem of India's imperial past and Mumbai is the pounding heart of its contemporary popular culture, Bengaluru (anglicised as Bangalore) and Chennai are the country's fast track to the future. The former, and less often the latter, are nicknamed the Silicon Valley of India on account of their thriving IT sectors, though their rampant growth over the past few decades is due as much to their electronics, automobile, healthcare and aeronautics industries. As work-starved migrants flock here from the hinterlands, the populations swell – Bengaluru's has doubled in the past decade – and the cities spread outward to reclaim the emptying countryside. Their energy, their culture of optimism, are infectious.
Standing in Bengaluru's Lal Bagh Botanical Gardens, I look down a paved avenue, flanked by neatly manicured flowerbeds, at an imposing Victorian glasshouse. I could be in Kew Gardens, but for the monkeys playfighting in the trees overhead. The city has a rep as India's most livable, on account of its mild climate and array of gardens and parks; but between the green spots and gleaming skyscrapers it's a thrillingly disorderly place. Clogged arterial roads cross each other at chaotic intersections, cattle and tuk-tuk taxis patrol the side alleys, and pavements abruptly taper off mid-street. The pedestrian flâneur has no place in this metropolis.
On my way to the local grocer's market, I drop into a bookshop. The shelves groan under fiscal management guides, corporate histories and self-help books with titles like How to Stop Worrying & Start Loving and Free Yourself – Suffocate Not. Back on the streets, I begin to notice how many poster adverts are dedicated to self-improvement and aspirational products: Hermès bags, sports cars, foreign language lessons, penis enlargement treatments. A billboard above me sells a new luxury property development in the suburbs with the tagline: "A rare few will live on Bengaluru's only hill. Those who don't will miss out."
With this callous slogan ringing in my ears, I leave behind the hordes of shoppers and make for Cubbon Park – named after Mark Cubbon, a former British Commissioner for the region. While I don't discern any particular nostalgia for the Raj among most Indians I meet, I'm struck by the enduring hold of colonial culture on the affluent classes. Smart shops and bars frequented by the nouveaux riches bear evocative British names; one restaurant in my hotel, the ITC Gardenia, is called Cubbon Pavilion; its sister hotel, the Windsor, is modelled on a Regency manor. My guide enthusiastically draws my attention to various statues of Queen Victoria, whom she claims used to hobnob with the local royalty (in fact Vic never visited India).
One man who could have done without the British was Tipu Sultan, the Tiger of Mysore. For two decades at the end of the 18th century, Tipu ruled the Kingdom of Mysore (which encompassed Bengaluru) with an iron fist, a deft administrative touch and a dash of religious bigotry. His expansionist tendencies embroiled him in successive wars with Britain, which eventually defeated him in 1799. Today, his teak Summer Palace stands as a modestly beautiful example of late Indo-Islamic architecture, all graceful arches and delicate floral motifs. The small exhibition inside features a replica model of a tiger devouring a prostrate Englishman (the original is housed in the V&A).
The spectre of the British looms even larger in Chennai, a city they created. The settlement of Madras, as it was then known, grew around Fort St George, a fortress founded in 1644 by East India Company traders keen to tap into the local cotton fields. The city is warmer and muggier than Bengaluru, smaller and less green, yet it feels more capacious – perhaps because the sea is nearby. In anticipation of Holi, the Hindu festival of colour, the streets are daubed in primary hues: red balloons, blue flags, green sarees. I ask my escort what he's planning for the festival. "Bhang," he replies, referring to a milk-and-cannabis infusion commonly drunk on this occasion. "That s*** makes you giggle for seven hours."
I'm chauffeured to the ITC Grand Chola, a sumptuous hotel recently erected on the city's outskirts, where I'll be staying – together with hundreds of medics who've gathered for a technology conference. Eschewing the mock-colonial structure of the Windsor, the Chola goes for a different sort of nostalgia: the building is inspired by the palatial Dravidian architecture once patronised by the regional kings. The regal theme continues in the Royal Vega, one of the hotel's in-house restaurants, where the resident chef guides us through an exquisite thali of Tamil cuisine.
The next morning I'm in DakshinaChitra, an open-air museum showcasing South Indian architecture. The guide whisks me through painstakingly reconstructed houses that once belonged to local Brahmans and merchants. She contextualises this by explaining the strict Indian caste system, which historically determined everything from spouse and profession to dress and accent. "The constitution now bans discrimination according to caste, but it endures," she notes sadly. I begin to understand the ubiquity of self-improvement literature: in a society where birth continues to dictate opportunity to such an extent, the attraction of a philosophy that appeals to your innate talents and motivation is obvious.
I'm reminded of this on my last night in Chennai, when I go to the cinema to watch a Tamil movie. For three hours, the audience whoops and cheers its way through a convoluted plot about a technician at an IT firm who falls in love with a psychotic hottie. The characters speak in Tamil, throwing in the odd English phrase: "It's simple: avalukku maruntai otana kotikka ventum. Believe me, doctor!" Deprived of subtitles, I can't follow the intricacies of the narrative, but one scene makes perfect sense. As the firm's boss lays out his ambitious business plan in a board meeting, one employee blurts out "That's impossible!". "'Impossible'," echoes the boss, in English. "I hate that word." At this, the cinema erupts in applause.
What the tech!

Bangalore's thriving tech sector is great news for the Indian economy, but bad news for IT workers in other developed economies. In the US, workers laid off because of Indian outsourcing refer to their fate as being "Bangalored".
NEED TO KNOW
Alex stayed at ITC Gardenia, a Luxury Collection Hotel, Bengaluru. A stay at the ITC Gardenia, A Luxury Collection Hotel, Bengaluru (
luxurycollection.com/itcgardenia
, +91 80 2211 9898) costs from £94 (INR9000) per room per night including buffet breakfast and butler service. Not including taxes. The concierge can arrange tours and local experiences. Fly direct from London Heathrow to Bengaluru with British Airways,
britishairways.com
08444930787
He also stayed at ITC Grand Chola, a Luxury Collection Hotel, Chennai. A stay at the ITC Grand Chola, A Luxury Collection Hotel, Chennai (
luxurycollection.com/itcgrandchola
,+91 44 2220 0000) costs from £84 (INR8100) per room per night including buffet breakfast. Not including taxes. The concierge can arrange tours and local experiences. Fly direct from London Heathrow to Chennai with British Airways,
britishairways.com
, 08444930787