Audioboom user numbers soar ahead of Russell Brand's arrival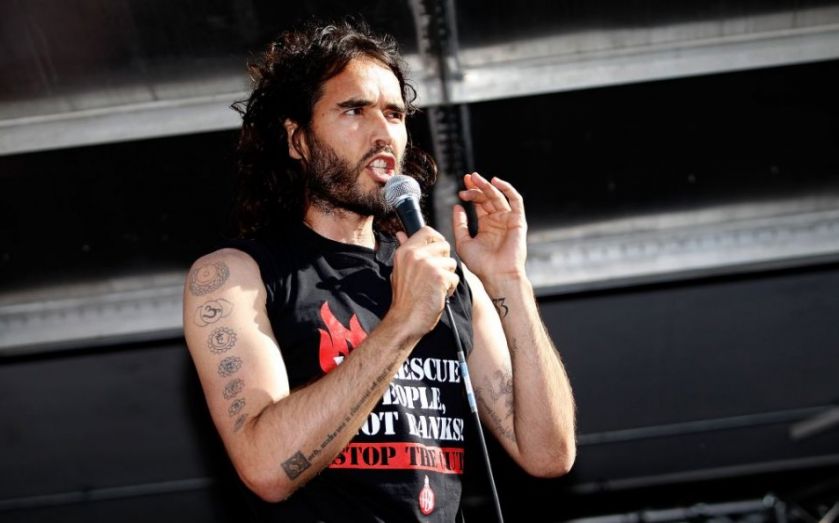 Online streaming service Audioboom has signed up controversial comedian Russell Brand to produce a twice-weekly podcast in an effort to attract a more "edgy, young" audience.
The signing was part of plans, announced this morning by the service as part of its 2014 results, to boost the number of active registered user, as will as increase the number of partnerships (at the moment, it works with content providers such as the BBC and The Guardian).
The figures
It sounds like its strategy is already going pretty well without Brand's involvement. The number of registered users jumped 64 per cent to 3.14m in 2014. Audioboom also said it has over 2,000 content partners, up from 297 at the end of November 2013. The split of "listens" is currently 39 per cent in the UK, 31 per cent in the US, 10 per cent in Australia and 20 per cent in the rest of the world.
The group generated minimal revenues of £51,000, an increase of 13 per cent from £45,000 a year earlier. Earnings before interest, taxes, depreciation, and amortisation widened to of £2.11m from £1.53m in 2013, largely due to a one-off cost from its reversal into One Delta to form Audioboom in May last year
It said significant revenue generation is a longer term goal, and "we expect to report more substantial revenue growth from the third quarter of 2015 onwards".
The focus on this current financial year will be on driving the number of of app downloads. Its free IOS Audioboom app, which was released in September last year, has already had over 500,000 downloads to-date.
Why it's interesting
Audioboom allows content partners and its users to share audios through its website, embeddable players, mobile applications, Facebook & Twitter. The company attracted attention when its share price rocketed around 1,500 per cent over the last year.
Its meteoric rise is largely due to its efforts to bolster the number of active users and secure content partnerships with the likes of the BBC, Telegraph, Guardian and Sky Sports. This is in line with a change of focus away from user generated material and towards high quality content partners.
It's yet to see significant revenue growth, but says this will come from affiliate partnerships in the nearer term. "In line with expectations, and as we've always made clear, significant revenue generation is a longer term goal, and we expect to report more substantial revenue growth from the third quarter of 2015 onwards," it said.
The platform will be lifted by today's announcement of self-proclaimed revolutionary Russell Brand as its front-man.
"Having Brand as the face and voice of Audioboom has the potential to rapidly increase our mobile app downloads and the number of registered users for our platform," Rob Proctor, chief exec of Audioboom, in a statement.
What Audioboom said
"We remain very much on course with our plans to establish a global user base of listeners who are attracted by our 'go to' destination for spoken-word audio covering sport, news, business, entertainment and current affairs," Proctor said.
"At this stage of the business our focus, and the driver of shareholder value, will be through providing the highest quality content and attracting as wide an audience as possible. A platform like this has significant potential for revenue generation through the creation of the first aggregated audio content syndication and ad network based on embedded audio carrying adverts."
In short
While Audioboom has said significant growth remains a longer-term goal, its new app, a glittering name of content partners and the arrival of Russell Brand will keep us interested.