Seeing one Aston Martin Lagonda feels special. Seeing 24 Lagondas feels slightly surreal. Unless you're Rodger Dudding, that is.
Regular readers will remember Dudding as the owner of Studio434, Europe's largest private car collection. At last count, his vast, multi-storey warehouses in north London contained nearly 500 cars.
The 'wedge' Lagondas are a particular passion, though. Aston Martin built just 645 between 1979 and 1990, and Dudding owns roughly four percent of them. In a world exclusive for The Intercooler, we gathered all 24 cars together for the first time.
Stopping traffic
Rodger Dudding made his fortune by inventing the 'take a ticket' queuing system in the 1970s. He then began buying lock-up garages – around 14,000 in total – many of which contained abandoned cars.
Today, the eclectic and eccentric highlights of Studio434 include a Jaguar XJ220, DeLorean DMC-12, Bond Bug, Lamborghini Countach and Ford Escort XR3i. The Lagondas are the biggest draw, though. Dudding acquired his first 'wedge' around a decade ago and hasn't looked back.
"Without this car, Aston Martin would have gone bust," he says. "Yet it's been whitewashed from history. They're quite temperamental, but very relaxing to drive. And they have so much presence. In London, it literally stops traffic".
Future shock
Styled like a supercar and powered by a 5.3-litre V8, the Lagonda was best known for its fiendishly complex – and notoriously fickle – electronic dashboard. Early cars actually used two cathode-ray televisions in place of traditional dials.
The Studio434 fleet includes two of the 10 long-wheelbase limousines (one with an oh-so-80s boomerang aerial) and another car trimmed, inside and out, in 18-carat gold.
Dudding also has a customised Lagonda formerly owned by Dodi Fayed, with deep-dish alloys and an enormous audio system. "It cost £100,000 to restore," he reveals.
Spaceship in suburbia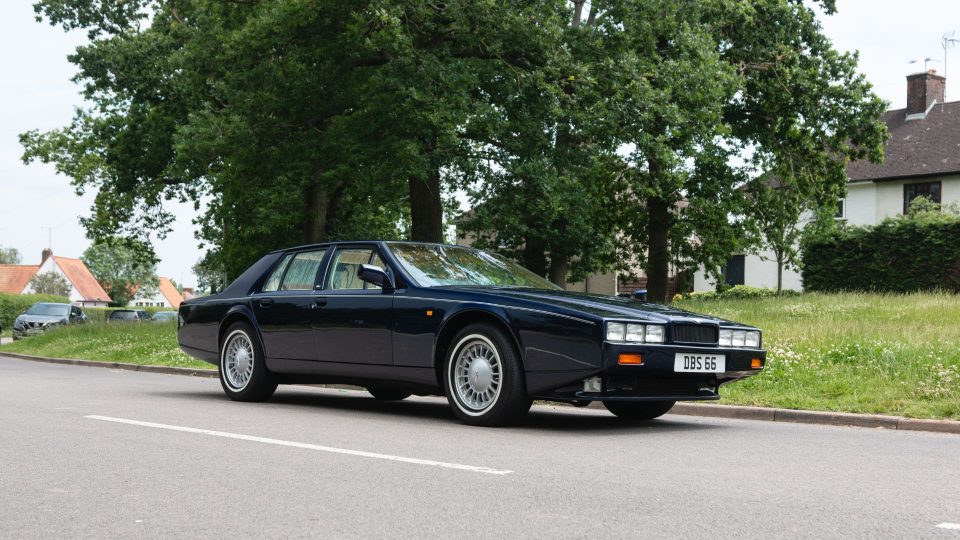 After a tour of the collection, we ventured onto the road in the late-model Series 4 Lagonda pictured above. Here's an excerpt from the article:
'Performance is modest by 21st century standards, with 60mph dispatched in 7.9 seconds and a top speed of 143mph. Yet the 280bhp fuel-injected V8 serves up all 360lb ft of torque from 3,000rpm and its three-speed GM Torqueflite 'box (no paddles here) is butter-smooth.
'It feels brisk, brawny and surprisingly eager: a muscle car with manners.'
There's an app for that
You can read the full article for free on The Intercooler – a brand new digital car magazine. Simply download the app on your smartphone or tablet, then click on the Features tab.
Studio434 isn't open to the public, but it offers car hire for weddings and events. There are several photography and film studios on-site, too.
Dudding now plans to sell some of his Lagondas, so we may not see all 24 together again. If you want one, expect to pay anywhere from £50,000 to £100,000. And don't expect to go anywhere unnoticed.
Tim Pitt writes for Motoring Research