Arsenal record second-worst start to Premier League season in Arsene Wenger era following Swansea defeat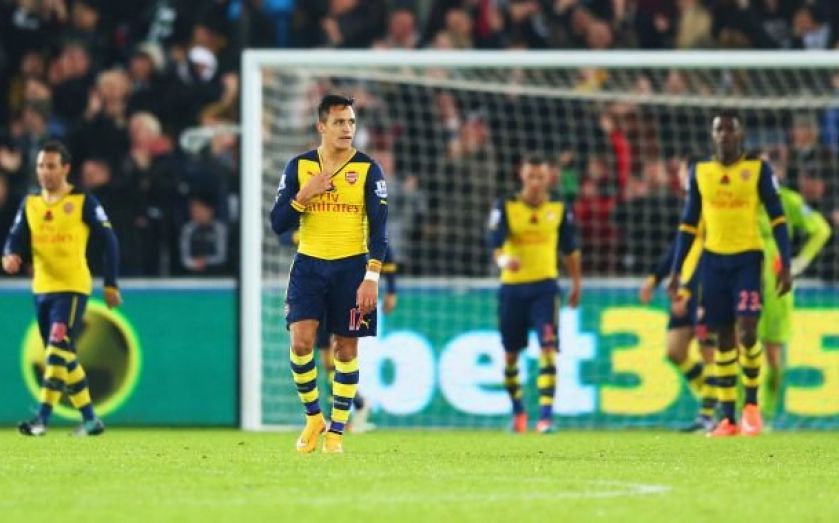 After 11 games of the Premier League season, Arsenal are closer to the relegation zone than they are to the top of the table.
A spluttering start to the season is gearing dangerously close to break down for Arsenal, after defeat at Swansea signalled their second-worst points haul at this stage in the season since Arsene Wenger has been manager.
Arsenal are eight points ahead of Leicester City at the tip of the relegation zone, and ten ahead of Burnley at the bottom of the table. Conversely, Arsene Wenger's men are 12 points away from Chelsea at the league's summit.
Only once in twenty-one years of Premier League history have Arsenal picked up fewer points from their opening 11 games – two years ago the Gunners had 16 points at this stage in the campaign.
Not once in their Premier League history have Arsenal ever matched Chelsea's current tally of 29 points from their first 11 games.
Arsene Wenger would likely point to some relatively tough fixtures his side have had to face in their opening games. Arsenal have played four sides who qualified for European competition last season, having travelled to Everton and Chelsea as well as facing Manchester City and Tottenham at the Emirates. From those four games they've taken three points (draws with Everton, Tottenham and City, and
a loss to Chelsea
).
Chelsea, Manchester City and Liverpool have all had an equal number of meetings with fellow European competitors, yet all have taken four or more points from those fixtures.
Southampton and West Ham, who surprisingly sit above
Arsenal
in one of their much-coveted Champions League spots, have admittedly faced less games against European-level sides. Southampton have only faced Tottenham and Liverpool, and lost both games.
Yet perhaps the most discouraging fact about Arsenal's start for both Wenger and Arsenal fans alike will be the team's regression in results from corresponding fixtures last season.
In the fixtures from which Arsenal have amassed 17 points so far in this campaign, they picked up 25 last season.
On last season's trip to the Liberty Stadium Wenger's men came away with a smile-inducing three points to send the Gunners two points clear at the top of the table, as opposed to a brow-furrowing zero to leave them 12 adrift.
It's a similar story for the Tottenham and Hull games at home, both of which were wins last season, but frustrating draws this time around.
Games against Leicester and Burnley, last season's Championship winners and runners up respectively, have been replaced for last season's second and third-bottom Premier League sides; Fulham and Norwich.
If Arsenal had matched last seasons' results so far this year, they'd currently be joint second.
In only one fixture – Everton away – have Arsenal experienced an upswing this season. They bettered last season's 3-0 loss with a 2-2 draw in August.