---
Advertising with
---
Newspaper advertising
City A.M. is available Monday to Friday at more than 400 carefully chosen commuter hubs across London and the home counties, as well as 1,600 offices throughout the City, Canary Wharf and other areas of high business concentration. It features all of the day's top business, financial and economic news, including late breaking stories, thanks to City A.M.'s late deadline, all in concise and easy to read form.
Below is a brief introduction to the City A.M. audience and advertising, followed by a description of the various sections within the paper.
Overview
For the busy professional, City A.M. is integral to the start of the work day. Its business content sets the day's agenda, helping readers prepare for their business day and filling a knowledge gap.
Daily readership
399,000
(YouGov Feb/May 13)
ABC1 Readership
335,160
(YouGov Profiles – 29/11/15)
Circulation
105,681
(ABC Oct 15)
City A.M. is distributed daily at more than 400 carefully chosen commuter hubs across London and the home counties, as well as 1,600 offices throughout the City, Canary Wharf and other areas of high business concentration.
Audience
City A.M. has a low duplication with other quality titles; The Telegraph (5%), The Times (14%), The Guardian (7%), The Independent (1%) and The Financial Times (3%)
(YouGov Feb/May 13)
70-30
Male / Female
(City A.M. Reader Panel #7)
91%
Under 55 years old
(YouGov Feb/May 13)
66%
Social Grade AB
(YouGov Profiles – 29/11/15)
£88k
Average income
(City A.M. Reader Panel #7)
As London's business voice, City A.M. attracts a wide reaching audience of affluent, influential business people. 97% of readers are in full-time employment and 68% of readers are decision makers in one or more areas at work.
(City A.M. Reader Panel #7)
Advertising
Below are some of the standard advertising sizes available.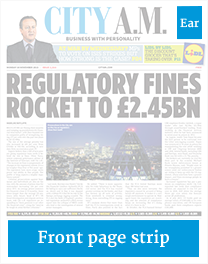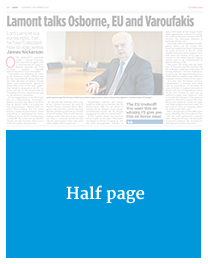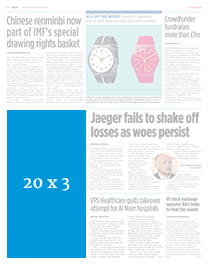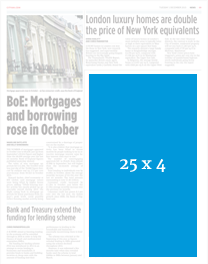 As well these sizes, City A.M. also offers creative advertising and other bespoke solutions.
If you would like to discuss the options available as well as costs and lead times, then please contact our helpful sales team who will endeavour to deal with your request as soon as possible.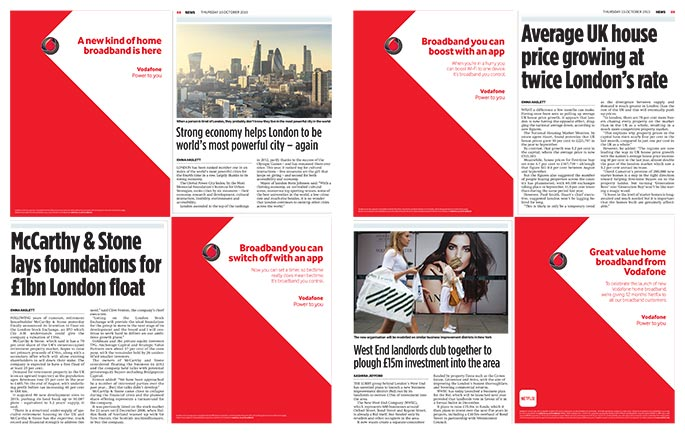 ---
News
The news pages usually account for around 55 per cent of the newspaper's pagination. In keeping with the "Business with Personality" strapline, the section is illustrated throughout with photographs of the key business figures behind the stories; it also contains many original charts, infographics and visual summaries.
---
The Capitalist
The Capitalist, edited by Edith Hancock, features daily in the news section. It chronicles the social side of the City and London's business and financial services community.
Picture-led and lighthearted in tone, it is a cross between a traditional City diary and a society column for the people who work and play in London's financial services industry.
---
The Forum
The Forum, edited by Tom Welsh, is City A.M.'s opinion section. Each day we run three high-quality op-eds, tackling the major issues of the day from challenging and stimulating view points. We cover subjects as diverse as science, architecture, economics, politics, geopolitics, policy, arts and culture, and technology.
Contributors have included Andrew Sentance, former member of the Monetary Policy Committee, Sir Terry Leahy, former chief executive of Tesco, Vernon Hill, chairman of Metro Bank, and many others.
---
Office Politics
Office Politics is a problem solving page, appropriately featured alongside the day's puzzles. Written by various experts and aimed at people in the workplace, it takes a didactic approach to the problems it tackles.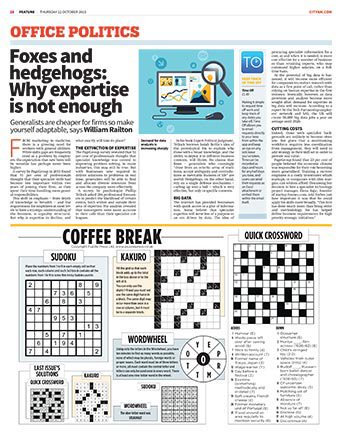 This may be a few simple ways to increase your productivity, to streamlining your IT, or even how to resign with confidence. Productivity-focused apps often accompany the piece.
Also included is the games section with Suduko, Quick Crossword amongst others.
---
Lifestyle
The Lifestyle pages offer an informative and entertaining look at a number of general interest topics including, but not limited to travel, motors, food and booze and technology. Friday's Going Out spread covers film, art, theatre reviews, etc.
---
Sport
City A.M. ends every day with few Sport pages featuring the most up-to-date results from last night's matches and sports news and analysis.
Regular columnists include Trevor Steven, a former England footballer who played in both the 1986 and 1990 World Cups and the 1988 European Championships; Sam Torrance OBE, a multiple Ryder Cup-winning golfer and media commentator; and Chris Tremlett, a Surrey and England cricketer.
---
Entrepreneurs Every Monday
Entrepreneurs leads with a weekly entrepreneurial-related case study. This profiles early-stage companies, the challenges they face, their business models, the professional careers of their founders.
---
Trading Every Tuesday
Trading includes an analysis of major companies, markets, commodities, currencies, and the macro-economic issues affecting those markets. It often includes featured columns from leading market analysts, strategists from trading companies.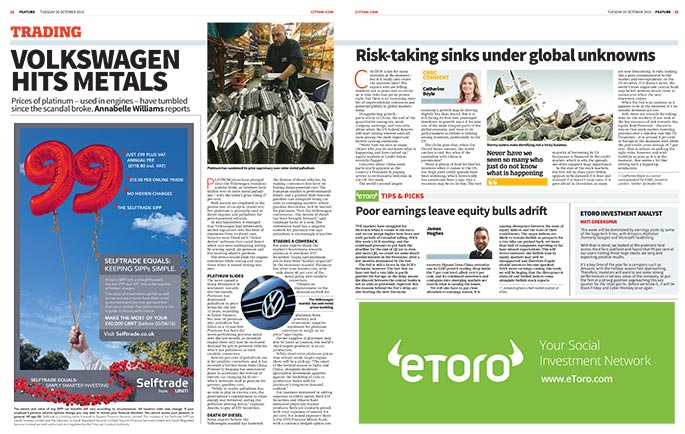 ---
Personal finance Every Wednesday
Personal Finance offers advice and analysis of personal finance issues. It may cover fund management, investment products, both simple and complex, and more specialist subjects like mortgages, tax planning, and issues relating to financial advice.
---
Crowdfunding Every Thursday
Crowdfunding provides insight and opinion on the latest news themes in the crowdfunding sector, covering donation, equity and debt.
The pieces are predominantly aimed at readers who are considering crowdfunding as an investment option.
Includes "Stat of the Week" box. Leading platform founders, academics and established industry experts regularly comment and contribute.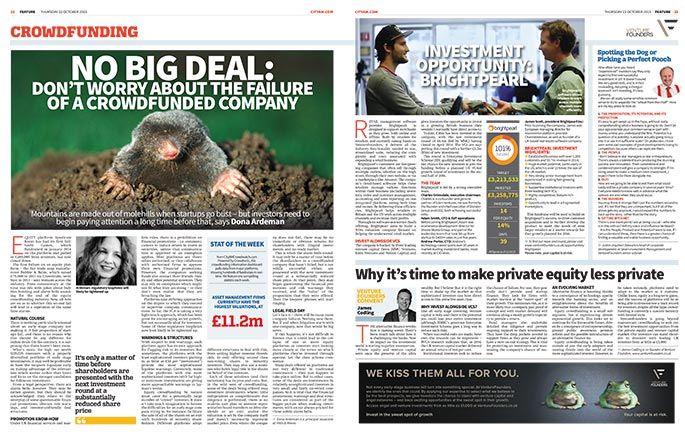 ---
Hot Property Every two weeks, Friday
Hot Property is our homes and property section.
This section has a number of features including an agony column – a Q&A with leading property experts – and Focus On column featuring the best properties with a straightforward route to and from work in the City.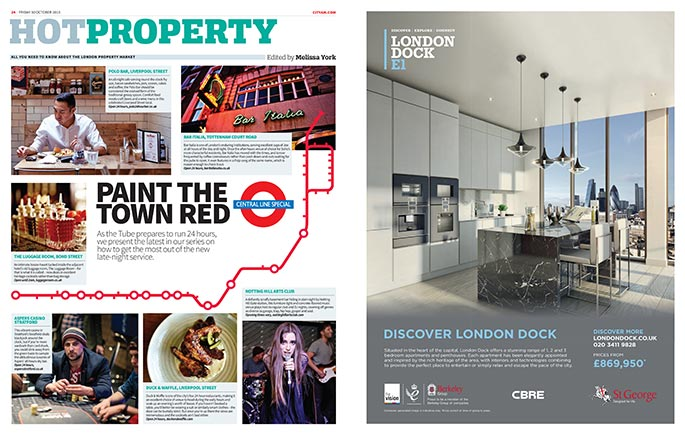 ---
Punter Every Friday
The Punter is City A.M.'s sports betting pages. It offers the best in televised sports betting over the weekend.
Racing and football are standard and seasonal sports are also included. The Insider is the "Stig" of horse racing, offering his (or her) insider knowledge.