2014 Christmas shows in London: From traditional pantomime to award-winning theatre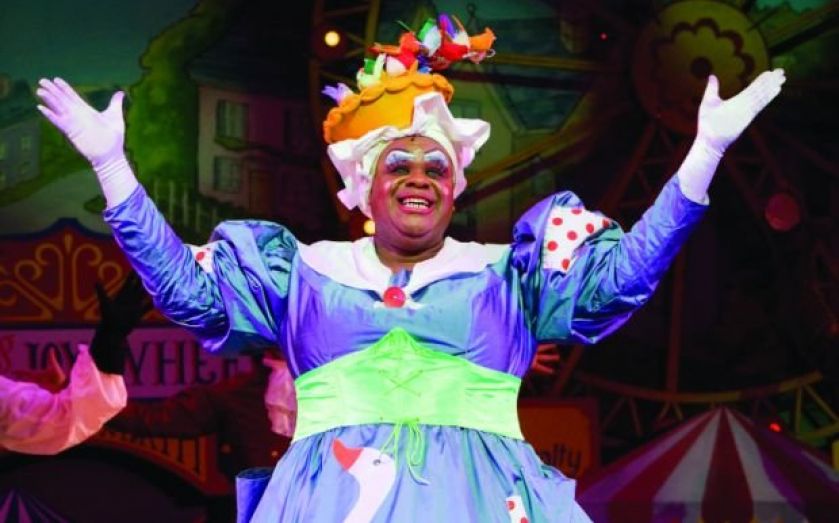 Whether you're a fan of cutting-edge theatre, a good old singalong or a traditional Christmas pantomime, London's got you covered. Here are some of our favourites.
MOTHER GOOSE
Princess Priscilla has waddled into the life of Mother Goose and started laying priceless golden eggs. Now Mother can buy whatever she wants. At first, she's overjoyed, but is getting everything you ever wanted all it's cracked up to be? With lavish costumes, larger-than-life characters and live music, the Hackney Empire returns with its trademark offbeat contribution to the family panto season to rave reviews from audiences.
GOLEM
The Young Vic can usually be relied upon to deliver exciting and innovative theatre and this production by 1927 doesn't disappoint. Not to be confused with Lord of the Rings' Gollem, the subversive play explores the central question: do we control technology, or does it control us? Expect a heavily stylised amalgum of songs, animation and music with more than a hint of the surreal.
SLAVA'S SNOWSHOW
Nothing can prepare you for this spectacular, poignant, laugh-out-loud funny clown show led by Russian performance artist Slava Poulin. Now in its umpteenth year, the show combines traditional slapstick clowning with outrageous effects and unbelievable props that ensure the audience become part of the performance.
JACK AND THE BEANSTALK
Never mind slick light displays and flashy sets, this is panto as it should be: lo-fi, chaotic, fun. Five actors have a great time performing hilariously surreal songs and creating general mayhem on a stage that looks like it could fall to pieces at any moment. The story takes place in the Nowen and Gazoob. In these fictional lands, Tupperware is a holy substance worshipped and pursued like gold (told you it was weird). Adults may well get a kick out of the anarchy, but this is one for the kids.
ELEPHANTS
Forget schmaltzy yuletide fare – Hampstead Theatre is staging a touching, darkly funny family drama exploring the ways Christmas has a tendency to exacerbate the existing problems that exist within every family. It probably isn't one for the kids, but it may help to mentally prepare you for the long days of domestic bliss ahead.
CINDERELLA
Linda Gray, star of 80s TV favourite Dallas, makes her panto debut in this classic fairytale, accompanied by veteran Wayne Sleep, comedian Tim Vine and Matthew Kelly and Matthew Rixon as the ugly sisters. The production boasts big song and dance numbers, magic and real Shetland ponies. Expect flamboyant panto dames and lots of audience participation, too.
FASCINATING AIDA
Dillie Keane, Adele Anderson and Liza Pulman return to the Southbank centre with their outrageous cabaret act featuring singing, dancing and stand-up hilarity. With three Olivier Award nominations, three national tours and over ten million YouTube hits for their tongue-in-cheek songs about everything from budget airlines to OFSTED, Fascinating Aida will be a great way to ease in the new year.
CINDERELLA AND THE BEAN STALK
You get two panto favourites for the price of one with this show at Battersea's Theatre 503. Performed and written by award-winning comedy trio Sleeping Trees, the production features Cinderella's glass slipper, Prince Charming, the Fairy Godmother and Jack and his pregnant cow. A riotous laugh.