What is City Talk?
City Talk allows marketers to connect directly with our audience by publishing content on cityam.com
UK general election: what a hung parliament means for markets
The UK general election has resulted in a hung parliament, with no party commanding an overall majority. The Conservatives have emerged as the largest party and will likely seek to form a minority government.
The result is unexpected. Polls during the election campaign had generally pointed towards a comfortable Conservative majority. Our panel of investment experts at asset management firm Schroders offer their initial reaction to the election result.
Impact on the economy
Azad Zangana, senior European economist & strategist at Schroders, said: "This is a disastrous result for the Conservative party, which must raise questions over the future of Theresa May as prime minister.
"As the largest party following the election, the Conservatives are likely to remain in power as a minority government, relying on the confidence and supply of votes from friendly opposition members of parliament.
"This suggests a less stable government, one that will have to make concessions and seek a consensus even when introducing simple changes to legislation.
"For the economy, households and companies will be concerned by the increased political uncertainty.
"However, at the same time, the paralysis in Westminster will mean fewer changes to fiscal and economic policy. Despite this, we expect a pull back in household spending and business investment which will exacerbate the slowdown currently being experienced."
The effect on the pound and BoE policy
"The fall in the pound has been smaller than expected given the hung parliament. At the margin, lower sterling will push up inflation a little further than previously forecast, which will have a small negative effect on household spending.
"The Bank of England (BoE) is unlikely to change its policy in the near-term but it will offer reassurance that it stands ready to act in the event of financial instability.
"Looking ahead, there is a high chance that any Conservative minority government may not last beyond a year. It will likely struggle to pass any finance bill."
Pound vs dollar during the election night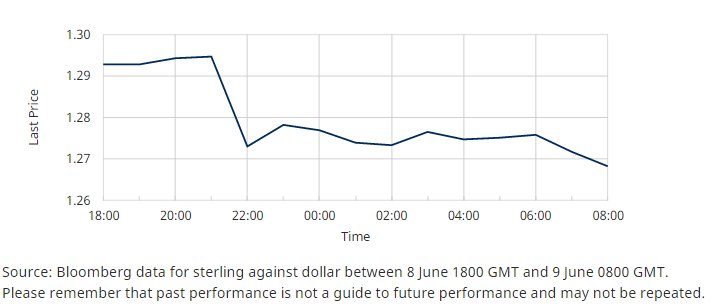 What about Brexit?
"As for Brexit, serious damage has been done to the UK's negotiating position," Zangana said.
"Without a strong mandate, Europe can ignore the UK's demands. Even the UK's threat to pull out of negotiations will now appear hollow and lacking the support of the British public."
The impact on the stock market and FTSE 100 firms
David Docherty, a fund manager in UK equities at Schroders, said: "Even if the Conservatives are able to form a government, this result significantly reduces Theresa May's authority and her ability to negotiate Brexit."
"An initial flight to safety is likely in UK equities as investors favour resilient companies with international earnings.
"Economically-sensitive domestic consumer companies, such as general retailers, may be vulnerable to a weakening pound.
"This is because foreign exchange moves impact their profit margins and the real disposable income of their customers. Other domestic financial stocks such as banks, housing and real estate may also be weak."
"Longer term, a recovery in sterling is possible were the market to discern a reduced likelihood of Brexit actually taking place," Docherty said.
"A stronger growth narrative might also emerge as the opposition parties argue for greater public spending.
"In the meantime, given Labour's greater proximity to power, investors will start to calibrate the impact on companies of the higher taxation and significantly greater government intervention (including nationalisation) inherent in the Labour manifesto.
"As much as these political events drive fierce debate, investors will also place them in the context of other factors. These include the general global economic backdrop, the valuation of UK equities and bottom-up stock selection considerations."
Inflation and bonds
Alix Stewart, a fixed Income fund manager at Schroders, said: "One of the risks from today's election result is that prices are likely to rise more than people had been previously expecting. This will likely be due to a combination of increased government spending and a weaker pound.
"The outlook for UK government bonds is more uncertain.
"However, they are likely to sell off at least initially as investors will require a higher return from them. This is because more government spending means more borrowing through bond markets and the higher inflationary environment.
"Longer term, however, UK government bonds should remain well supported due to the economic uncertainty caused by the political turmoil in the face of looming Brexit negotiations."
– Read more on how elections and politics are moving markets
Important Information: The views and opinions contained herein are those of Azad Zangana, Senior European Economist, David Docherty, Fund Manager, and Alix Stewart, Fund Manager, and may not necessarily represent views expressed or reflected in other Schroders communications, strategies or funds. The sectors and securities shown above are for illustrative purposes only and are not to be considered a recommendation to buy or sell. This material is intended to be for information purposes only and is not intended as promotional material in any respect. The material is not intended as an offer or solicitation for the purchase or sale of any financial instrument. The material is not intended to provide and should not be relied on for accounting, legal or tax advice, or investment recommendations. Reliance should not be placed on the views and information in this document when taking individual investment and/or strategic decisions. Past performance is not a guide to future performance and may not be repeated. The value of investments and the income from them may go down as well as up and investors may not get back the amounts originally invested. All investments involve risks including the risk of possible loss of principal. Information herein is believed to be reliable but Schroders does not warrant its completeness or accuracy. Reliance should not be placed on the views and information in this document when taking individual investment and/or strategic decisions. The opinions in this document include some forecasted views. We believe we are basing our expectations and beliefs on reasonable assumptions within the bounds of what we currently know. However, there is no guarantee than any forecasts or opinions will be realised. These views and opinions may change. Issued by Schroder Investment Management Limited, 31 Gresham Street, London EC2V 7QA. Registration No. 1893220 England. Authorised and regulated by the Financial Conduct Authority.