What is City Talk?
City Talk allows marketers to connect directly with our audience by publishing content on cityam.com
Top Apps for Business Travel
Whether you're a fan of travelling for work or hate it with a passion, for many of us it's a necessary part of life. Ensuring business trips pass smoothly can be in part down to the technology on-hand to help plan the journey, monitor the status and rectify any issues. Here's a rundown of the best apps to help ensure your next trip is a success.
Hopper
Hopper not only lets you book flights quickly and simply, it also notifies you of the best time to buy. If flight prices are likely to drop, you will be told to wait. Hopper will then keep an eye on prices and send you a notification as soon as prices drop. You can save all passenger and payment details to make booking a flight even faster. If you run into any issues with your booking, there's a support team of agents available to modify or cancel your flight.
Available: Apple App Store and Google Play
Price: Free
TripIt
TripIt allows you to keep all of your travel plans in one place with very little stress. All that is required is you forward your confirmation emails to TripIt and await your automated master itinerary for each trip. You can also access your itinerary from a range of different devices, as TripIt will synchronise your plans. TripIt is free to download but upgrading to TripIt Pro (for £38.99/year) offers access to features such as locating alternate flights, receiving real-time alerts and VIP travel benefits.
Available: Apple App Store and Google Play
Price: Free or £38.99/year for TripIt Pro
FlightAware
Track flights worldwide with a simple search on FlightAware. By searching aircraft registration, route, airline, flight number, city pair or airport code; you will have access to complete flight details and full screen maps with NEXRAD radar overlay. Whether you are collecting an international colleague or travelling yourself; FlightAware will notify you of any expected delays or cancellations to any flight.
Available: Apple App Store and Google Play
Price: Free
BlackBerry Travel
BlackBerry users can now manage all their travel activities all in one place. There is no need to continuously check flight details as BlackBerry Travel will notify you if there are any changes to your schedule. Not only does this app manage your travel, the automatic trip scanning feature can pull all your details into the app. Your details can then be shared with other BlackBerry users, keeping all your colleagues up to date with your ETA.
Available: BlackBerry Store
Price: Free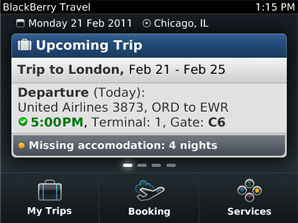 CityMaps2Go
Using CityMaps2Go will make sure you always know where you are in over 150 countries and 60,000 destinations. With this app you don't have to worry about losing internet connection or being hit by sky-high roaming fees as the maps work offline. CityMaps2Go also has a photo feature that will help you pinpoint exactly where you are from your surroundings. You can save specific locations or browse by name and category.
Available: Apple App Store and Google Play
Price: Free