The Square Mile and Me: JM Finn's Hugo Bedford on crayfish hi-jinks, David Mayhew and hopes for 2023
Every week we ask the City's highest flyers what they've learnt in the Square Mile – and what fun they had climbing the ladder. This week, it's wealth manager JM Finn's chief executive Hugo Bedford – on his early days in the Square Mile, why he admires David Mayhew and one particularly raucous lunch
What was your first job? 
Working on the European Sales Desk at James Capel in 1987. I was living in London for the first time and having fun. Then I woke up one morning and the Great Storm had hit and the market fell 22 per cent in two days. There were stunned faces all around. I offered to make everyone a cup of tea.
When did you know this was the industry for you – and when did you know you might be good at it?
Private client stockbroking (as it was known) was seen as a bit of a career backwater in those days – where the institutional salesmen were 'put out to grass'. I was lucky with the support that I received from an early stage. I had a boss who allowed me to speak to clients early on and this brought the job to life. It quite quickly dawned on me that calling clients back promptly and engaging with them regularly bought the best out of the relationship. There was a clear correlation between effort and reward.
What's one thing you love about the City of London?
I think the City gives you a chance. You can over-achieve if you work hard and keep your wits about you.
In wealth management, I love the connection between the markets, as the gauge of potential, and the real world of the families and charities that we look after. I think some of the financial sector has over-evolved but I like to feel we still provide that important link between investors and capital that the original stock exchange sought to create.
… and one thing you'd change?
Post Covid and despite work from home, the city has got its buzz back which is great. Recent traffic rule changes have made a difference to the feel and I think it could be even better if we rolled out more pedestrianised areas.
More my problem, but I need to deal better / concentrate with the cycle lanes!
Are you optimistic for the year ahead?
Yes I am. In the short run, I think China reopening is a big positive and, in addition, rates are likely to steady and inflation should ease. A year of more stable conditions would be well received and valuations look relatively attractive.
I think prospects for the wealth management industry are positive too.  Whilst we're all finding our way through new regulatory changes due in July, I think they will be good for the well run businesses and positive for clients, which can only strengthen the appeal of the industry.
Who's the City or business figure you most admire?
I have a high regard for a number of people that I have worked with over the years and I was fortunate to have good people whom I could learn from in the early days. Although I never worked under him, I have a lot of admiration for David Mayhew of JPMorgan Cazenove; for all that he has achieved, but mostly for the way he has gone about it. He is still involved with so many things inside the City but also outside of finance. I had lunch with him recently. He is softly spoken and listens carefully to everything you say.
What's your most memorable lunch/job interview/speech (this is just an excuse for a fun dig around the memory bank)?
It was a charity lunch that my old friend Mark Durden-Smith invited me to. It was full of showbiz and we had some funny people on our table. I was next to Ronnie Corbett. It also had the best speech I have ever heard, from Peter Ustinov. Everyone there was doubled up.
It got quite lively. Later, on my way home, I discovered that someone had put a crayfish in each of my overcoat pockets.
You're hosting a business lunch in the City (or nearby). Where are we going? 
One of my favourite venues is a small French restaurant called Casse Croute on Bermondsey Street. Authentic with a small set menu so no dallying. If time is on your side, it's fun to visit the Market Porter in Borough Market on the way there. For more formal business lunches, Manicomio on Gutter lane works well.
And where's your favourite pub in the capital? 
Chequers on Duke Street. You need to be in the right mood as it's normally busy. It's a small space but it always has a good atmosphere and there is a table outside at the back if it gets too much for you. When I worked at HSBC we were based just around the corner and we watched England win the Ashes which was a fun afternoon.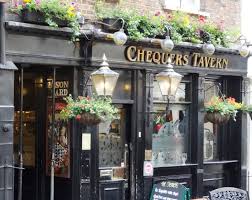 Where's home during the week?
North Hampshire in a village called Hannington. It's supposedly the highest point in Hampshire. We have the re-assuring lights of Basingstoke in the distance but good views and a peaceful spot. There is a pub and a church and a great community.
And where might we find you on a Saturday afternoon?
On the touchline. We have two sons and a daughter. Our daughter is at university and the boys are in their last year at school and so I go to every match that I can. One of them plays some rugby for Bath so that's another weekend destination. Its good fun although in summer watching them play cricket is not as relaxing as it could be.
I am a keen fisherman so if I am not there, I hope to be on the River Test somewhere. It's really an excuse to sit on the river bank with mates or family and 'chew the cud'. 
You've got a well-deserved two weeks off. Where are you going? 
My favourite place in the world is up at the top of Scotland, two hours north of Inverness where we take a house on a river called the Helmsdale. The lodge overlooks a loch. It's beautifully wild and remote – the nearest village is 25 miles away – and it's a perfect antidote to London and Hampshire! We fish, hill-walk, have bbqs and then in the evenings have a big dinner and play cards and other games. I love it.
Last year we said the children could bring a load of their friends. They stood in the river in bare feet and shorts, smoking whilst they fished. It was great fun but completely exhausting so I am looking forward to a more peaceful time this year.