The resilience of Ukraine's businesses proves we still understand too little about geopolitical risk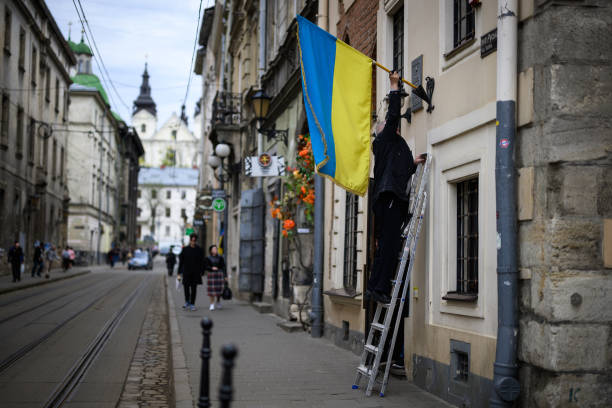 Contrary to what many believed, Ukraine's businesses are strong in the face of war. They prove geopolitical risk affecting supply chains is more complex than it can look like, writes Chonchol Gupta
How much do we really know about the war in Ukraine? The fog of war makes it difficult to discern the true facts on the ground, so people tend to fill in the blanks with logical assumptions. One of them is that supplier activity in Ukraine has been hammered by Russia's invasion.
That's not true—not by a long chalk. Obviously, the war has hit the economy hard, but the actual data shows that Ukrainian suppliers remain surprisingly resilient, if they can get the inputs they need. In fact, across all industries, Ukrainian businesses are showing between 2 to 4 per cent higher financial resilience than their global peers.
It's the last thing you'd expect when you see the blackened skeletons of apartment blocks and ruined industrial plants on the evening news. We don't know exactly why Ukraine's businesses remain so resilient. It could be suppliers lowering prices to be more competitive. It could be good-old fashioned solidarity from the world's buyers. Whatever the reasons, the numbers don't lie.
In the data-glut of the information age, the truth can be harder to discern than in earlier, more analogue times. But businesses can't afford to make assumptions based on incomplete information. They shouldn't see risks like war, lockdowns, or a blocked canal in isolation, but try to understand how these risks interact.
One explanation for Ukraine's resilience can be found by looking at the broader global economic context—not least by looking east. At the height of China's draconian lockdown policy in December, it was estimated that Covid controls were costing the country as much as 25 per cent of its GDP. The former Warsaw Pact countries were the main beneficiaries of China's shutdown, thanks to cheap but highly skilled labour. On top of that, Russian sanctions have been encouraging countries in Eastern Europe and the Caucasus to look for friendlier places to do business.
Beyond Ukraine, what else have the experts got wrong recently? For the last few years, the supply chain conversation has been dominated by talk of nearshoring or friend shoring, as businesses seek greater security by pulling production closer to home or into more friendly nations. Our proprietary data shows that although two fifths of large enterprises analysed the benefits of moving manufacturing to more geopolitically aligned countries, less than 4 per cent are moving forward with those plans.
Why? For one thing, there's the gulp-inducing challenge of building infrastructure required to bring new markets online. But just as likely is the continued trend of national economies becoming increasingly specialised in specific outputs. Indeed, recent analysis from McKinsey found some 40 per cent of the $32tn worth of goods traded each year originate from only three or fewer nations. In short, there simply aren't enough "friends" producing the commodities buyers need, and it is a costly endeavour to relocate production to a country that has no experience with a particular good or industry.
We are witnessing a widespread failure to "predict the present". But when you can analyse all the relevant economic, political, regulatory, and weather data together, you get the full picture.
A milder winter in Europe along with the long closure of Chinese cities have kept prices lower than predicted, but the sudden reopening of Chinese industry continues to increase pressure on the price of inputs including fuel, agricultural inputs, and sourced raw materials. Other factors impacting risk are the continuing economic integration of APEC/ASEAN nations, the impact of China's unchecked Belt and Road Initiative on struggling countries and, of course, new trade policies and regulations.
With supply chain resilience dominating the business agenda, taking a multidimensional approach to risk analysis must be an urgent priority for global enterprises. That way, they can dispel not just the fog of war, but the multiple mists that cloud our understanding of supply chain risks—and indeed the wider world.