Tesco: Bumper Christmas sales will put shares in the spotlight this morning
TESCO enjoyed a bumper Christmas period, it told markets this morning, with like-for-like sales up nearly 8 per cent despite bruising economic headwinds.
The supermarket told markets this morning it had seen customers switching to Tesco across December.
The boost meant revenues hit a cool £19.7bn in the UK and Ireland for the quarter to January 7, up 6.1 per cent on the same period last year.
The boost to sales comes despite a cost of living crisis forcing Brits to watch the pennies and pounds at the till.
Britain's number one grocer also continued to enjoy growth at its wholesale business Booker, with sales up 10 per cent across the third quarter of Tesco's financial year.
Tesco reconfirmed profit guidance of between £2.4-£2.5bn.
The grocers' board will be particularly pleased with so-called switching gains, with other large grocers being challenged by discounters Aldi and Lidl.
Tesco says it is the only 'full-line' grocer with market share up on pre-pandemic.
The supermarket also said it had seen sales of its premium 'Finest' range increase more than 8 per cent year on year, suggesting some trading down from higher-end grocers.
However analysts warned discounting could eat into margins.
Sophie Lund-Yates, Lead Equity Analyst at Hargraves Lansdown, said there was an "elephant in the room."
"A large proportion of success is coming down to discounting. Things like Aldi Price Match and price freezes are very successful tactics, but can spell bad news for margins. Supermarkets had only recently rediscovered their footing before the pandemic, following years of margin degradation from an all-out price war," she added.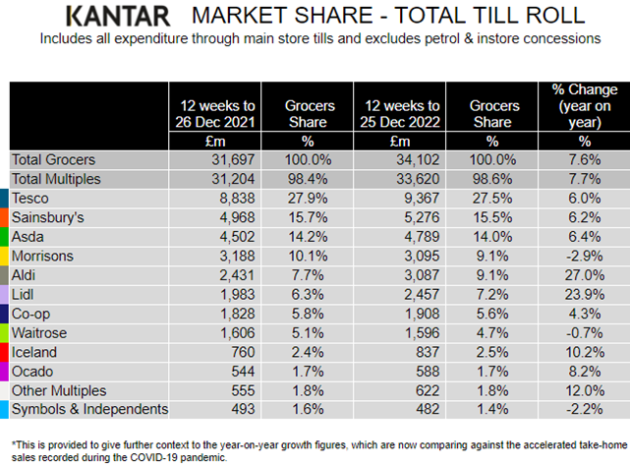 "I'm really pleased with our performance over this period – particularly the further strong growth at Christmas on top of the exceptional growth of the last few years," Tesco chief exec Ken Murphy said this morning.
"We've delivered a strong market share performance in the UK and ROI, Booker has continued to grow strongly despite a particularly tough catering backdrop and our Central European business has delivered its highest sales growth for many years."
The update comes a day after rival Sainsbury's revealed it had enjoyed a record Christmas at the tills.
Sainsbury's cashed in on Christmas shopping with retail sales up more than five per cent, as the supermarket giant expects its profit to be at the "upper end" of guidance.
The major retailer now expects to be making close to £700m in pre-tax profit this March, despite the cost of living crisis weighing down consumer demand.