Sports Direct brushes off England's early World Cup exit but results show even Mike Ashley can't predict the weather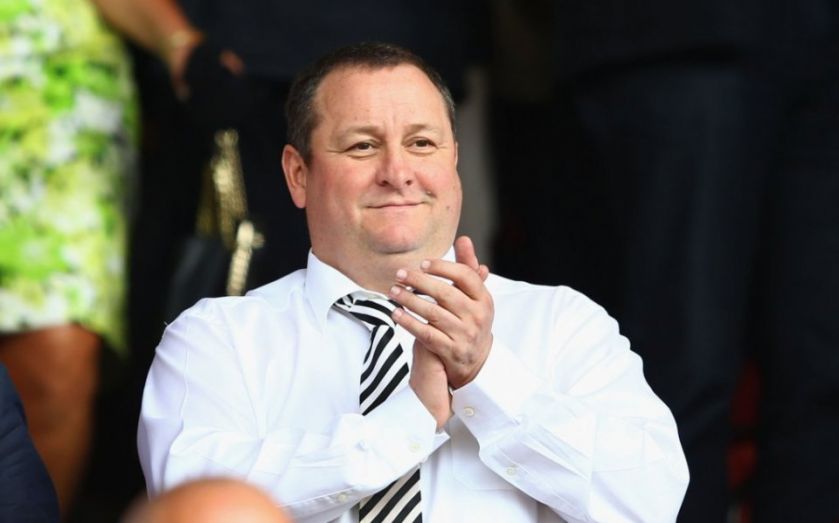 Sports Direct has brushed off England's disappointing World Cup performance but it seems owner Mike Ashley is not immune to the unseasonal weather.
The figures
Group revenue rose 6.5 per cent to £1.4bn in the six months to 26 October. Underlying earnings before interest, taxes, depreciation, and amortisation rose 11pc to £203.1m, excluding charges related to the retailer's employee bonus share scheme. The group also said pre-tax profit rose 4.6 per cent to £149.7m.
The group's shining star was its sports retail division which, supported by growing online sales, grew sales 8.3 per cent to £1.2bn in the six months to 26 October.
However the overall figure was dragged down slightly by a disappointing performance in its others divisions. Premium lifestyle revenue dropped 2.8 per cent to £99.9m while brands division total revenue fell 3.9 per cent to £102.1m.
Sports Direct employees will welcome confirmation that the group is on track to meet its targets, meaning they're likely to get their bonuses.
However they also showed that revenue growth slowed when compared with the same period last year. In the six months to 27 October 2013 Sports Direct's group revenue rose 23.5 per cent.
A good performance is also important for Sports Direct owner Mike Ashley, whose investments using company cash has raised shareholder eyebrows.
In September Sports Direct entered into a put option agreement with Goldman Sachs on 23m shares in embattled retailer Tesco, which could leave it with a 0.28 per cent stake. By buying the right to sell shares at a certain price within a specified time period he essentially bet on Tesco's share price rising.
Earlier this year Sports Direct took a 4.6 per cent stake in department stores Debenhams. This was later converted into a put option and the stake increased to 6.6 per cent. Ashley subsequently increased this twice and it now stands at 12.7 per cent.
What Sports Direct said
Chief executive David Forsey said:
The results for the six months were solid considering the adverse impact on performance during the period of England's early departure from the Fifa World Cup in Brazil and the unseasonably mild weather during Autumn reducing footfall.

Trading since the end of the period has been in line with management expectations and while we retain the ability to invest in margin, inventory, and group marketing to deliver long-term sustainable growth, we remain confident of achieving at least our full year internal underlying earnings before interest, taxes, depreciation, and amortisation target of £360m, before the charge for the employee bonus share schemes.
In short
While the group says it defied bad weather and a disappointing World Cup performance to achieve good growth in the six months to 26 October, investor reaction has been muted with shares flat in mid-morning trade.
At the same time, the group delivered a confident outlook, saying subsequent trading has been in line with expectations and it expects to meet its future earnings before interest, taxes, depreciation, and amortisation target of £360m.