This self-built house by design consultant Ian Silverstein is the coolest thing we've ever seen, and it's yours for £1.75m
As international design consultant Ian Silverstein works on his laptop in the library, he's having to block out the sound of furniture being hastily rearranged downstairs. For him, the odd photoshoot request is part of the privilege of owning a uniquely attractive house in a historic part of the British countryside. It's also a confirmation of Silverstein's good taste, as he built the house himself.
"It's a Marmite house, it's not for everybody," he concedes. "But I didn't build it for everybody, I built it for me and what I wanted, with one eye on what someone else would like if they were to buy it. I just needed to express a lot of things I'd seen around the world and the opportunity presented itself."
Silverstein, founder of design agency Creative Action, says it was always a dream of his "mainly from watching Kevin McCloud on television telling me to build a wonderful house for 50p, making people think it's a lot less stressful than it actually is" and acquired 1.5 acres of land in St Albans, Hertfordshire. In 2012, he set about finding an architect to realise his vision and alighted upon a young, Shoreditch-based start-up, Platform 5.
They knew getting planning permission would be tricky. St Albans City & District Council is the guardian to the oldest city in the county, the second largest town in Roman Britain after Londinium. Its rules on new buildings seeks to protect its historic architecture, so the brief and materials had to take this into account.
"The architecture was about being respectful really, and being conscious of the fact it's not on South Beach, Miami," says Silverstein. "It's got to blend into the natural woodland environment around here. I also wanted something that was unique in terms of construction and layout and to maximise the little bit of good weather we have in this country."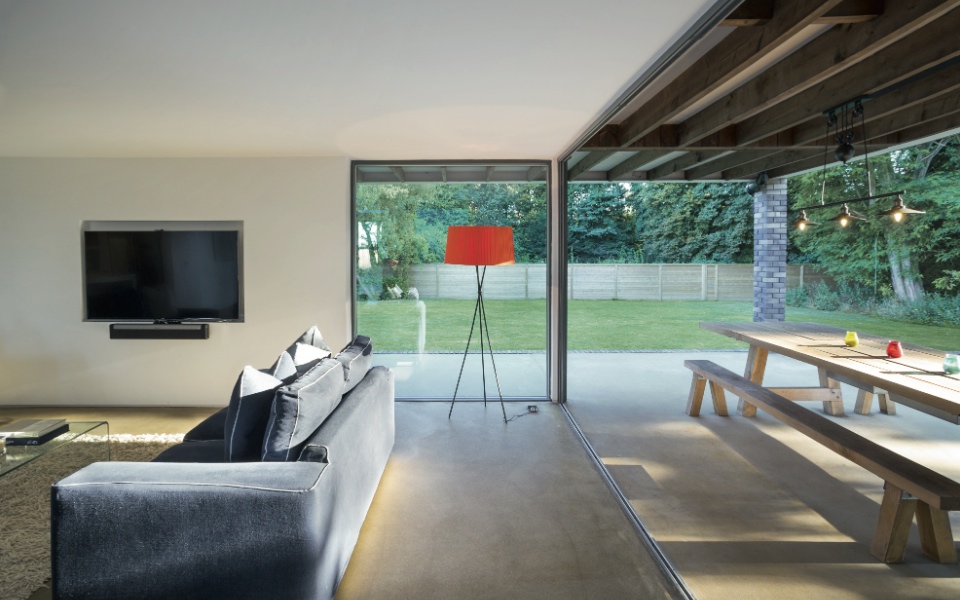 The result is Home House, an indoor/outdoor four-bedroom property spanning 4,000sqft over two levels that makes the most of natural light with its floor-to-ceiling windows. A rectangular arrangement of layers, courtyards and walkways combines a rustic facade of soft grey bricks and timber-cladding with simple, stylish interiors by Silverstein.
With support from a couple of neighbours, the concept was passed right away by the planning committee, "which we were not expecting," he says. "We'd already had a meeting about what to do once it had been rejected." The building took almost exactly two years, beginning in August 2013 and completing in August 2015.
Along the way, a number of innovative gadgets were added, including light sensors in the bathroom, a switch near the door that turns off all the lights on your way out, and biometric security. "So when you walk in with your shopping, all you need to do is put your finger on the door.
And with St Albans' stations only a ten minute drive away, providing an 18 minute train journey into King's Cross, the commute is pretty practical, too.
Home House is on the market for a guide price of £1.75m; Visit struttandparker.com to find out more or call 01727 738298