Sebastian Soderberg battled his demons to break his European Tour duck and pip world No1-in-waiting Rory McIlroy
Sebastian Soderberg would have been forgiven for thinking his chance to win a first European Tour title at the 50th attempt had gone when he three-putted and bogeyed the 17th hole of the European Masters on Sunday.
Had the 28-year-old Swede made par he could have played the final hole with a degree of comfort.
Instead, after finishing his round of 66, he had to sit there sweating as Italy's Lorenzo Gagli lined up a putt to win the tournament in Switzerland.
Read more: Magical McIlroy shows what he can do against the best
Although Gagli narrowly missed, meaning they both finished tied with Rory McIlroy, Andres Romero and Kalle Samooja on 14 under par, Soderberg's late wobble left him looking very unlikely to win the five-man play-off.
But he battled his demons when they replayed the 18th, hitting a huge three wood to find a very difficult fairway.
And although Gagli and McIlroy had shorter putts, he sank his to make a birdie at the first extra hole and turned his day, week and season right around.
Panic averted
It all made for a very exciting climax to the event.
It was also a great advert for the Challenge Tour, where Soderberg, Gagli and Samooja cut their teeth before climbing to the top tier of European golf.
This can be an anxious time of year for players trying to keep their European Tour membership and panic can set in.
Soderberg has bounced between the European and Challenge Tours since 2016 and admitted himself that he made a bad start to this year.
Before this win he was just outside the all-important top 110 on the Race To Dubai but is now up to 47th, so this was a huge result for him.
It also means that he will get entry to more high-profile events.
There are four big-money Rolex Series tournaments before the European Tour season finale in Dubai, including the BMW PGA Championship at Wentworth in a couple of weeks.
Soderberg has the magic key now. This could transform his life and there is no telling what may come next for him.
McIlroy bound for No1
McIlroy had about 10 shots that lipped out or didn't quite happen for him in some other way over the last two days alone yet still almost made it back-to-back wins following his FedEx Cup success in the US.
He is always going to be up there near the top of the leaderboard, as he has been all year.
His consistency has been extraordinary, almost Tiger-esque, although at his peak Woods would have won five or six more events than McIlroy's three in 2019.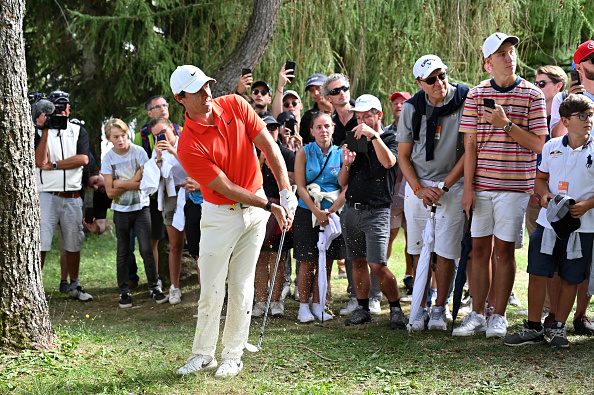 Rory just needs that killer instinct. When you're as good as he is it must be hard to have aims once the Majors are finished for the year, but he has said he is determined to return to the top of the rankings. He is currently second to Brooks Koepka.
It is a distinct possibility before 2018 is out but even if he doesn't manage it that soon, I agree with his statement that it is a matter of time when he is playing this well.
Maybe world No1 is the target he needs to turn some of his near misses into more titles.
Main image credit: Getty