Russell Brand teams up with cryptocurrency firm to fund global revolution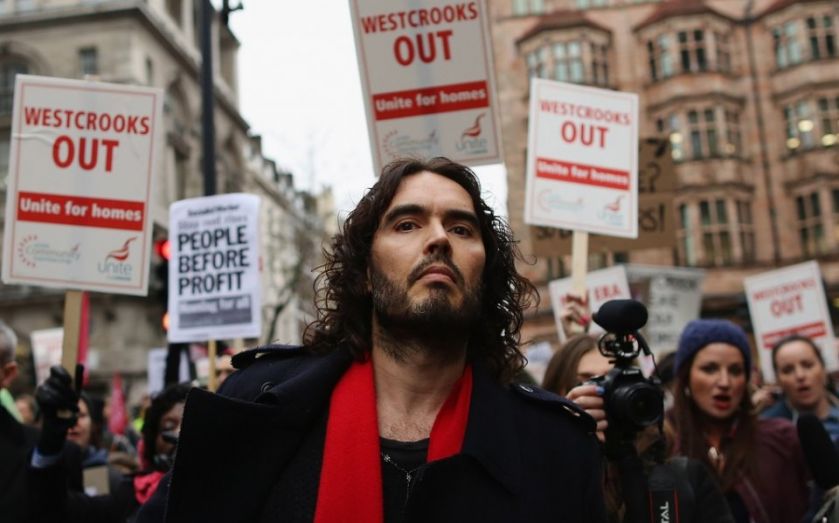 Self-styled anti-capitalist revolutionary Russell Brand has teamed up with cryptocurrency and crowdfunding platforms to raise funds for his beloved revolution.
Brand and his YouTube show the Trews have partnered with Startjoin – a cryptocurrency crowdfunding platform – as well as the cryptocurrency itself Startcoin to raise money for the cause.
Russell Brand @RustyRockets, @Trews, @StartJOIN & @Start_COIN are teaming up. Funding the #Revolution! http://t.co/oBJxsHiGhg via @maxkeiser

— TrewStart (@trewstart) April 14, 2015
Startjoin was co-founded by the maverick financial commentator Max Keiser famous for his tirades against the big banks and incumbent financial industry. Quite what kind of revolution people will be funding if they begin shelling out their Startcoin remains something of a mystery.
Many of those who have managed to work their way through Brand's foray into political philosophy – Revolution – are left wondering exactly what a world after the glorious upheaval would look like.
There may be some clues in Brand's latest film The Emperor's New Clothes. The advert for the documentary, which was made in collaboration with Michael Winterbottom, features Brand going from banks' headquarters to rich people's houses to attempt to understand the global financial system.
But Brand may still have some way to go if he wants enough people to dip their hands into their pockets to fund the overthrow of capitalism. A YouGov poll from November showed 46 per cent of people thought Brand's interventions were a negative contribution to the political debate compared to just 13 per cent who rated them as positive.