Sponsored
Ad Feature is produced by an advertiser with the specific intent to promote a product and is not produced by the City A.M. team.
Power of Inclusion Breakfast To Discuss Cost of Living Crisis and Social Mobility within the City
Bringing together some of the City's most insightful minds including Alderman Vincent Keaveny and Sarah Churchman to discuss social mobility, the cost-of-living crisis and its immediate impact on businesses, The Lord Mayor's Appeal will host its first Power of Inclusion breakfast workshop on Tuesday 28th February at Ashurst.
Part of the Power of Inclusion initiative's 2022-2024 programme, the series of thought-provoking events aims to create a City that is inclusive and open to everyone regardless of background. Shining a light on social mobility – the workshops enable businesses to gain expert insights from thought leaders, share best practice on policies and programmes, and collaborate for effective change within the City's workplaces and beyond.
February's Power of Inclusion workshop will be in a roundtable discussion format and chaired by Dan Robertson, Director of VERCIDA Consulting and chair of the Power of Inclusion Senior Leadership Forum. Alderman Vincent Keaveny, a keen supporter of the initiative during his mayoral year, will also be joining keynote speaker Sarah Churchman OBE, UK Head of Diversity, Inclusion and Wellbeing at PwC.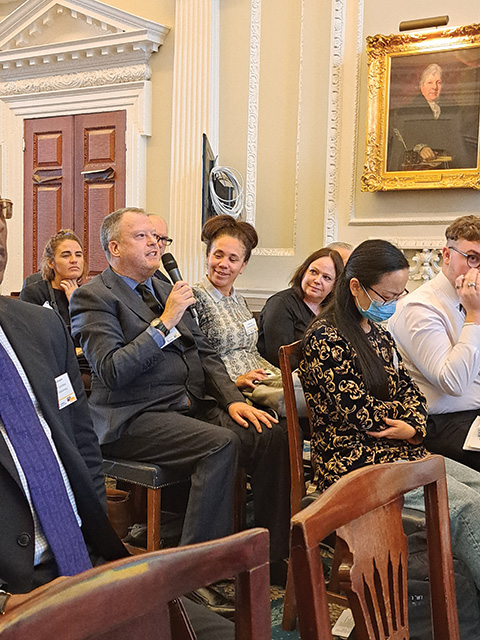 Imogen Chaillet, Power of Inclusion Programme Manager at The Lord Mayor's Appeal says, "Through the first part of this year's Power of Inclusion workshop series, we are looking forward to a productive discussion with key stakeholders about the immediate impact of the cost-of-living crisis and practical steps that businesses can and are taking to prioritise social mobility during this challenging time."
The upcoming breakfast event will facilitate a space for senior leaders, DEI champions and social mobility experts to discuss the impact of the cost-of-living crisis on social mobility within businesses and learn what others are already doing to address this and continue to prioritise social mobility initiatives. Following the keynote speech, attendees can take part in roundtable discussions about the challenge the cost-of-living crisis brings to social mobility and the practical steps businesses are already taking to address this.
According to ground-breaking research published in December 2022 by KPMG UK, socio-economic background has the strongest effect on an individual's career progression, compared to any other diversity characteristics. In the biggest 'progression gap' analysis ever published by a business, experts from the Bridge Group analysed the career paths of over 16,500 partners and employees at KPMG over a five-year period. The team examined the average time it took individuals to be promoted, looking at their gender, ethnicity, disability, sexual orientation as well as socio-economic background. The data showed that socio-economic background, measured by parental occupation, had the strongest effect on how quickly an individual progressed through the firm. Individuals from lower socio-economic backgrounds took on average 19% longer to progress to the next grade, when compared to those from higher socio-economic backgrounds.
If you would like to join the conversation on social mobility, the cost-of-living crisis and how businesses can take action to ensure that the City is an inclusive place for all, the Power of Inclusion workshop takes place at Ashurst on Tuesday 28th February at 8am-10am. This event is free to attend but spaces are limited so please do register now.
You can reserve your place by emailing your name, job title and organisation name to Imogen Chaillet at inclusion@thelordmayorsappeal.org
If you would like to learn more about the Power of Inclusion initiative, head to https://www.thelordmayorsappeal.org/