Oil to keep sliding after slumping to 3-month low
Oil fell to $118 a barrel yesterday, a three-month low, as traders reacted to rising supplies and declining demand in America and Europe.

The price of US crude fell as low as $118 a barrel, before recovering to trade at $119.13. While in London Brent crude fell by $2.20 to $118.48 a barrel.
Oil supplies from the Opec nations, which provides two in every five barrels used globally, rose for the third month in a row in July
The hike in supply was mainly due to Saudi Arabia raising its output.
Weaker American consumer spending figures released on Monday also increased expectations that future demand for fuel in the US could drop.
These falls extend a slide dating back to the all-time high on 11 July when oil hit $147.27 a barrel.
Analysts said that many investors were now focusing more on the potential imbalances between supply and demand on the oil market, and were looking at moving cash from oil and putting it into other assets.
"Most of the hedge funds have been taking profits," said Angus McPhail of British-based investment firm Alliance Trust.
McPhail added that prices could fall to "about $100 within the next month if you keep on getting weak demand data."
Other commodities such as copper, gold and platinum also fell, hit by concern that slower economic growth will limit demand. As the dollar rises, commodities priced in dollars will also become more expensive for investors.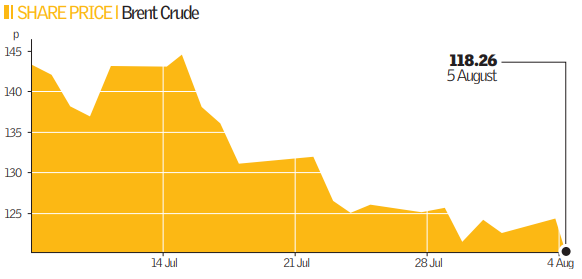 Analysts Views: Will the oil price fall to $100 a barrel by next month?
Ivor Pether (Royal London Asset Management): "I don't think oil will hit $100 in a month, because something more fundamental would have to happen to either oil demand or production. To my mind the key question is whether Asian economies will continue to power on over the next two to three years, and I think they will."
Simon Hawkins (Edison Investment Research): "The oil price could dip below $100 in a month but it is not likely. I think it will stay between $100 and $135 for the next year or so. There is still plenty of tightness in production because of disruption in Nigeria, and political uncertainty in Russia and Iran. There is still plenty for traders to be nervous about."
Howard Wheeldon (BGC Brokers): "What we have seen over the last ten days or so is the oil price looking for some sort of stability in the market. Its price could touch $100 a barrel in a month's time, but I don't think it will stay there. I think we are looking at something like $120 a barrel over the longer term."