Notting Hill Carnival is back this weekend and hoping to be better than ever. Here, City A.M. provides you with everything you need to know about Europe's biggest street festival.
Last year around 2m people attended the annual event over the course of the weekend, which showcases London's multicultural past and present. 
What is it?
Notting Hill Carnival is a yearly celebration of London's Caribbean communities and culture. It features a parade, live music, floats and steel bands, as well as a lot of Caribbean cuisine.
Its executive director, Matthew Phillip, has said the event is designed to break down barriers and can help to unite a divided country.
"Carnival was brought to us by the Windrush generation," he said. "It was that influx of people which created carnival in the first place. It was a chance for the diverse community of Notting Hill to come together and celebrate the fact that we've got a lot more in common with people than differences. That's still relevant today."
"It is absolutely more important now than ever," said Phillip. "You look around carnival and Ladbroke Grove and you see people from all walks of life celebrating and enjoying food together. All you'll see is smiling faces. It brings everybody together."
"I really believe that carnival should be celebrated and highlighted and the whole nation should be proud of it. It puts the UK on the map for that one weekend and it highlights London as a city that's welcoming and inclusive of all people from all walks of life."
When was it founded?
The event first took place in 1966, when it was led by resident and social worker Rhaune Laslett – a community activist who had worked to ease inter-cultural tensions in the area.
When is it?
The event traditionally takes place over the August bank holiday weekend, and this year it's no different.
The festival will get underway this weekend on Sunday 25th August, and continue into bank holiday Monday.
Sunday is traditionally 'Children's Day' – when most of the bands in the parade are led by children – but everyone is welcome to join the party.
Sunday's events get underway at 10am, with the parade set to start half an hour later at 10:30am. Monday's parade starts at the earlier time of 10am.
There is a strict noise curfew at 7pm, meaning live music sets will end, but the party goes on for those who wish to stay.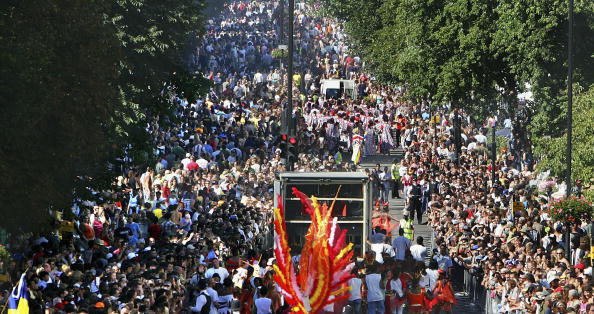 Where does Notting Hill Carnival take place?
You guessed it… Notting Hill. Although the celebrations actually spread across most of W10 and into W11, including nearby Ladbroke Grove and Westbourne Park.
The main parade begins on Great Western Road before moving along Westbourne Grove and down Ladbroke Grove.
People are able to get involved at any stage of the parade they want, while there will be stages and stalls fixed in various places of the festival.
How do I get there?
Unfortunately, it is set to be hectic. With around 2m people attending last year, the nearby tube stations are set to be heaving, with the surrounding roads also closed.
Some tube stations will be shut or have restrictions in place.
Holland Park will be exit-only from 6pm on both days, while Ladbroke Grove will be closed on both days.
Notting Hill Gate will be exit-only from 11am – 7pm and Royal Oak and Westbourne Park will be exit-only from 11am-6pm on both days.
No circle or district line trains will stop at Notting Hill during those hours, while Royal Oak will close at 6pm and Westbourne Park will close at 11:30pm.
As ever, it's best to plan your journeys in advance and check TfL for travel updates.
How can the carnival app help?
For the first time, every one of the carnival's food stalls will be listed on the app, along with the dietary information of different dishes.
It will highlight on a map stalls such as those selling vegan and vegetarian meals, as well as other facilities like toilets, stages, sound systems and quiet areas.
In a second map, there will be GPS tracking to show where the parade is in real time, along with each float and more.
How much will it cost?
Absolutely nothing. It's free to join the party. The only thing you will need to pay for is food, drinks and travel.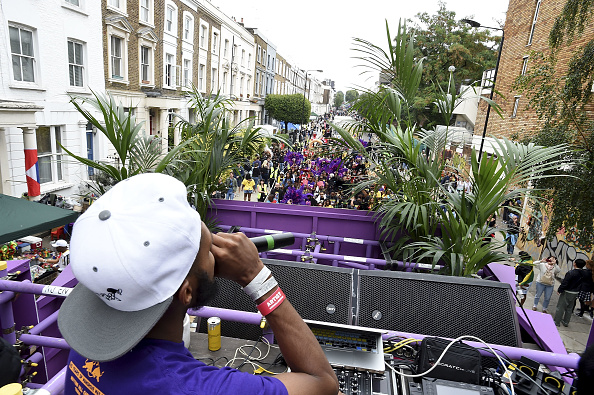 How do I stay safe?
As with any massive gathering of people, the Notting Hill Carnival can produce some nasty surprises. Although most people will probably not see any violence or crime, it's important to make sure you're vigilant.
Police recommend carnival-goers do not carry too much cash or credit cards. They also say you should go with the flow of the crowd, and do not try to walk against it.
It's not a good idea to bring valuables or expensive jewellery, and keep whatever you bring with you at all times.
Remember that police officers might sometimes direct you the long way around to keep you safe. Listen to what they say.
Police commander Dave Musker said: "Whilst the vast majority of carnival goers are law-abiding, sadly a small number are intent on committing acts of violence. Whilst this behaviour does form a very small part of what is on the whole a spectacular event, the MPS is uncompromising in striving to maintain the safety and security of the public, and will do what is necessary and proportionate to protect those attending.
"Let no one be in any doubt that if you have an intention of coming to carnival to be involved in crime or violence, my officers will proactively target you to keep the thousands of law abiding attendees safe. "