Night Tube back on track? RMT members vote in favour of new deal – and here's the pay rises drivers have agreed
Members of the biggest transport union RMT have backed a new deal in a move that could – finally – pave the way for the Night Tube to launch.
The deal, which has been overwhelmingly accepted in a ballot revealed this afternoon, comes after months of wrangling between Transport for London and the unions, including TSSA and Aslef, as well as RMT.
RMT said 84 per cent of its members voted in favour of the deal. The results of the Aslef vote is expected to be revealed early next week. A source close to the situation told City A.M. it was likely the union's members – which make up four out of five Tube drivers – would also accept the deal.
It is thought this could pave the way for the Night Tube to launch within weeks from that point.
Earlier this year, TfL hired 200 trainees so there would be no obligation on current staff to work the Night Tube shifts. It will take around 14 weeks until these part-time workers are up to speed, however current drivers are able to work Night Tube shifts.
If you've forgotten where it will run, check out the map below.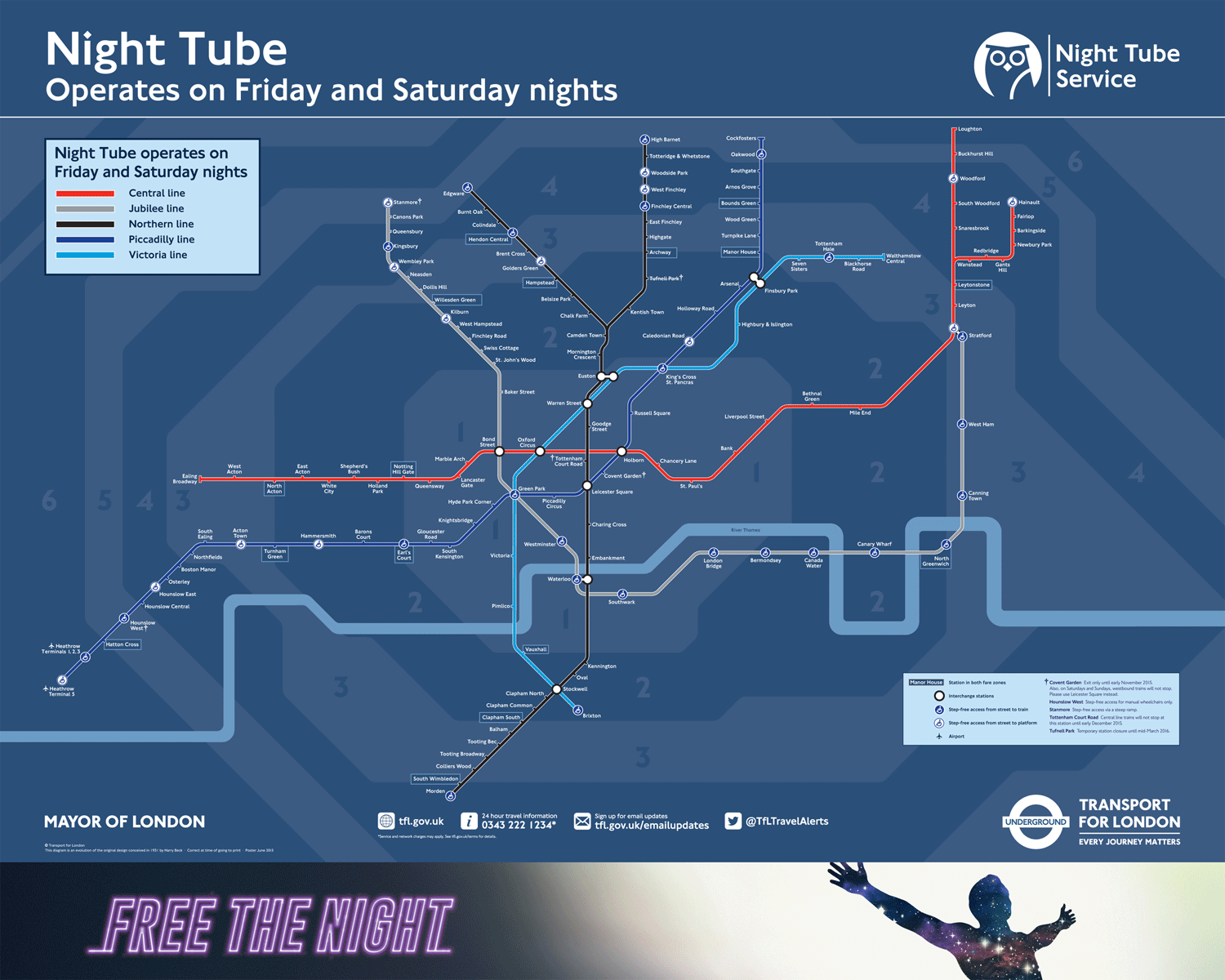 The 24-hour service was due to launch in September but was derailed after Tube staff refused to accept the terms being put forward. London's Tube network was ground to a halt numerous times because of strike action, as workers sought assurances that their "work-life balance" would be maintained, rejecting several pay deals in the process.
RMT's general secretary Mick Cash said: "I want to pay tribute to RMT's members across London Underground who have stood rock solid throughout the long campaign of industrial pressure to secure a fair deal from the company over pay and Night Tube operation.
"Those members have now voted to accept the most recent offer from the company – an offer that was only made after the hard work by union reps in the negotiations backed up by the loyalty, determination and militancy of the workforce right across the Tube network."
Steve Griffiths, London Underground's chief operating officer, added: "I'm pleased that RMT members have voted to accept our offer.
"This is a fair and affordable pay deal, which includes complete protection of employee work/life balance. We are seeking agreement with the other unions and continue to focus on the recruitment and training of part-time drivers to deliver the Night Tube for London as quickly as possible."
And here's the deal RMT has accepted
Tube drivers' basic salary starts at £49,673 a year. Instructor operators are paid £51,800.
In 2015 — one per cent pay rise backdated to April 2015, plus a £500 consolidated increase for all pay grades
In 2016 and 2017 — RPI or one per cent, whichever is the greater
In 2018 — RPI plus 0.25 per cent, or one per cent, whichever is greater
£500 non-consolidated payment to all operational staff upon the successful launch of Night Tube
A spokesman for TfL told City A.M. the deal was "within the financial perimeters set out" at the start.