New airline turns to crowdfunding to launch business class-only flights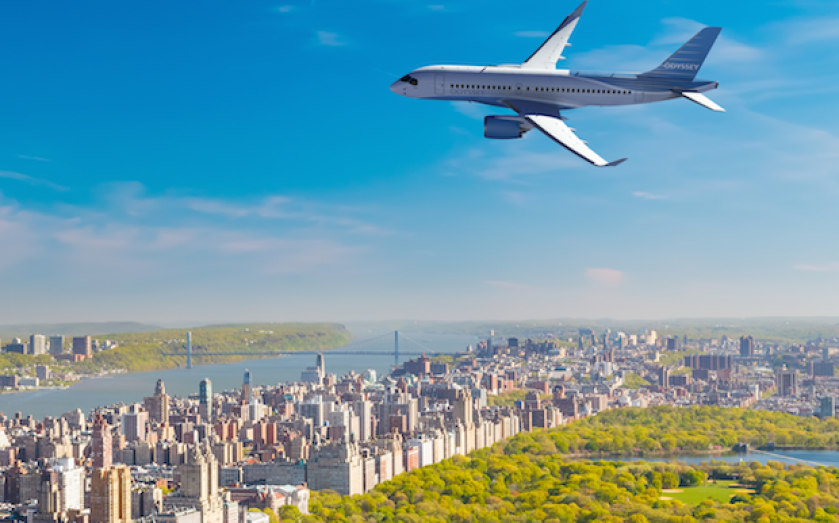 A new airline set up by a Goldman Sachs alumnus, which hopes to bring back business class-only flights to the States, is raising up to £5m through crowd-funding.
Odyssey Airlines was founded by Adam Scott, a former banker who has assembled a team of start-up veterans including some of the founders of Silverjet, whose closure in 2008
was thought at the time
to mark the end of such high-end carriers.
The airline has ordered 10 Bombardier CSeries planes, which will enable Odyssey to operate non-stop flights from London City Airport to New York when it launches in 2016. Scott is also sizing up other destinations up to eight hours from the capital.
"What's really attractive about this business proposition is we have taken the optimal aircraft in an optimal configuration for these routes," Scott told City A.M. "It's almost the closest replacement to Concorde, a direct, non-stop transatlantic flight."
Other transatlantic operators at London City must stop at Shannon Airport to refuel, as City's shorter runway and steep takeoff mean heavier aircraft are unable to leave with a full tank.
The Bombardier CSeries was "designed specifically for London City and difficult airports in mind", Scott said.
"In my own experiences of travelling, there's nothing more frustrating than all the aggravation of going through big hubs, so I'm trying to find solution to those issues."
The firm has today launched a £5m fundraising drive on the Crowdcube investing platform, which follows last year's £2.185m raising through the ThinCats peer-to-peer lending site.
Odyssey has also been backed recently by Better Capital chair Jon Moulton, who told City A.M. he was impressed by the "very imaginative idea with abnormally determined management".
If it reaches its ultimate target of £5m, Odyssey will become the biggest fundraising in Crowdcube's four-year history.