Morrisons's share price soars 10 per cent as supermarket returns to growth after 16 quarters of decline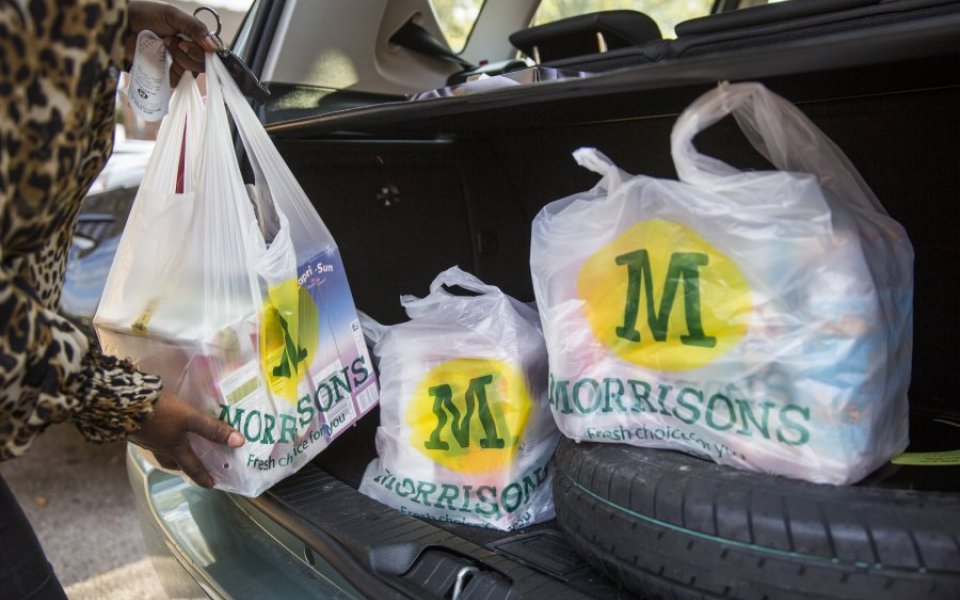 Morrisons's share price soared 10 per cent this morning after posting better-than-expected Christmas results, as it starts to win back customers.
The figures
Like-for-likes excluding fuel were up 0.2 per cent for the nine weeks to 3 January – its first quarterly growth in 16 quarters – while total sales excluding fuel were down 1.2 per cent.
This was better than analysts including Shore Capital had predicted, with estimates ranging from declines of 1.5 per cent to two per cent.
The company said this was a trend that it was seeing across trading as a whole. Customer satisfaction levels are "significantly ahead of last year", while like-for-like volume of transactions are up 1.3 per cent on last year. In addition, online sales grew nearly 100 per cent year-on-year.
As a result, Morrisons has lowered its net debt guidance from £1.9bn to between £1.65bn and £1.8bn.
Underlying profit before tax is expected to be higher in the second half of 2015/16 than the first half, with full year PBT to be in the range of £295m-£310m before the £60m restructuring and store closure costs.
Why it's interesting
Morrisons is in the middle of a long journey to get the business back on track, but today's update shows that new chief executive David Potts has not been letting the grass grow under his feet.
Already around 800 head office roles have been cut since the start of the financial year. The retailer is also bringing some teams, such as maintenance, in house "to enable us to serve stores and customers better".
Potts has also completed hiring his executive committee, with the appointment today of Andy Atkinson as group marketing and customer director. Atkinson has been in the role on an interim basis and has previously held various senior commercial roles at Morrisons over the last four years.
A further seven supermarkets will be closed as the group continues to weed out underperforming branches, it announced today. A spokeswoman said she was unable to confirm which stores would be shuttered until after staff had been told.
Morrisons is one of many supermarkets to have stopped its saver schemes (in this instance, the Christmas Collector) in favour of "everyday value", running fewer promotions and more deals on bigger packs with better value. "All this meant better value and an improved shopping trip for customers, but it did impact Items per basket", the supermarket said.
What Morrisons said
Potts added: "We are pleased with our improved trading performance over the Christmas period. While there is of course much more to do, we are making important progress in improving all aspects of the shopping trip, and our customers tell us they are pleased with the changes. In addition, we have made further progress in debt reduction, and our financial position is strong and getting stronger.
"I would like to thank our colleagues for their very hard work and dedication, both in serving customers so well over the busy Christmas period and then again in helping their communities, especially in the north of Britain where the flooding has been so severe.
"We continue to focus on our cash flow improvement programmes and now expect the benefits, specifically working capital and property proceeds, to be greater than we first anticipated. We will provide a further update at the time of the prelims in March."
What analysts said
Shore Capital's Darren Shirley said the figures were "surprisingly positive", although noted there was still work to do, particularly regarding items per basket.
"We deem this to be an especially encouraging trading update from Morrisons, one that we believe will be warmly welcomed by long-term investors, and as such it may set the tone for an improvement in sector sentiment ahead of other trading reports from supermarket groups this week," he added. "We are also pleased for chief executive David Potts CBE that he is seeing some encouraging traction as a result of the trading and operational strategy that is now under implementation.
1In particular we feel that an improvement in trade from Morrisons may also lead to a reassessment of the view that this is a sub-scale business than cannot compete with seemingly bigger fish. While scale is a factor in most industries financial performance, it needs to be set against relative momentum and also capability to our minds; the latter overtime tends to be of equal if not greater importance in markets."
But not everyone agreed.
John Ibbotson of the retail consultancy, Retail Vision, said: "These numbers are marginally better than expected but it's still hard to believe they represent a new beginning for the struggling grocer [but] the grim narrative for Morrisons remains much the same… David Potts has been at the helm for a year now and even though he has delivered a better than expected Christmas Morrisons remains in dire straits.
"Morrisons, like the rest of the Big Four, is facing food deflation, changing shopper habits, not to mention the startling growth of the low cost discounters, convenience stores and the internet.
"It lacks the size and profitability of Tesco, has lost its price perception to Asda and can't compete with the quality and service standards of Sainsbury's."