More streaming mergers are 'inevitable' say experts
A tie-up trend is taking root in the streaming industry.
Video on demand providers are scratching around for more subscribers and trying to secure their footing in a crowded market, triggering a surge in mergers and acquisitions.
As streamers steal eyes away from television broadcasters, "consolidation was always inevitable" to some extent, said Ben Barringer, equity research analyst at Quilter Cheviot.
"Ultimately traditional TV and film is struggling, so this will likely result in further disruption," he added.
The number of viewers glued to traditional broadcast TV programmes each week has seen the sharpest ever annual fall – from 83 per cent in 2021 to 79 per cent in 2022, according to Ofcom's latest Media Nations report.
TV addicts are not hitting the sack early though – they're switching on Netflix.
A recent survey conducted by Recurly, a subscription billing service, found that in the past year alone, 58 per cent of respondents had subscribed to up to three new streaming services.
While this bodes well for the streaming industry, Oscar Wall, general manager EMEA at Recurly, a subscription billing service, said viewers now have an "abundance" of choice.
Globally there are over 200 streaming services, according to Flixed a data and comparison site.
It makes it "inevitable that we'll continue to see consolidation of streaming services in the future", Wall added.
The consolidation wave is already in motion.
Small streamers are struggling to keep up with industry giants like Netflix, Disney+ and Amazon Prime Video.
Meanwhile, the top dogs are gobbling up weaker competitors in order to improve their offerings, grow subscribers and give advertisers more options.
In April, the merger of HBO Max and Discovery+ formed the mega-streaming service Max, although Discovery+ also remains a separate lower-priced option.
Paramount+ acquired Showtime in June, bolstering its subscriber count from 60m subscribers up to 61m in the space of a quarter.
Disney+ plans to spend $9bn buying out Comcast's minority stake in Hulu in 2024, aiming to create a "one-app experience" according to Disney chief Bob Iger.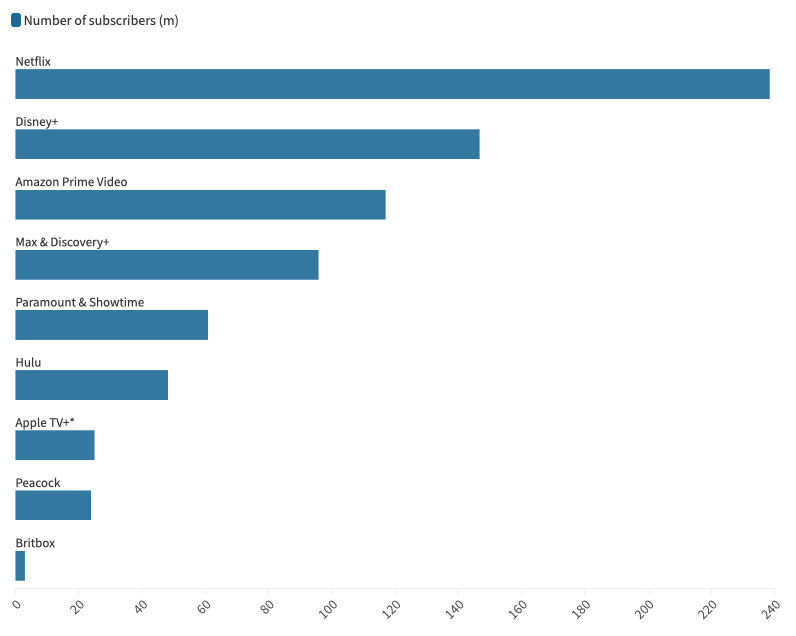 Rumour has it that Comcast-owned Peacock is eyeing up Warner Bros Discovery's Max – although boss David Zaslav has said his company is "not for sale".
Amid the ongoing cost of living squeeze, cash-conscious consumers will be searching for "flexible subscription models to tailor to their needs, and a single package buy as opposed to utilising multiple subscriptions", said Liz Duff, head of commercial and operations at Total Media, a media planning and buying agency.
Duff anticipates more consolidation as the market matures and speculation is already rife regarding potential merger candidates.
It will be down to regulators to determine the fates of such mega-mergers.