Luxury alpine chalet Tivoli Lodge offers not only skiing, but the chance to rub shoulders with the global elite of Davos
Even when debating the world's most pressing issues – starvation, pollution and political repression at the World Economic Forum in Davos – the global elite still expect the luxury to which they're accustomed.
As the world's movers and shakers descended on Davos for the annual jamboree, City A.M. grabbed the chance to sample that very same luxury – by staying at the achingly cool Tivoli Lodge, a chalet that could be equally fit for an Oscar winner or world leader and their family.
This year, keynote speakers ranged from Cate Blanchett to Elton John, Emmanuel Macron, Angela Merkel, Theresa May, Nobel peace prize winner Malala Yousafzai, and, of course, US president Donald Trump. Tivoli Lodge staff were too discreet to say who had booked, save that an American billionaire would be residing during Davos week. Inevitably Russian oligarchs are also regular guests.
It's the type of place where it would be easy, in the grip of such splendour, to forget everything but the well-stocked bar, the next fine meal and the call of the pistes.
It must be a difficult place for forum attendees to stay focused on those less fortunate than themselves.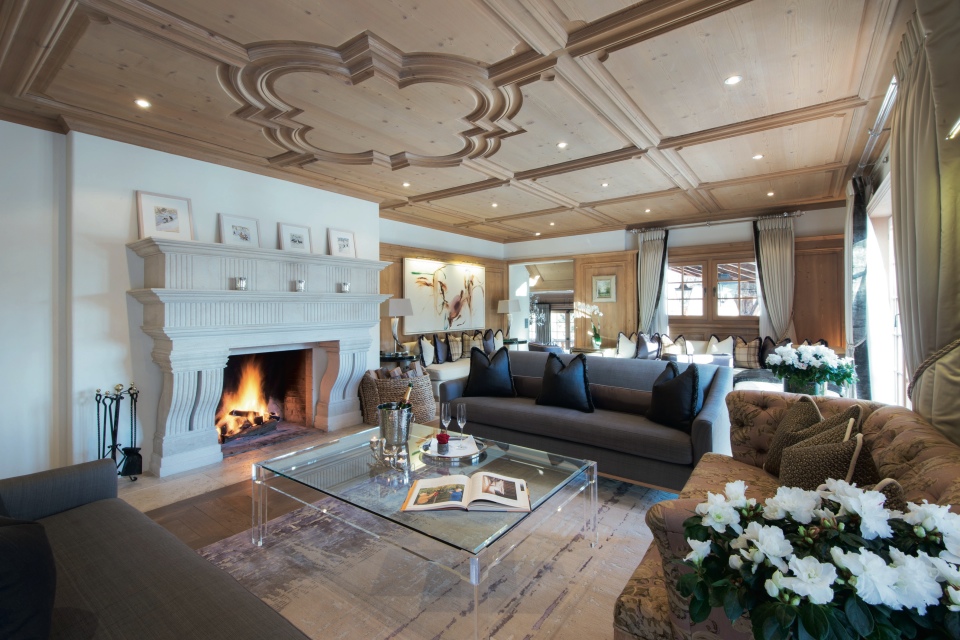 Costing £34,000 a week, Tivoli Lodge is one of the largest and smartest rental chalets in the Alps. It's situated in a ski-in/ski-out position on the Parsenn ski area above Davos. A chauffeur service is available at all times to ferry guests to and from the resort just a few minutes away.
Built in the traditional Graubünden style using locally sourced stone and timber, Tivoli Lodge sleeps up to 12 adults and six children. Its chic interior extends to a home cinema, library, study, two-level jungle gym for children, plus a spa, sauna, and pool area featuring a giant massage waterfall that looks out across the valley to a wall of soaring peaks.
Every room is individually interior designed around the artwork picked by the owners, said to be a fashion designer and financier.
While you're sipping Bollinger in the hot tub, the kids can pretend they're Sherpa Tenzing in the soft play Ice Castle (monitored by CCTV in case they get carried away although most families bring their own nannies).
Within minutes of arriving, we're lounging in the jacuzzi and steam room. The champagne is chilling in an ice bucket filled with snow and we're admiring those spectacular views towards the highest peaks of the Engadine as the staff unpack our luggage. This is chillaxing billionaire style – and those world problems really do seem a million miles away.
Fortuitously, a previous Russian guest has left a supply of caviar behind him, which goes down a treat with more Bollinger
The unflappable maître d' refills our glasses before telling us that cocktails and canapés await at 7.30pm in the drawing room. There's no cuckoo clock quaintness or moose heads on the wall here – just elegant contemporary interiors with subtle baronial touches and open fires. Fortuitously, a previous Russian guest has left a supply of caviar behind him, which goes down a treat with more Bollinger and gives us a perfect chance to get to know our fellow guests before dinner.
Our host tells us there are six full-time staff to cater for everything from fixing us a perfect vodka martini to collecting our lift passes. She can organise just about any experience guests can think of, from high adrenaline heli-ski adventures to building your own personal ice bar on a remote mountainside or horse drawn carriage rides for the children.
It's a good idea not to overdo those delicious canapés though, as eight-course dinners can be served up in the chalet at your command.
Dinner was as stylish as the surroundings, comprising a main course of turbot carpaccio, ceviche, salmon roe cucumber and chives and lobster with fine wine from the chalet's well-stocked cellar.
Yes, the irony is obvious. The summit's theme this year is "Creating a shared future in a fractured world" – a meeting of fabulously wealthy people discussing inequality while ensconced in a Swiss ski resort where even small dogs wear Prada. It's just a shame (for them) that most delegates don't actually get to go skiing.
In fact, one of the great advantages of skiing in Davos in forum week is that the slopes are virtually deserted, with delegates far too busy debating world issues to clip on their skis.
One excellent way of exploring the vast ski region (and battling calorie overload) is by getting up at daybreak to sample Davos' Early Bird first tracks.
Two mountain guides meet me and a couple of other keen skiers at the Parsenn lift station at 7.30am and soon we are zooming up in the mountain train as the sun rises over the breathtaking panorama of the Grisons Alps.
Although it's snowing heavily and visibility is poor, we're soon blasting down a red run leaving the first trails on the virgin snow.
Word on the slopes was that the Grand Hotel Belvedere where President Trump's delegation is staying is being patrolled by 5,000 Swiss troops drafted in to secure the town. The soldiers even have a secret cave in the mountainside above Davos from where they patrol the ski slopes.
On another day, our expert Tivoli Lodge ski guide, who had already been up since 5am tending his cows, took us off-piste skiing through wooded valleys on the Madrisa and Rinerhorn slopes above Klosters, where years earlier I had once spotted Prince William and his girlfriend Kate Middleton enjoying a passionate clinch on their first ski holiday. Unfortunately they spotted me before I could get the money shot.
Afterwards, stop for lunch at 400-year-old mountain hut restaurant, Zum Bergführer, which offers tasty local specialities, such as a platter of local air-dried meat, salami and cheese, called Bergführer Teller (the mountain guide plate) or rosti with pickles, egg, speck and mountain cheese. It's all washed down with Monstein huusbier ale, from one of the highest breweries in Europe.
I tucked into this magnificent mountain feast, oblivious to the howling blizzard outside. There worse places to be holed up in a storm.