London, Dubai and New York top rankings as most crypto ready cities in the world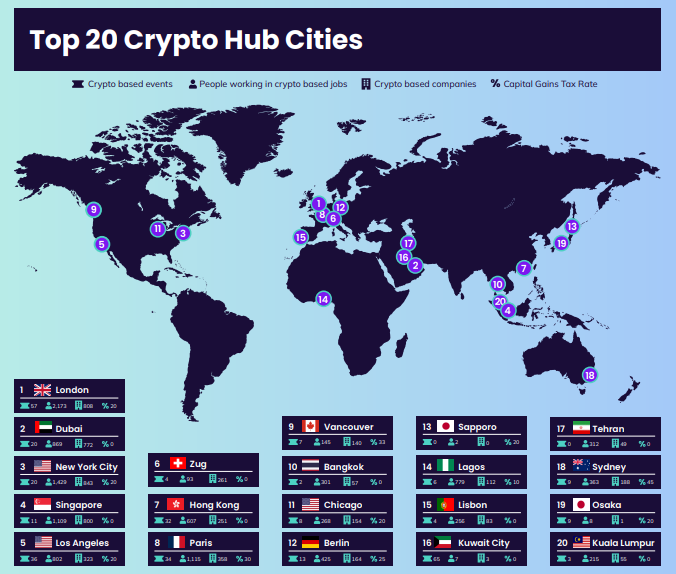 London has been named as the world's leading crypto hub in a detailed report researching the most cryptocurrency-ready cities throughout the globe.
The index comprises eight criteria, including the number of crypto workers and companies, crypto meet-ups, quality of life score, and R&D spend as a percentage of GDP, in each city.
Along with having a high number of people working in the crypto industry, London hosted the second highest number of crypto-related events and conferences throughout the year, and is home to more than 800 crypto-based companies.
England's capital ranked highest in the world in the crypto-readiness index, devised by crypto tax software company Recap, but was closely followed by Dubai, and then New York.
Dubai comes in second place as it pushes to become the leading centre for cryptocurrency and blockchain technology in the Middle East, following a year of multiple new laws for crypto exchanges to operate in the city.
Capital gains tax was also taken into consideration in the index – with Londoners paying up to 20%. Dubai currently has a rate of 0%, and may be the second choice for some UK residents. Holborn Assets revealed 200,000 Brits currently reside in the city – with 772 crypto-based companies to choose from when it comes to finding a career in the sector.
The top 10 crypto-hubs in the world:
London, England
Dubai, UAE
New York, USA
Singapore
Los Angeles, USA
Zug, Switzerland
Hong Kong
Paris, France
Vancouver, Canada
Bangkok, Thailand
"Crypto assets have grown massively over the past few years, and are becoming increasingly interlinked with the regulated financial markets, and the fact that so many cities are embracing it is a positive sign," said Daniel Howitt, co-founder and CEO at Recap.
"London being the world's leading crypto hub is good news for the government's plans to make the UK a 'global hub for crypto-asset technology and investment'."
"At the same time, our research shows that the world's least developed countries are significantly less prepared to become crypto-hubs. Lack of infrastructure, foreign investment, and skilled workforce in the area may explain why some are lagging behind. This could cause barriers to trade with more developed crypto-hubs in future – so it's important they're all given the opportunity to get up to speed."
"While London excels in offering crypto events and jobs, as well as attracting crypto companies, the city falls behind when it comes to R&D spend and crypto ownership; we need to see more investment in these areas as a country in future, for London to continue to leading the race as a global crypto-hub.
"Like many countries, the UK is forming new rules and regulations around crypto taxation. Whether this will help or hinder London's place as a crypto-hub is something to look out for in the future."