Living standards are finally rising – but only in the North
Is the North-South divide about to flip on its head? A new report suggests living standards are finally beginning to rise – but only up North.
According to the research, by think tank the Resolution Foundation, although typical weekly incomes rose after the financial crisis, after 2009-10 they began to fall again, hitting a low in 2011-12.
The bad news is that adjusted to inflation, household incomes across the UK are still 0.4 per cent – or £105 a year – lower than they were in 2007/08.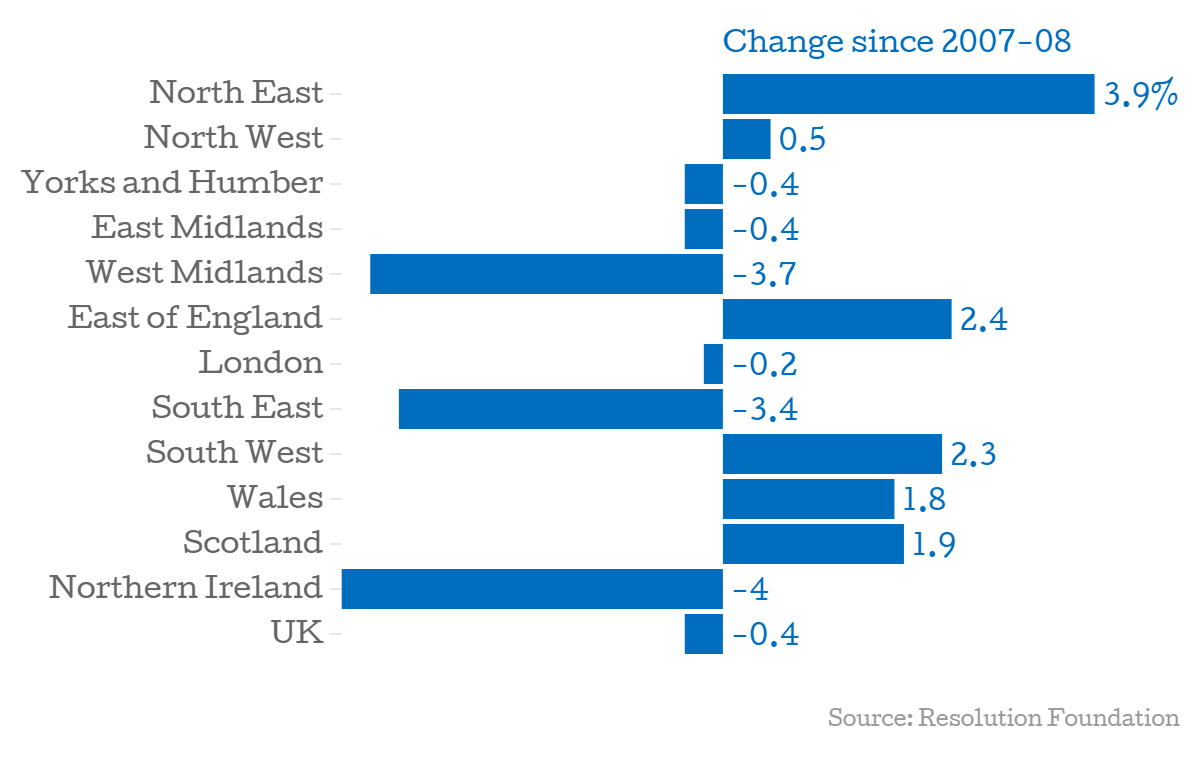 But thanks to various factors – including strong jobs growth and a "comparatively shallow pay squeeze", the North East and the North West have both experienced increases in living standards, with incomes rising 3.9 per cent (that's almost £800 a year) and 0.5 per cent (about £114) respectively.
Things are also looking up in Scotland, where household incomes have increased 1.9 per cent (or £424) and the South West, where that increase was 2.3 per cent, or £544.
Meanwhile, in the South East, incomes have fallen 3.4 per cent – which works out at £921 a year. in the West Midlands, that figure was a 3.7 per cent drop, or £819.
Matthew Whittaker, chief economist at the Resolution Foundation, pointed out living standards was a "key election debate".
The experience has been felt very differently across different generations and parts of the UK… To add to the confusion, the stark generational divide means that many working age households in the North East will have experienced a tighter squeeze in living standards than pensioner households in Northern Ireland. The big variation in experiences between households means that voters will hear confusing messages on living standards that they may struggle to relate to.